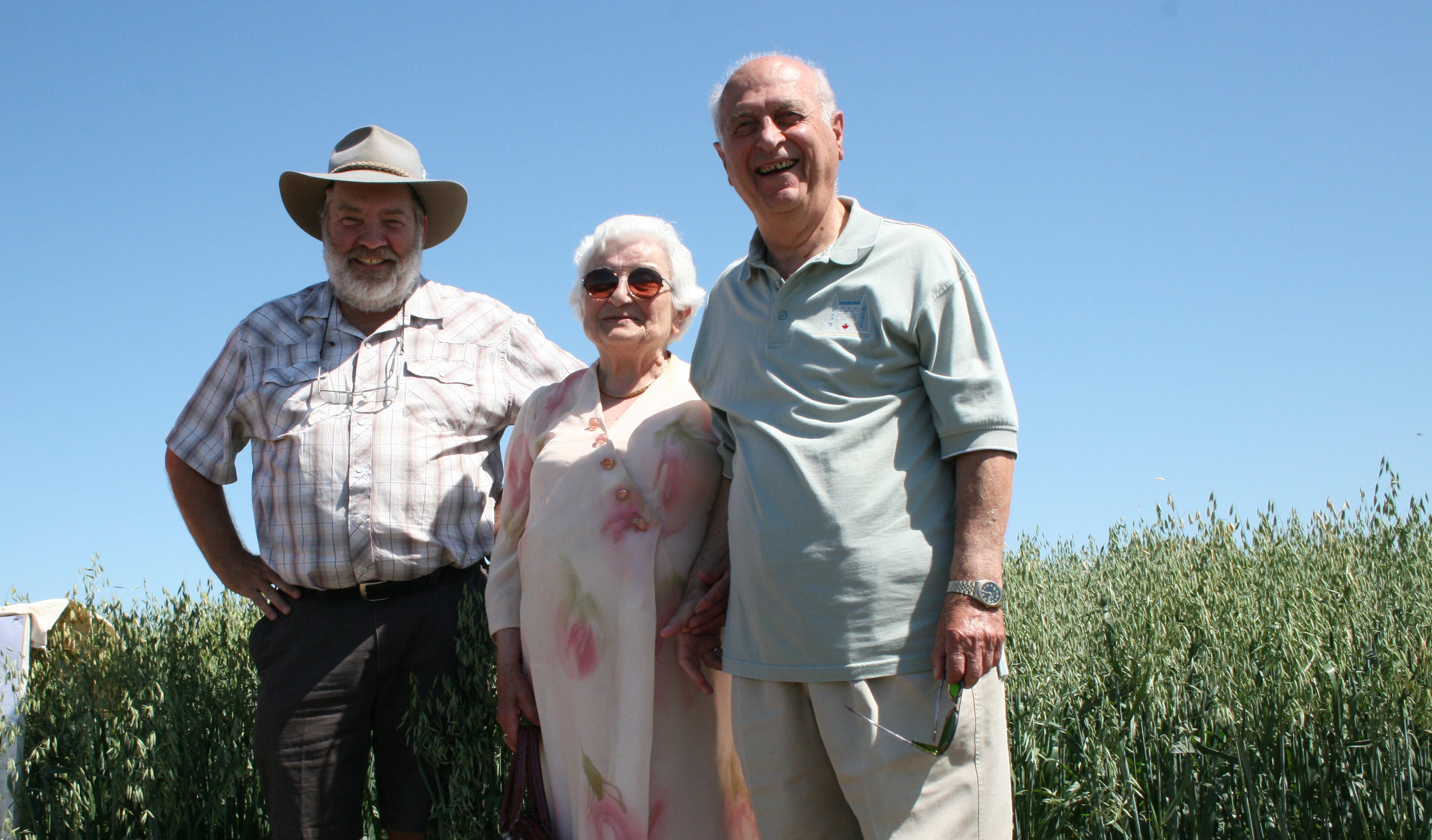 A small group of industry representatives, researchers and special guests gathered Aug. 3 at the north end of the Kernen Crop Research Farm east of Saskatoon to listen to plant breeder emeritus Brian Rossnagel describe CDC Nasser. The oat variety is named for Karim Nasser, professor emeritus of engineering, whose donation of 143 acres of land east of the Kernen farm provided the space researchers in both plant and animal sciences needed to develop the variety that has the feeding qualities of barley but does not need to be processed.

Moving down the dirt track to another stand of oats, Rossnagel introduced Grant Morrison, a recently retired executive with Quaker Oats Canada, who unveiled a sign identifying the second new variety, CDC Morrision. Rossnagel explained his long working relationship with Morrision as well as Morrison's, and Quaker's, strong support of research at the U of S.

CDC Morrison is a short, strong, early oat, said Rossnagel, but it has a unique combination of nutritional qualities that make it attractive to the milling industry, and to Quaker Oats in particular.

Introducing the third variety, Rossnagel said plant breeders get to do something "nobody else gets to do with new varieties – name them and describe them botanically." And he followed a long tradition of recognizing the equine world when he named the third variety CDC Big Brown. The tradition started with the variety Derby in the early 1980s, he said, followed by CDC Dancer, named for the famous racehorse Northern Dancer. Other equine names followed but the practice caught on with breeders around the world and now it is not always easy to find an available horse name, he said.

CDC Big Brown recognizes the almost-winner of the 2008 Triple Crown, and is a variety that combines the qualities of CDC Dancer with higher yields and rust resistance. Like the horse, whose pedigree shows Northern Dancer as his grandsire on both his sire and dam's side, CDC Big Brown has CDC Dancer on both sides of its pedigree. Plus, added Rossnagel, it has large brown grains.