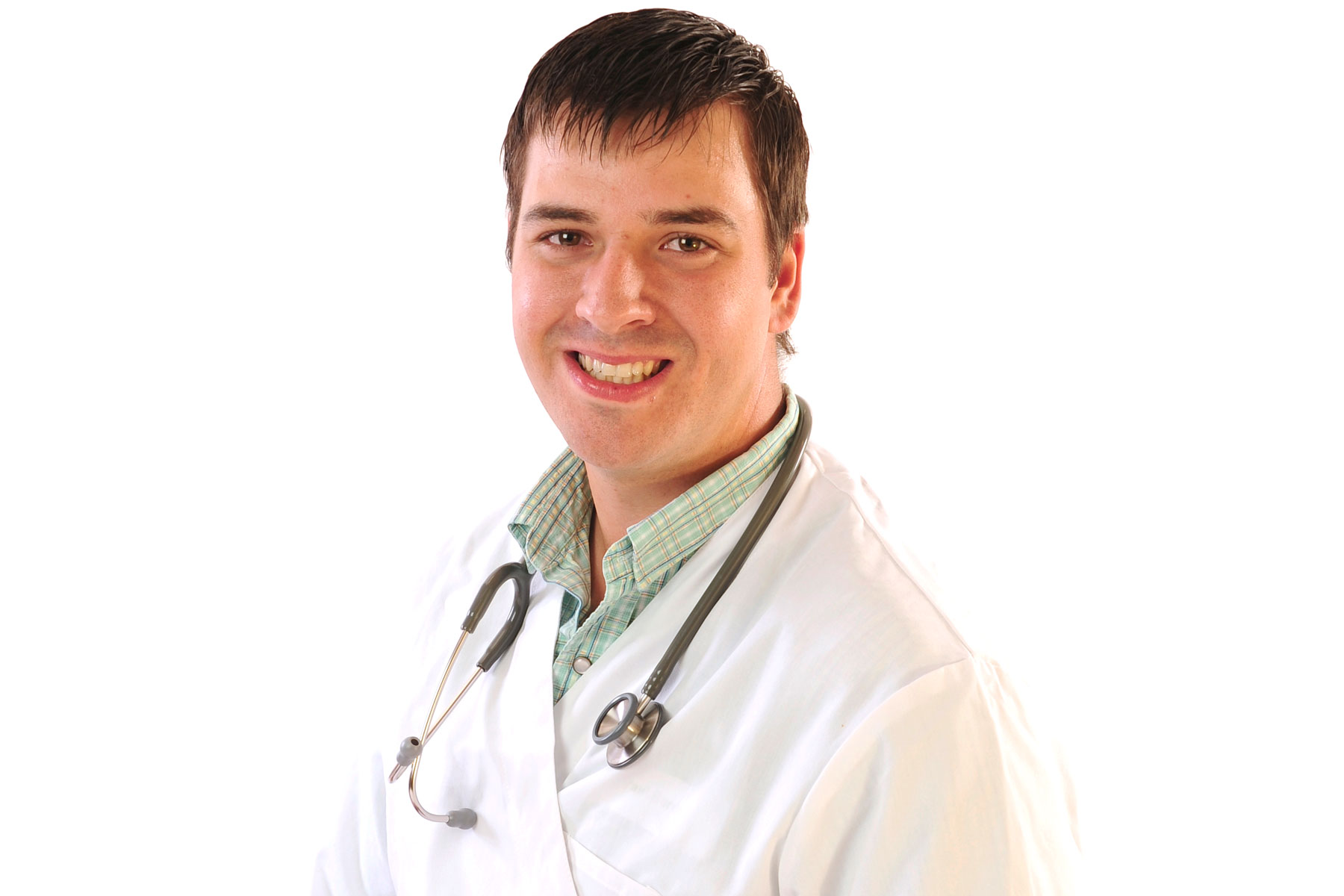 "I was always interested when the vet came out for emergency calls, so those experiences collectively sparked my interest in veterinary medicine," explains Hardes, who became a first-year student at the University of Saskatchewan's Western College of Veterinary Medicine in August.

Hardes and his classmates received an official welcome to the WCVM and to the veterinary profession on Friday, September 30, during a white coat ceremony in Saskatoon, Sask. All 79 first-year students received personalized white lab coats and stethoscopes from representatives of national and provincial veterinary medical associations during the ceremony.

The new students, who will graduate in 2015, come from communities across Western Canada. The regional veterinary college accepts 20 Saskatchewan-based students each year.

Hardes brings with him a Bachelor of Science in Agriculture degree from the U of S as well as various background experiences that will help him as a student and contribute to his success as a veterinarian.

"I've learned to work with different species of animals from cats and dogs to cattle, pigs and horses," he explains. "And I've belonged to a number of organizations including 4-H and the U of S Stockmen's and Rodeo Club. They've taught me valuable skills such as effective communication, public speaking and how to work in a group."

After years of preparation, Hardes says that hearing he'd been accepted into veterinary medicine was a surreal moment for him: "It was very rewarding to know that the late nights of studying and hard work had paid off."

He and his new classmates join more than 235 veterinary students who are already enrolled in the WCVM's four-year Doctor of Veterinary Medicine program. After a recent $74-million building upgrade, the U of S-based veterinary college offers its students world-class facilities and resources including a veterinary medical centre that provides advanced diagnostic technologies, specialized services and community programs to all western Canadians.

So far, anatomy is the class Hardes is enjoying the most, but as he looks further ahead, he anticipates playing an important role in the community while being involved in animal health as well as disease prevention and treatment.

"At this point, I'm most interested in staying in Saskatchewan and practising at a rural mixed practice or operating a production animal practice so I can continue working with livestock and being involved in agriculture," says Hardes. "But I can also see myself specializing in reproductive technologies."

After graduation, Hardes will join a group of more than 2,500 veterinarians who have graduated from the WCVM since 1969. While most alumni live and work in Western Canada, former students can be found in more than 600 communities around the world.

Wherever they live, they all have in common their shared experiences at the WCVM — something that Hardes appreciates about attending the college: "I'm really enjoying the opportunity to get to know my classmates and their unique backgrounds. They are and will continue to be friends, peers and co-workers within a tight-knit career."