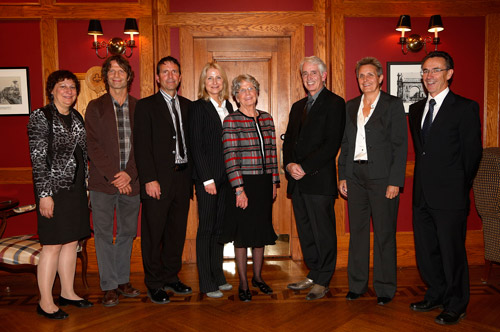 The announcement was made at a private event Oct. 4 in Calgary. U of S President Ilene Busch-Vishniac was in attendance and addressed the crowd, "The chairholder will be a valuable addition to the College of Arts and Science and the university as a whole, helping to advance our ambitious research plans for the University of Saskatchewan."

U of S alumnus Murray Pyke was a prominent figure in minerals and petroleum exploration in Canada, and was founder, executive and director of Comaplex Resources and Bonterra Energy. Pyke passed away on May 6, 2009 at the age of 75.

The gift was initiated by Murray's wife, Norma, and his children David, Jackie, Randall and James, to reflect his interest in hard rock geology and his dedication to his alma mater. Pyke obtained his bachelor's and master's degrees in Geological Science from the U of S in 1956 and 1958, respectively.

Daughter Jackie Pyke remarked, "putting this chair together has been a wonderful experience for our family and reflects dad's love for academics and science. It is recognition for what his life taught us to work hard at what you love to do, and always give back."

The chair is expected to have numerous positive impacts by recognizing and supporting an accomplished scholar with a preference for hard rock geology, as well as attracting new students and faculty in the field of Geological Sciences. Murray Pyke was passionate about Northern Canada and the Arctic, and it is hoped that the chairholder will undertake research that offers opportunities to engage Aboriginal partners and communities in these regions. It is anticipated that a search for a candidate will begin in autumn 2012.

President Busch-Vishniac noted the impact of the chair on the university's culture and across the prairies moving forward, "as our university embarks on our second century of discovery, we will continue to build a dynamic research culture that enriches the academic experience for our students, creates new knowledge across a broad array of disciplines, and helps improve the economic, social and cultural vitality of our region, Western Canada and beyond."

Close to 8,500 U of S graduates live in the Calgary area, making this the largest alumni population outside of Saskatoon and a special place to make this important announcement.