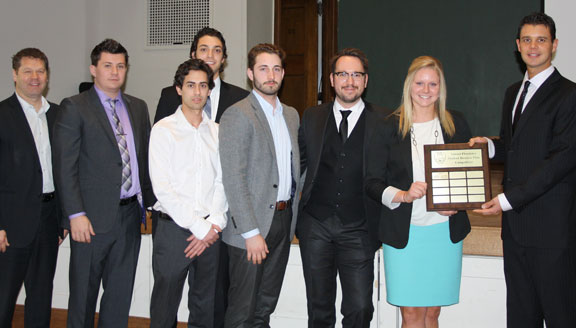 The students, all in their third year of pharmacy study, beat out 15 other teams in the competition with their Holistic Education, Awareness and Treatment of Infectious Disease (HEATID) plan. It was created with the Prince Albert Parkland Health Region and surrounding northern communities, and is designed to improve overall population health as well as address HIV.
"The competition, now in its second year, came about through recognition that many services pharmacists can provide are not realized, and implementing new professional services were not always understood," said Jason Perepelkin, assistant professor of pharmacy who teaches and researches the social and administrative aspects of pharmacy. Taught as part of the management in pharmacy course in the College of Pharmacy and Nutrition, students are arranged in groups of instructed to develop a business plan focused on implementing a new service into an existing practice.
"The course and the competition bring a different perspective to our pharmacy students, as they now focus on management strategy, marketing and business planning," said Perepelkin. "This is essential to ensuring that the current and future pharmacy students are well-versed in running their own businesses and in becoming self-directed leaders."
Judges and sponsors included Pharmasave, Rubicon Pharmacies LP, Blueprint for Pharmacy National Co-orindating Office,
Canadian Pharmacists Journal
, Hergott Duval Stack Chartered Accountants, Pharmacists' Association of Saskatchewan, Value Interest/Value Drug Mart and the W. Brett Wilson Centre for Enterpreneurial Excellence at the U of S.
"The competition has had a positive effect on the pharmacy program and the college as our students take on the new challenge of creating these projects and feel that they walk away with a lot of practical skills that will serve them well as they move on to serve our communities," said Perepelkin.