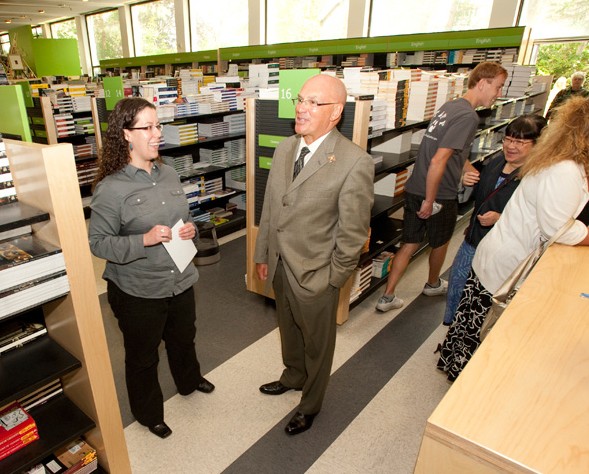 Barnhart recently completed his term as the twentieth Lieutenant Governor of Saskatchewan, a post to which he was appointed in August 2006. Prior to this, Barnhart served in a range of provincial and federal government positions, including Clerk of the Saskatchewan Legislative Assembly and Clerk of the Senate.
As a well-known historian, Barnhart has a long affiliation with the U of S. He completed his BA ('66) in history at the U of S, and, after completing a masters degree at the University of Regina, returned to the U of S to complete his PhD in history ('98). From 2000 to 2005, he served as the U of S Secretary, and later taught several political studies classes in the College of Arts and Science.
"Gordon Barnhart has been an outstanding representative for this province and country over the past two decades, and we are thrilled that he is returning to the University of Saskatchewan," said Peter Stoicheff, dean for the College of Arts and Science. "The Department of History is a prestigious and storied academic unit and Professor Barnhart will add another distinguished layer to this department, our college and the university as a whole."
His 2001 book,
Peace, Progress and Prosperity
, provided the first detailed biography of Saskatchewan's inaugural premier, Thomas Walter Scott. He has authored several other books, including
Saskatchewan Premiers of the Twentieth Century
;
Building for the Future: a photo journal of Saskatchewan's Legislative Building
; and
Parliamentary Committees: Enhancing Democratic Governance in the Commonwealth.
"Gordon Barnhart is one of our most outstanding graduate student alumni and I was very pleased to have the opportunity to appoint him to an adjunct professorship," said Lawrence Martz, dean for the College of Graduate Studies and Research. "He embodies a rare combination of scholarly work and public service that will make him a very special mentor for our graduate students in history and other disciplines."
In his role, Barnhart will contribute to the Department of History's activities by working on several book-length projects and supervising graduate students.