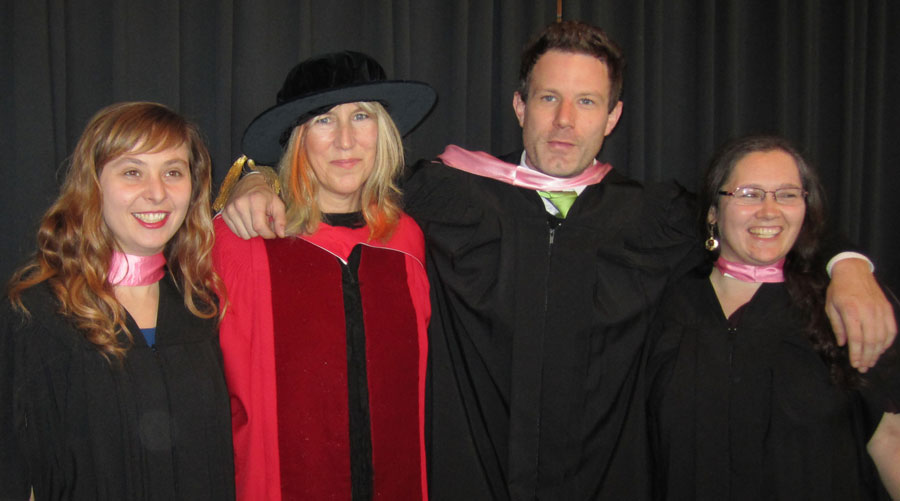 "I'm incredibly proud of our inaugural graduating students in the MFA in writing," says the program's director, Jeanette Lynes. "They've lived through the bumps of a new program establishing itself; I think of them as the Trailblazing Four. They've set the tone for this fledgling program – it's energized, engaged and diverse."
The four grads are indeed a diverse lot. Cape Bretoner Adam Hawboldt is a working journalist who moved to Saskatoon to earn his MFA.
"I was told to get a creative writing degree – and to work on my writing – by the editorial team at the House of Anansi when they rejected my work," he says. While thinking about his thesis, Hawboldt watched a Norwegian documentary about love addiction, and was struck by the illness's perfect narrative arc. The result was
Solju
(Korean for rice wine), Hawboldt's novel, set in Seoul, Korea, where he has spent time.
"In the course of this program, the biggest thing I learned was to apply pressure to my work, to turn coal into
a diamond," he says. "Everything has to mean something (in the novel) and move something forward."
Saskatoon writer David Carpenter mentored Hawboldt in his novel writing. "(He) is great," Hawboldt says. "He understood what I wanted to do and helped me get there."
Hawboldt is at work on a new novel.
Lorelie Gerwing Sarauer, a writer and artist living in Saskatoon, is attracted to narrative, which she expresses through drawings and paintings as well as writing. She previously earned an MFA in Visual Arts from Concordia University. Her U of S thesis is a novel titled
The Van Der Weerds
, a tale told from the points of view of 30-year-old Katie and her parents Harold and Donna. Estrangement, addiction, death and the custody of a four-year-old niece and granddaughter are part of this story. Her mentor was Regina novelist and short story writer Sandra Birdsell.
Sarauer plans to spend her time doing more visual art associated with narrative. "It's a relief to be done, but I feel some disappointment too," she says. "There's so much more to learn."
Andréa Ledding of Saskatoon came into the MFA program to further her poetry writing. For her poetry/prose collection titled
Flett
, a complex interweaving in English, Norse and Beothuk, the language of the now-extinct Aboriginal people of Newfoundland, her mentor was Eastend poet and fiction writer Seán Virgo. Virgo's "wise and benevolent support, mostly virtual as we were in different parts of the province, was absolutely treasured and invaluable," Ledding says. "What a wonderful person to have at your back! He and I were both busy and our time was at a premium, and we worked efficiently but productively together across that distance."
Ledding, who was shortlisted for the Lieutenant Governor's 2013 Emerging Artist Award, is also a playwright. Her first play,
Dominion
, opened Toronto's 2012 Weesageechak Festival, and was the first work staged at the new Aki Studio Theatre, a core component of that city's Native Earth Performing Arts organization.
The fourth graduate, Leanne Bellamy, is currently enrolled in education classes at the U of S, and teaches English 110 at Horizon College and Seminary in Saskatoon.
"I had two related reasons for earning my MFA in writing," Bellamy explains. "To understand literary criticism, you should write literature. And number two, I always wanted to write."
Bellamy originally thought her thesis would be a fantasy novel; instead, she wrote a collection of poems titled
Everything is an Argument
, examining community, spirit, nature and poetics through the lens of her deeply held Christian beliefs and under the mentorship of Saskatoon-based poet Barbara Klar.
"I love and like Barbara," she says. "She's nice. Grumpy. But so am I. And she was good at pointing out what was working, which gave me confidence, and what wasn't and why."
Now that she's completed her degree, Bellamy plans to carry on writing poetry and a novel but admits "I think of myself as a beginning writer."
The MFA program is one of Canada's newest creative writing programs, and was shepherded into being in 2011 by, among others, Professor Emeritus Robert Calder.
"We were adamant about consulting the writing community about what the degree should look like," Calder says. "The consensus was that we should create a degree program that was 'uniquely Saskatchewan.'" Part of that uniqueness was incorporating a mentorship component to solidify the bonds between the university and the province's community of writers.
"One thing was certain," says Calder, himself a Governor General's Award-winning writer. "It should be an MFA, not an MA; that is, it should focus entirely on creative writing skills with no requirement to take literature courses. As well, we wanted students to have the opportunity to specialize in non-fiction as well as the usual poetry, fiction, and drama."
According to the Peter Stoicheff, dean of the College of Arts and Science, current successes can also be measured by the quality of the inaugural applicants, as well as by the quality of the director, awards granted to students from outside the typical recognition field, and the international presence in the third cohort (students from England, Finland and Australia as well as Canada).
The yardstick for the future is considerably longer, Stoicheff says: "The writing community seeing [the MFA program] as a good and successful thing and wanting to be a part of it. Our writers going on to write and gather attention for their work. That will be success."
dee Hobsbawn-Smith is a second-year student in the MFA in writing program.