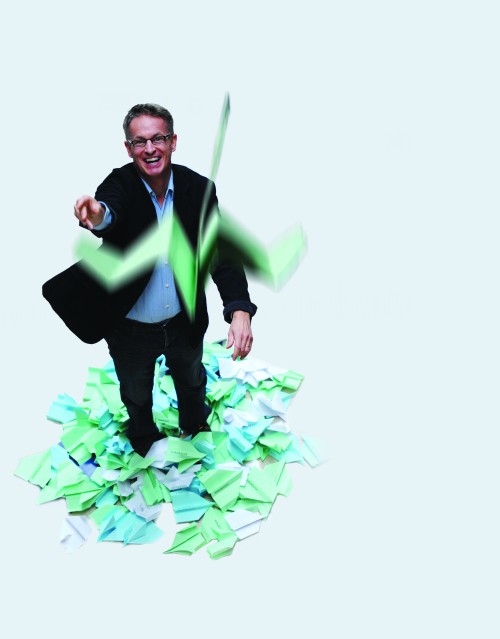 Knowing that keeps Norman Sheehan, the university's newest Master Teacher Award winner, motivated when he's in front of the class.

"It worries me, but it helps me work to keep class relevant and engaging so students want to come to class and always learn something while there," explained Sheehan, an accounting professor in the Edwards School of Business.

"I try to make the concepts interesting and relevant to the real world because I am competing for their attention— students have all these devices that can occupy their attention, like smartphones, tablets and laptops. How do you win the battle for their attention?"

Between in-class performance and developing teaching methods out of class, Sheehan, who was a professional accountant for a number of years before becoming a professor, has come up with a number of tips and tools to help him win that battle.

"We (in Edwards) are fortunate that we are in a professional school so I have to be relevant in what I teach," he explained. "I wouldn't say I am dynamic or captivating, but I am approachable and confident in knowing that what I am teaching is what students will need to know and will have to do in the workforce."

Beyond the subject matter, Sheehan frames the class so that concepts can be demonstrated and explained at the beginning, practiced in the middle and then discussed at the end.

"I try to keep the introduction brief, about 20 minutes max, then have a group activity in the middle because students can't disengage when they are working in a group. For the last part, I get the entire class to discuss how each group approached the activity. Students are drawn to that and how they compare to other groups; natural competitiveness comes out."

Within this format, Sheehan uses group activities to challenge students and provide hands-on learning by practicing concepts the way they would be used by a real-world accountant.

"I don't tell, I show. When you show, there is deep learning happening. When I've designed or used an activity and it works and you see the light bulbs going off, then that's the best part."

One activity that results in a lot of light-bulb moments is a technique he came up with while teaching in Norway, and one he spent the next nine years perfecting.

"I didn't speak Norwegian well enough to get concepts across in a lecture format, so I needed to develop a different method."

What Sheehan came up with—and still uses in class today—involves paper airplanes. He puts students into teams to work on folding and selling paper airplanes, and competing to make the most profit in class. In the simulation, Sheehan acts as a buyer and the students try to sell him paper airplanes as a way to demonstrate strategic approaches, profit and costs.

It is just one example of how Sheehan works to make the in-class experience for students stand out, he explained. Trends in post-secondary education, he continued, include rising tuition and larger class sizes countered by more and more online learning opportunities, many of which are free.

"That's why classes have to be engaging. It's more than just education, but about growth and peer groups. I ask what can I do that they can't get online and can only get in my class?"

That question keeps Sheehan motivated, and it is also a big part of the teaching and learning research that he undertakes.

"I always wanted to be a professor. Growing as a teacher is aspirational and something I can always work towards because there is always more to learn and bring into class."