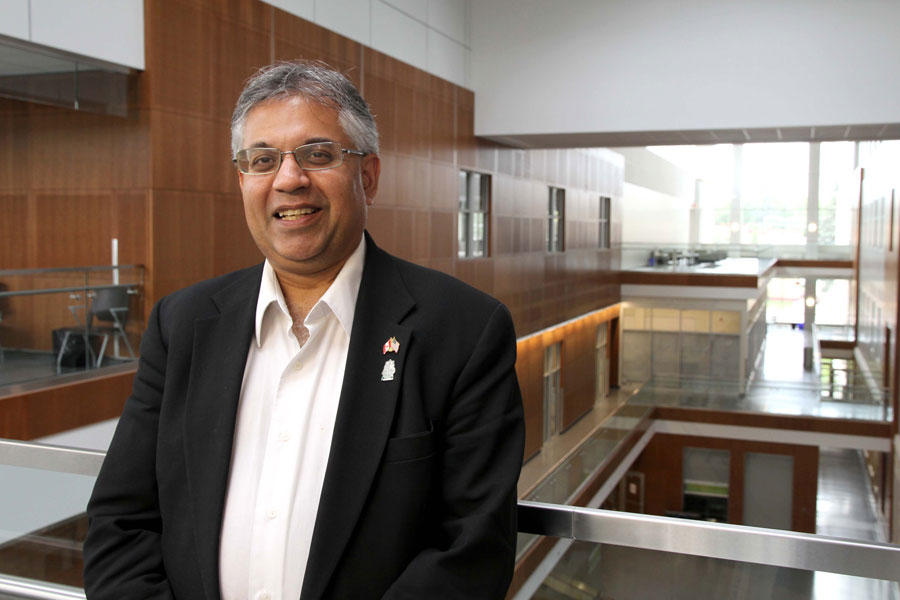 "I was praying that Saskatchewan would win the Grey Cup so that everyone would be in a good mood for my interview," joked Wasan.

He took over the office of dean on Aug. 1.

Wasan, who spent the previous 19 years at the University of British Columbia (UBC) where he was a professor and associate dean of research and graduate studies in the Faculty of Pharmaceutical Sciences, was reluctant to pursue the position at the U of S because both he and his wife enjoyed successful careers at UBC and were very happy, he said.

"I received a call about the position from the (U of S) provost and was intrigued. That night I was going to speak to my wife about the opportunity," said Wasan. "Before I could, one of my best friends, who used to work at the U of S, called me and told me all the things going for the university and college."

Leading up to the interview, Wasan learned a lot about the college's 100-year history and reputation. "I was completely blown away. This is actually the epicenter for pharmacy practice innovation in Canada, it really is. It is one of the oldest pharmacy schools in Canada and many of the graduates over the 100 years have gone on to be pharmacy-practice innovators and nutrition leaders across the country."

Wasan was equally impressed with the talented, well-respected and experiencedfaculty.

"They are doing important research in diverse areas that are part of university's signature programs and programs the government wants," he explained, making particular note of drug adherence, Lean initiatives, the Medication Assessment Centre, and collaborative work with colleagues in chemistry, veterinary medicine and nuclear medical imaging.

The new dean was also impressed with the college's students. "They are are amazing. Our students are top notch and go on to be phenomenal pharmacists … and while our nutrition program is small, they are seminal leaders in nutrition work. I'm telling you that this college is a pre-eminent college." There was a lot that drew him to the college, Wasan said, adding that he will not make the mistake of making changes just for the sake of change. "This college has been so successful for 100 years. They must be doing something right, so I am not going to come in and make wholesale changes. But what I am going to try to do is enhance, support and mentor our faculty and students to give them the chance to aspire to their dreams."

But his disinterest in major changes does not signal a lack of priorities. Wasan mentioned three that will receive his immediate attention. "Number one is I need to enhance resources for the college. We need more grant funding and operational funds because we are dealing with some big issues. We are going to a doctoral pharmacy program from a bachelor of science in pharmacy and we are also working on accreditation for nutrition dietician program as well as the pharmacy program in 2015 and 2016, respectively. So these are high priorities for the college, university, government and our external partners"

Research and scholarly activity are other priority areas, he said. "If we want to be a true U15 university, and be competitive in research and scholarly activity, we need to continue to build that and recruit the best and brightest graduate students. So I need to work with our faculty members and help them get the dollars they need to do great research."

And when all of that comes together, Wasan said it is very important to focus on sharing all the good news with the campus community and beyond.

"The great thing about the U of S and college is we are amazing, humble, downto- earth people. That's what I love. But it hurts too because you don't brag about yourselves and the great things that are happening. I've told everybody that I will be the chief bragger and show off for you because everyone needs to know."