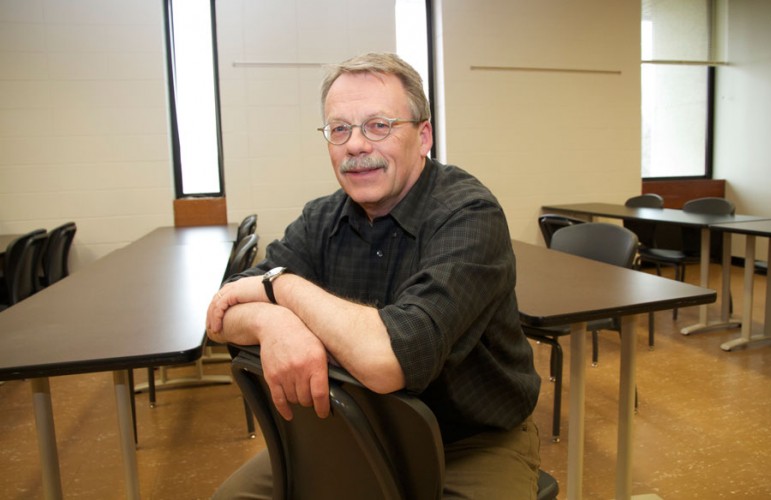 Robertson, a published poet and author as well as the instructor of English 365: Introduction to Creative Writing, has assembled an anthology of student work entitled
Where I'm From: ITEP Creative Writing 2005-2013.
What is unique about the book is what it is not; it is not a "best of" that includes only the cream of the crop. Instead, Robertson selected at least one poem by every student he has taught since 2005. That's eight years, nine classes and 126 ITEP students in all. And he did it to stop the whining, he said with a chuckle.
In early 2005, Robertson put together a modest anthology featuring 13 student writers and each year since, his students have asked when he planned to publish another. "What impressed them (the students) more than anything is that these people were published, they were in a book. I didn't realize the impact this had on them. They started to ask, 'When are you going to put out the next one?' This went on every year. When? When? When?"
So in January 2013, unbeknownst to anyone, Robertson hauled out what he called "my bundles of love," photocopies of all his students' assignments and all the poems they workshopped together in class. As he looked through the material, "I made the decision that everybody is going to be in the book, everybody gets a minimum of one poem but some writers are more gifted than others so some have two or even three."
He did some minor editing on the poems, and slipped in one of his own. When the manuscript was almost finished, "I went to Orest (Murawsky, ITEP director) and asked if I could have some money to print this thing. He said sure, go ahead."
By September last year, the manuscript was done "and then came the job that I just didn't realize was going to be so big, and that was contacting all of the contributors."
Robertson spent months tracking down for his former students, phoning schools, contacting people who might know other people. By the time the book went to print, he had been in touch with all but nine of the 126 writers and through some research, discovered he could publish without permission from those nine because he would not be gaining monetarily from the book. (Proceeds will be used to repay the dean of education who fronted the cost of printing.)
"One of the most wonderful things about working on this project is I talked to these people and A, they remembered who I was, B, they wanted to ask how I was doing, and C, I found out that in just about every single case, they were having very happy, productive lives."
And they could not be happier to see their work in print.
Robertson has a lot of experience teaching creative writing, both within the university and in other settings, and that experience has taught him that the appeal of his courses is the satisfaction that comes with being able to record a life or just a moment in time in a tangible way.
"In a general sense, people want an outlet for something they feel, something they've done. They want to take their lives and make them more meaningful. This event, this passage in my life had huge significance for me and I want to memorialize it, I want to valorize it, I want to codify it in some way. In terms of creative writing, what some people want to do is to try their hand at writing a poem, a short story, a memoir about what happened in their lives, what happened that day, why the leaf on the water looks so amazing to them and maybe ask if it's more than just a leaf on the water. That, to me, is why people want to write something."
In the ITEP program, Robertson said he takes a three-pronged approach to teaching creative writing. The first is strict adherence to the fundamentals of English grammar, spelling and punctuation. Only absolute mastery of the rules will earn a student the right to break them in Robertson's class.
He also expresses in class a genuine interest in the stories his students have, and want, to tell, "and many from a First Nations background have been told their stories don't matter." Robertson begs to differ.
His third approach is to create a safe, respectful and caring environment where the goal is to bring out the best in each others work. Everyone learns in class, he said, including the teacher.
"These folks, once they get comfortable, start bringing in stories and ways of looking at the world that are so different or refreshingly changed from what I'm used to seeing and what some of the rest of us are used to seeing that we just laugh out loud at the pure joy of seeing something through a different lens."
Where I'm From: ITEP Creative Writing 2005-2013
was successfully launched April 10 with 18 students reading their work and Robertson reading poems by some who could not attend. Looking back, he recognizes eight years is too long between anthologies "so the next one starts now. As long as ITEP and the creative writing program go on, I will continue to collect poems and short stories for the next book."
All 126 contributors will get a copy of the book, he said. "After that, we encourage them to buy multiple copies, as gifts for family and friends. We encourage it strongly as part of our cost-recovery process. And I'd also like to send a message out to the general public, particularly that reads OCN, that the book is available in the campus Bookstore and I know the folks over there would be happy to see you march in and pick up a copy, or six."