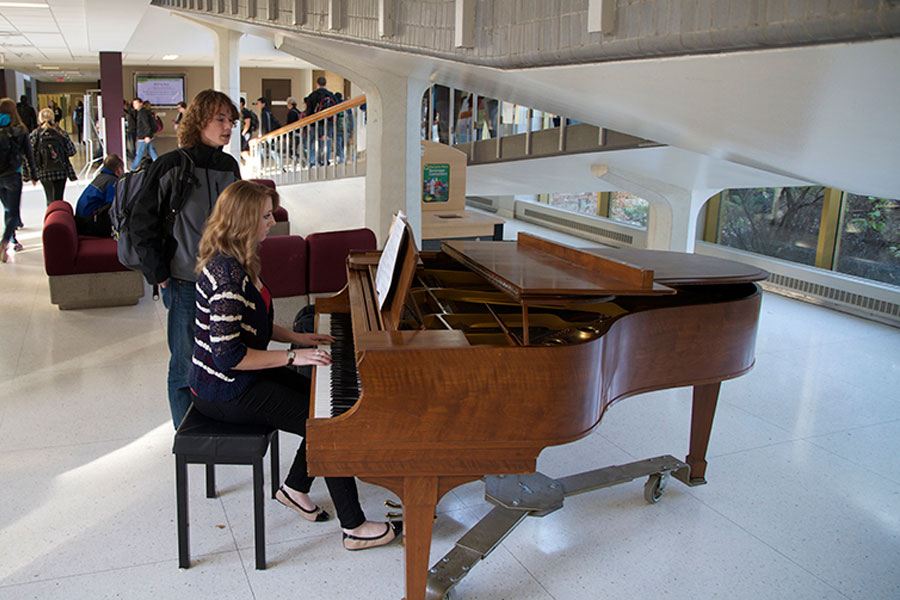 "I've seen this done elsewhere," said Stoicheff, referring to pianos in public places, "but I imagined some old beater of an upright." Instead, his queries resulted in a new home for an old piano with an interesting history.

Troy Linsley, director of administration and operations for the Division of Humanities and Fine Arts in the college, said the piano was badly vandalized in the Department of Music some years ago. "The guts of the piano were torn out and it was left in horrible shape" but thanks to the work of piano technician Roger Jolly, the instrument was rebuilt using parts from other pianos Jolly was working on.

The rebuilt Heintzman spent many years in the Green Room as a warm-up instrument for performers using Convocation Hall but went into storage when a more suitable practice piano was found. "When Peter originally inquired about a piano for the Arts Building, I had thought an upright might work but as luck would have it, there was not an extra upright so this grand piano had a new home."

Stoicheff said no signs were installed with the piano; "we just put it there on the assumption people might want to express themselves." And it worked. The dean said he lingered in the area after the piano was put in place and only had to wait about an hour to hear it played.

He added the piano is not just for music students. "Yes, I've heard chopsticks."