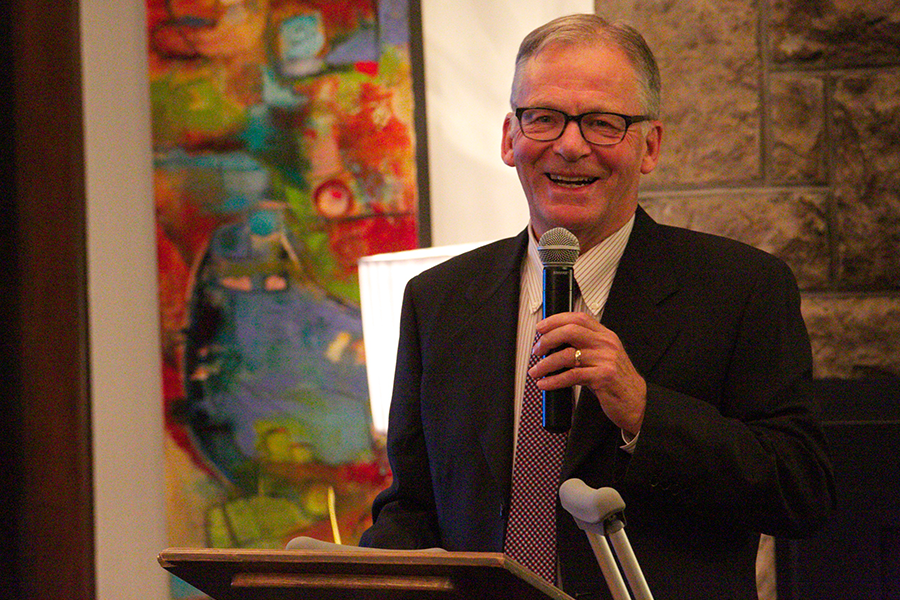 "He changed my career in the parking lot, just with a conversation," says Bracamonte, an associate professor at the WCVM who specializes in large animal surgery.
Stories like this abound: Townsend has a gift for inspiring people to pursue equine-focused veterinary medicine. In addition, he has left a lasting legacy in the fields of equine internal medicine, infectious disease and vaccinology as well as a legion of researchers who have been inspired by him.
"I certainly wouldn't be here if it wasn't for him," says Dr. James Carmalt, a professor of equine surgery and an equine surgical specialist at the WCVM's Veterinary Medical Centre. Carmalt came to the WCVM as a clinical intern, and Townsend helped guide him into a residency.
"He directed me and changed my whole career," says Carmalt, who came from Cambridge, England, to study at the University of Saskatchewan (U of S) and was the first Equine Health Research Fund (EHRF)-sponsored graduate student to undertake a residency in equine practice at the WCVM.
Carmalt is now chair of the EHRF—the WCVM's equine-focused fund that has supported horse health research, specialized training and public education since its creation in 1977.
In honour of Townsend's many contributions to the college and his long-time dedication to the EHRF, the charity has a new name—the Townsend Equine Health Research Fund.
Read the full story at 
WCVM Today
.