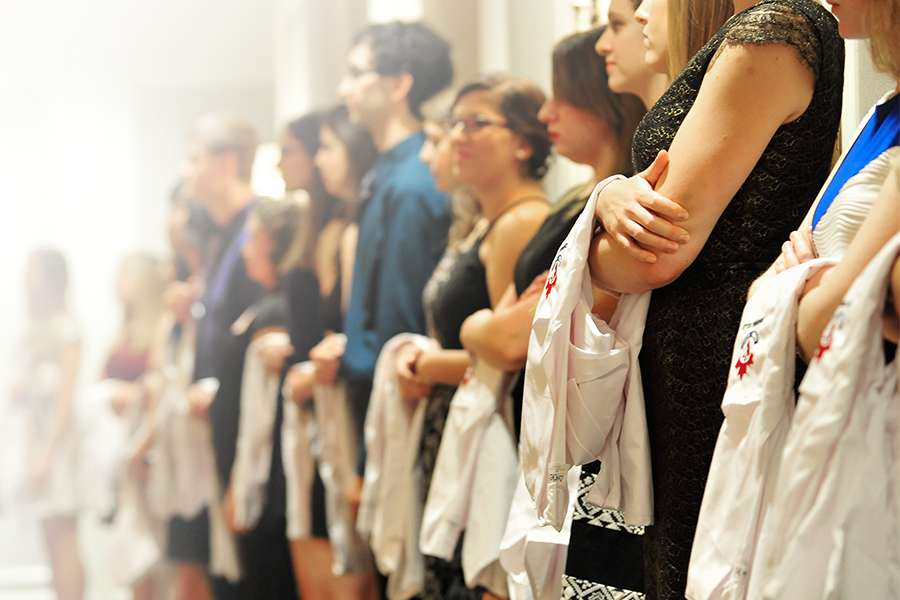 "I was a city boy, so my exposure to animals came primarily in the form of pets," Niu said. "I knew I'd have to volunteer at veterinary clinics, and when it came to the large or more exotic animals, I'd have to find a way to work on farms and volunteer at zoos."
After graduating from high school in Taiwan, Niu moved back to Canada where he attended McGill University and gained more volunteer hours at Vancouver's Mountain View Wildlife Conservation and Breeding Centre during his school breaks. After completing an undergraduate degree in animal biology, Niu stayed on in Montreal and worked at McGill's Comparative Medicine Animal Resource Centre for several years.
Niu's perseverance paid off when he became one of 80 first-year students at the Western College of Veterinary Medicine (WCVM) in August—the college's 50th class.

Ian Nui
He and his classmates received an official welcome to the college and to the veterinary profession on Sept. 18 during the WCVM white coat ceremony in Saskatoon. Representatives from national and provincial veterinary medical associations handed out personalized white lab coats and stethoscopes to the first-year students.
"This year's white coat ceremony was particularly exciting because members of the class of 2019 are joining the college exactly 50 years after our first students began their veterinary education in 1965," said WCVM Dean Douglas Freeman.
The new students, who will graduate in 2019, come from communities across western Canada and the Northern territories. The regional veterinary college has produced about 3,000 veterinarians—most of whom live and work in western Canadian communities.
Thanks to his experiences in Taiwan and Montreal, Niu has gained a special interest in the university's signature area of One Health—a global concept that encourages collaboration among health science professionals involved in human, animal and environmental health. Niu was one of about 150 participants who attended a student-focused conference called the One Health Leadership Experience at the U of S in August.
"The concept of humans, animals and the environment all co-existing in a mutually beneficial and healthy status is really appealing," said Niu. "The conference really opened my eyes to the little things that we can ponder and act upon while making small increments towards creating this ideal."
Although he does not have any concrete plans for the future, Niu is leaning towards a career in laboratory research.
"My concept of veterinary medicine has changed over the years. When I was young, I was motivated just by the idea of working with animals. But now the idea of helping humans and animals simultaneously is an aspect of veterinary medicine that has become extremely attractive to me."
Lynne Gunville of Candle Lake, Sask., is a freelance writer and editor whose career includes 25 years of teaching English and communications to adults.