The bone, weathered and brittle, is a piece of a very important story, according to Walker, a distinguished professor of archaeology and anthropology. It's one of many treasures that he, and hundreds of students, have pulled from the earth at the field school located at Wanuskewin Heritage Park.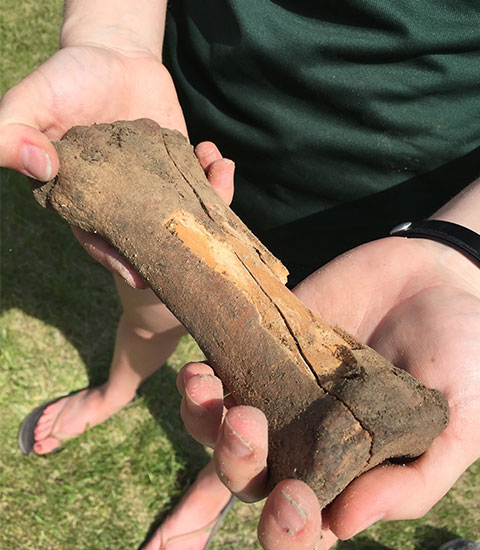 In addition to providing a glimpse into the history of life on the plains—both of the First Nations people of the area and the creatures that found their demise at the bottom of valleys in the area— this piece of skeleton is part of the research that will help inform the park's formal submission as a World Heritage-designated site.
Earlier this year, Wanuskewin announced plans to expand the park in an effort to secure status as a United Nations Educational, Scientific and Cultural Organization (UNESCO) site. It's a title that, if accepted, would be a first for the province and one that U of S students played a pivotal role in.
Walker proudly beams at his students, who are busy documenting their finds in notebooks or gingerly dipping trowels into mounds of soil and clay. It's hard to believe that the site, brimming with invaluable bones and artifacts, was once a cattle ranch, said Walker, who worked with the rancher who first began stewarding the land in the early 1930s.
"There were a lot of archaeological materials everywhere, literally eroding out of the slopes," he said.
The land was first sold to the fledgling Meewasin Valley Authority, and then turned over to Wanuskewin when the organization was formed in the 1980s. It was granted Provincial Heritage status in 1984 and designated a National Historic Site in 1987 during a royal visit by Queen Elizabeth II.
In addition to providing an interpretive centre for local history, the site became a second classroom for those enrolled in the archaeology program at the U of S. It has since become the longest-running archaeological research project in Canadian history.
"This research has been embedded in my department all these years and literally hundreds of undergrads students have taken the field school," said Walker.
In addition to heading up the site, Walker splits his time as a Special Constable of the RCMP and forensics expert for law enforcement agencies across Canada. Walker completed two undergraduate degrees and a master's degree at the U of S, and returned to his home province after earning a PhD at the University of Texas.
Now he and his students are producing archaeological finds dating back over 6,000 years.
Last month, U of S archaeology students Madison Friesen and Brynn Walker unearthed a 4,000- year-old knife head at Wanuskewin's Wolf Willow dig site, an artifact that was found about two and a half feet below the surface. That site will now be kept open for another year to see what else might be found there.
"Graduate student research is done here and there are valuable connections to First Nations communities made here," Walker said. "And these are relationships we want to see continue well into the future."
While there are plans in the works for future classes to dig at new larger sites, Walker aims to keep the relationship between Wanuskewin and the university flourishing alongside the park's growth.
Eventually he would like to see the park evolve into an institute that serves students beyond archaeology, and engages with all disciplines of academia with a focus on the Prairies and the First Nations of the area.
"It's a place where we would like to see art and science and history blend together."