She would visit the doctor and be helped by nurses and doctors of all ethnicities, but she was rarely assisted by any Indigenous people.
"I noticed that I never had an Indigenous nurse who I could go to, and who I felt comfortable with— someone who had the same background as me," McGillivary said.
"I felt intimidated to be in a health-care setting where there were no other Indigenous people. I was the brown girl. I stood out."
McGillivary is a now a third-year student in the University of Saskatchewan's College of Nursing, vice-president of the Indigenous Students Council, and a proud example of how far the college has come in making Indigenous recruitment and retention a priority.
In the last few years, the U of S has seen an increase in enrolment and retention of Aboriginal students across the board, particularly in its nursing program. As of the 2016-17 academic year, the College of Nursing features 17.7 per cent of its students self-declared as Indigenous, and has a retention rate of 93 per cent for those who are already enrolled.
These kinds of statistics came as a welcome surprise for nursing administration. When the program moved away from direct-entry in 2012, there was worry that the new model would be less appealing for at least some Aboriginal students.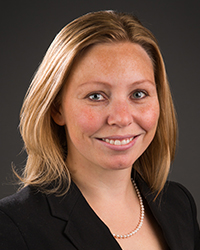 "There was some concern that we would lose Aboriginal students without direct-entry, because there can often be risk aversion in terms of taking an extra year or two of school and not knowing they're going to get into nursing," said Heather Exner-Pirot, strategist for outreach and Indigenous engage- ment with the College of Nursing. "It's turned out that our numbers have actually grown."
Despite initial concerns, the shift away from direct-entry has actually worked to increase retention rates. The goal, Exner-Pirot said, was that time in arts and science classes would give students the academic background and study skills needed to succeed in an intensive, science- heavy program such as nursing.
But entry re-structuring is only one change that has helped bring in more Indigenous students, and inspire them to stay with their studies year after year.
Exner-Pirot pointed to distributed sites—which allow students to learn the same nursing program they would cover in Saskatoon on U of S campuses located in communities such as Prince Albert, La Ronge and even small municipalities like Île-à-la-Crosse—as a huge step the college took toward making education more accessible.
"The students that are coming to these distributed sites aren't the ones who are going to move across the province to come to school," she said. "These are the ones who have family obligations, they're often mature students, many of them are parents themselves, and so they probably wouldn't have moved away from all those commitments for their education to begin with.
"Île-à-la-Crosse is a community of about 1,800 people, and you can do an entire U of S nursing degree right there in the town."
Other supports, such as bursaries for science and math, as well as the U of S Community of Aboriginal Nurses—which directly promotes recruitment in First Nations groups—likewise encourage Aboriginal students to hone skills they'll need for nursing prior to stepping on campus.
These are all steps which students like McGillivary believe are helping—alongside projects like the Gordon Oakes Red Bear Student Centre—to build a strong community for Aboriginal students at the U of S, in the college, and beyond.
"School shouldn't be a place of isolation, which can be lonely or depressing for some," McGillivary said. "I think that creating a sense of community is what helps to create retention."
McGillivary is hoping to see a greater emphasis on experiential learning, an approach that takes students in programs such as medicine or nursing directly to the Indigenous elders and community members they'll one day be treating, to better understand their culture, community, struggles and perspective. But in the meanwhile, she's proud to see indigenization on campus gaining momentum.
"We're moving in the direction of education, which is what our ancestors wanted us to do," she said. "I think walking in both worlds of culture and community, as well as education, is what will create success.
"For most of us we are the first in our families to work towards getting a degree. We don't have other professionals in our family to act as mentors or to look up to ... We are breaking new ground and trailblazing a path for our communities.