Aside from the obvious changes, including the opening of the Agriculture Building in 1991, core programming at the college has adapted to fit the changing needs of the industry. What was once a college heavily weighted toward instructing its students with a traditional connec- tion to farming, programming within the college has expanded and transitioned to include the wide breadth of what comprises modern agricultural production, together with the management of the environ- ment and associated bioresources.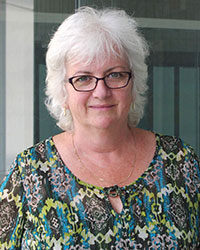 "A number of years ago the college recognized that we weren't just production-agriculture focused—that our expertise spans issues surrounding agriculture, environment, resource management, food processing and more," said Fran Walley, the college's associate dean academic. "Agriculture remains as important as ever and many courses and programs continue to have a production orientation, particularly in the areas of animal science and agronomy.
"However, the scope of our programs has expanded to include environmental science, renewable resource management, food and bioproduct science and others that expand far beyond production agriculture. Although production agriculture remains an important core, we have a number of programs that reflect the diversity of research areas and scholarship within the college."
These days, AgBio has four Bachelor of Science degree programs in agribusiness, agriculture, animal bioscience and renewable resource management, alongside four diploma programs and two certificates.
"We want to provide students with every opportunity to succeed in an industry that is in a nearly continuous state of change," explained Walley. "The agriculture industry evolves and changes at a rapid pace.
"Farming in the prairies has changed rapidly in the past few decades from smaller family farms to really intensive operations where the operators require specialized skills spanning everything from sustain- able crop production, environmental management, to marketing. It's a new world for farming."
The college has been shaped by a desire to create opportunities for experiential learning. The idea, said Walley, is to offer students the chance to spend time away from chalkboards and books, and gain a real hands-on understanding of the work they have been studying.
"Experiential learning is really important. You can learn a lot in a classroom, and that's critical learning, but when you're actually seeing it and feeling it—literally doing the hands-on work in the field or the lab or wherever—those are often the experiences that really stay with a student and shape them," she said.
As the college has evolved, Walley has noticed students taking a keen interest in courses centred around the environmental impact of agriculture. The trend, she said, seems natural.
"Agriculture and managing our environment really do go hand in hand. There is a recognition that in order for us to be successful in areas of agriculture, we have to be concerned about our environment, water security, what's happening in terms of the climate, how we're managing our bioresources," she said. "Those things are all inextricably linkedwhenwe're talking about managing the environment around us so that we can foster sustainable food production systems."
The introduction of new diplomas in Aboriginal lands governance and in Indigenous resource management is consistent with the evolution of college programming. Walley said the move to diploma programs in Aboriginal land management is one that's equally beneficial to both students and the U of S as a whole, creating an environment where learning is more openly available and more easily encouraged.
"I think it's really important," she said. "We have different kinds of university students now who are here for all sorts of different reasons. We want our programs and programming to be flexible enough to allow students to have many different routes into our college and into our programs."
In all of the changes, Walley said one constant has remained the focus for the College of Agriculture and Bioresources: to help students become champions of their field.
"Our goal is to train our students to be the leaders of the future—in agriculture, in food production, in managing our environment," she said. "These are important times, and we need people to be able to take on those any challenges that we are facing."