"I remember being in Grade 4 and having to do a future career project and my first choice was to be an archaeologist," she said. "The tangibility of the history fascinates me, and the amount we can learn from even the smallest objects is so important in learning about our past and where we're headed in the future."
As an archaeology student in the College of Arts and Science, Rooney is now working toward her dream. Although she is only in her second year of studies, she has already made a significant discovery.
On May 23, Rooney was at the Wolf Willow dig site at Wanuskewin Heritage Park, a national historic site located five kilometres outside of Saskatoon. It was there that she discovered an Iniskim, a bison-shaped figure collected by the Blackfoot people.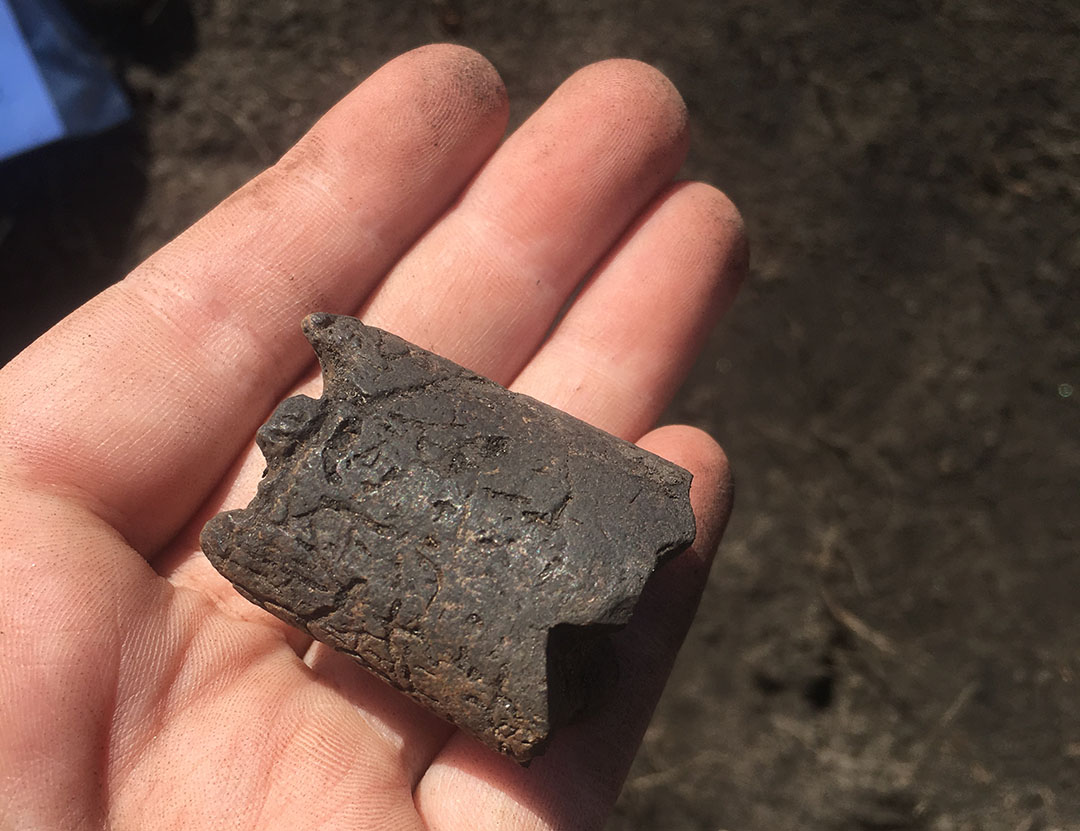 While the figure is about 800 years old, it is made from a fossil that is more than 66 million years old, according to Wanuskewin.
"I was very excited when I found the Iniskim. I knew it was going to be something special as soon as I picked it up. It was my first major find of the field school so, no matter what it was, I was going to be over the moon about it," said Rooney.
"The significance of Iniskims are that they are of high importance to the Blackfoot people as they shaped these ammonite fossils into bison figures, which relates to the story of the origins of the bison. They also used them in medicine bundles. The fossil I found is only the raw material and hasn't been shaped at all, but it's still really important in the understanding of how the material got here."
In a Facebook post, Wanuskewin described the find as "incredible," noting that "history was made" at the Wolf Willow archaeological excavation site.
"After 40 years of digging in Canada's longest-running archaeological site another first has occurred. Today an Iniskim was discovered, which was a bison-shaped figure collected by the Blackfoot people," the post from May 23 stated.
"The figure is about 800 years old but the fossil that it is made from is over 66 million years old. It comes from an ammonite tentacled marine creature that swam the oceans long before dinosaurs! This piece is extremely rare and is the joint piece of this creature's long tentacles. Amazing!"
Rooney has been digging at the site since May 10, but she said the U of S field school has been at the site for seven years.
"Last year was going to be the last year at this site but they found an Oxbow knife that was about 4,200 years old, so they decided to stay at this site for another year," she said.
The knife was discovered by two U of S archaeology students during their first dig.
Rooney is pleased to be participating in the field school this summer, and finding the Iniskim has made the experience that much sweeter.
"I would just like to thank my professors at the university for making this field school available and putting in their time during the summers," she said.