Growing up, a combination of a healthy home life, a strong neighbourhood community, and access to great mentoring through sports, meant he never felt he wasn't good enough or watched an opportunity pass by without knowing he could jump at it.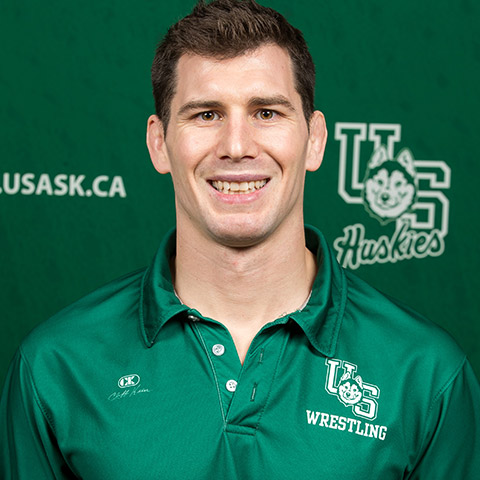 "I went to Holy Cross (high school) and I would go to Huskie practices, because I performed at a certain level," said Olver, who now serves as head coach of the University of Saskatchewan's wrestling team. "I definitely believe that helped me to know that I belonged at that level. I think that's a mistake that some high school kids make in their development, in that they don't think that they belong here. But that's very difficult to know, unless you're given the opportunity to be in this environment and to really test yourself and get some feedback."
Those experiences are precisely why Olver is so excited to be a part of the Youth Leadership Through Sports Program, which kicked off Nov. 26 through a partnership between the U of S College of Kinesiology, Huskie Athletics and Saskatoon Tribal Council (STC). The initiative brought together close to 50 Indigenous athletes aged 10-14 for its inaugural session at the university's Physical Activity Complex, to receive firsthand training and mentorship from some of the Huskies' top athletes and coaches and kinesiology staff.
Olver, who is Métis and took part in the program along with several of his Huskie wrestlers, said this kind of skills building and development can help young athletes discover just how attainable their goals are, if they put in the necessary work.
"It's one thing to dream about something, but when you begin to get more of a material grasp on it, it becomes more reachable as opposed to just an abstract idea," he said. "Being in the Huskie gym, where we hosted CanWest (championships) and we do our tournaments, and envisioning themselves in that environment—picturing those stands full and seeing themselves on the big screen—that's a huge step in anyone's development toward knowing this is possible, this is attainable, and all I need to do is follow some instructions and I too can be in this building."
Shawn Burt, chief athletics officer with Huskie Athletics, echoed Olver's sentiments, adding that he believes achievement in sports is a great step toward greater achievements in the classroom.
"Showing these amazing kids what is possible through hard work, focus and a commitment to being a leader in the classroom, on the playing surface, and in the community, is the ultimate goal," Burt said. "Once that seed is planted, I am a huge believer that success will follow."
The new program will continue over the course of the academic year, inviting more Indigenous youth to experience what it's like to train, compete and learn like a Huskie— and perhaps someday become one themselves.
"The long view for us as well is that these kids see themselves as U of S students some day; that they might take on that goal and strive to enrol here in the future," said Chad London, dean in the College of Kinesiology. "Graduating more Aboriginal students is one of our goals and this program can lead to those types of long-term successes." The aim, ultimately, is that the program will not only help Indigenous youth to excel, but also show them that the U of S is a community where they are warmly welcomed, whether they join through athletics, academics or other avenues.
"This opportunity will help develop the young people to feel comfortable with the university and know the university atmosphere by experiencing it at a very young age," said STC Chief Mark Arcand. "I have seen the lack of opportunities for young people in sports throughout our First Nations communities, by the lack of infrastructure and personal trainers. My passion and vision is to eventually see more First Nation children going to university and receiving scholarships based on their education and sports ability."
And in Olver's experience, planting a foot in the university's gymnasium at a young age is one of the best ways to start planning for a future in its classrooms.
"When you go through those years—especially when you're trying to figure out where you belong and fit in in high school—if they know in their heads that this environment is somewhere they enjoy and are accepted, that's where they're going to want to go," said Olver.