These staggering stats, in combination with her personal experiences as a frontline social worker, have motivated Jennifer Chouinard, a master's student in the Johnson Shoyama Graduate School of Public Policy at the U of S, to ask the question: why aren't we working harder to save those who spend their days and nights saving us?
Chouinard is conducting international research on mental health policies and programs that have been successful in reducing the incidents of psychological injuries and suicide among paramedics. With the help of Medavie Health Services West, Chouinard is looking to identify solutions to an increasingly alarming situation.
 "I believe that it is vital to ask frontline workers what their day-to-day reality is like, what their needs are, and how we can meet those needs," said Chouinard.
To that end, Chouinard, in collaboration with Gerry Schriemer, chief operating officer and EMS for Medavie Health Services West, examined some of the stressors for paramedics in Saskatoon. With a population of 254,000, paramedics respond to more than 30,000 calls per year, one of the highest call rates per capita in Canada. In addition to the number of calls, Chouinard and Schriemer highlighted other significant themes plaguing Saskatoon's paramedics.
Chouinard said the high call volume creates tension for paramedics who are already working in a high-pressure and high-stakes environment. With limited time between calls, paramedics receive little peer support or even time for meal breaks. To bring the volume to the national average, up to four additional ambulances would be needed on the street in a 24-hour period.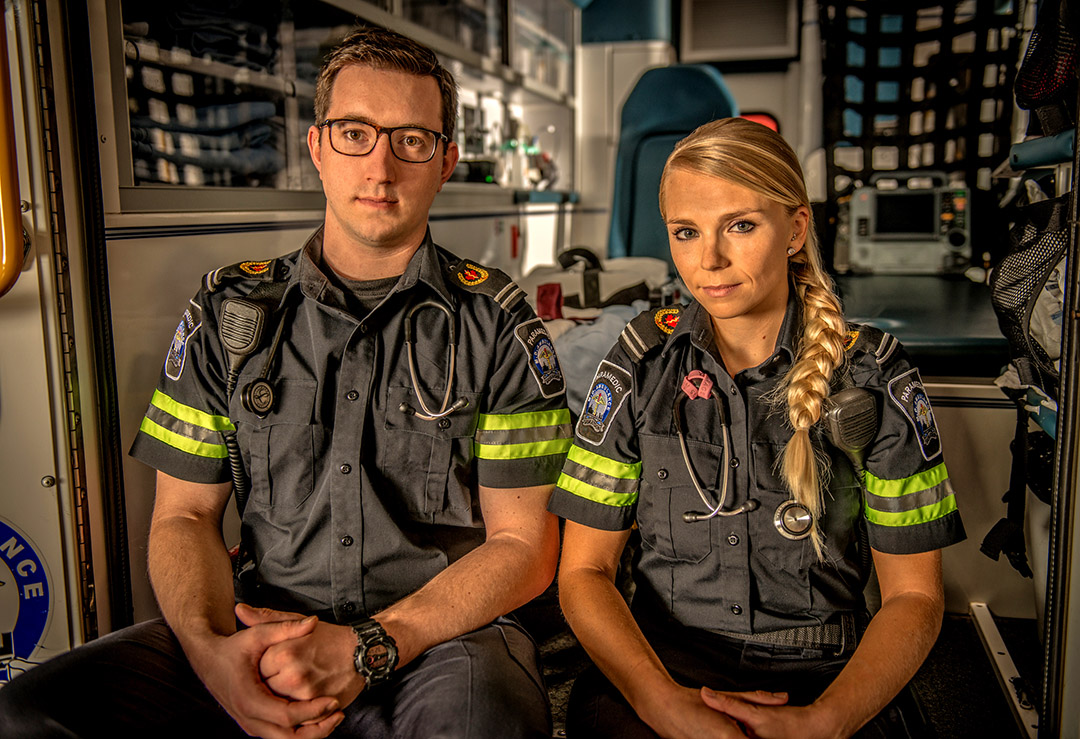 Once on scene, paramedics operate in an uncontrolled and unpredictable environment. They shield the patient and themselves from lingering dangers and overly curious passersby, while the environment and emotions fluctuate around them. In the heat of the moment, onlookers, uninjured individuals involved, and even injured patients may act out in fear, leaving paramedics at risk of harm.
Once off the scene, paramedics often face delays and spend a great deal of time waiting in hospitals, as they are unable to off-load patients to nursing staff due to a lack of available beds in emergency departments. Meanwhile, they hear calls come in and are anxious to get back out on the streets to help meet the high demand of individuals requiring medical attention.
Chronically ill patients, the elderly, and individuals with problematic substance use often require frequent transport to hospital multiple times over short periods. Continually treating and interacting with repeat patients can put an emotional strain on paramedics who often spend extended time with the same individuals.
These are just a few of the stressors, in addition to responding to the actual call itself—which can range from major accidents and violent offenses, to cardiac arrest, dementia and problematic substance use—that create an environment ripe with stress and prone to creating mental health issues.
 "With increasing awareness and two recent losses to suicide in Saskatchewan, many paramedics worry about the current state of mental health resources," said Chouinard. "The uncertainty of what the future may hold for them and their co-workers is additionally taxing on a paramedic."
In Canada, paramedics are more than twice as likely as the general population to develop some form of Post-Traumatic Stress Disorder (PTSD), with about 25 per cent of paramedics considered to meet the criteria of a PTSD diagnosis—not including those suffering from anxiety or depression.
When looking to the government for support after a psychological injury (either from a single incident or an accumulation of stress), workers are held up by a system that has not yet shifted its interpretation of mental health inclusivity. Workers across industries have raised serious concerns regarding the province's lack of support through the Worker's Compensation Board (WCB).
Chouinard and Schriemer agree that the implementation of Bill 39 (the psychological injury presumption), has not successfully assisted all psychologically injured paramedics and often puts more pressure on the employer and the injured employee. For instance, Medavie Health Services West is covering large gaps in lost wages and treatment costs—which are the responsibilities of WCB—so that its employees aren't waiting several months for support.
While conducting her research, Chouinard was inspired by the progressive and comprehensive staff support service available to paramedics at Queensland Ambulance Services (QAS) in Australia.
"What I saw in Queensland was an entire department dedicated to staff well-being, strong investment and support from the government, and a strong, long-standing investment from the academic community to ensure every detail was well-researched and evidenced-based," said Chouinard. "The duty of care for a paramedic's mental health seemed to be spread more proportionately among multiple stakeholders such as post-secondary training, the family, the employer, the community and the government. Returning home, the burden of this intense responsibility seemed to fall too heavily on the individual."
The QAS approach, Chouinard continued, educates paramedics on the psychological challenges of the job while also providing them with the processes, support systems and skills to prepare for and cope with what they will experience.
"This approach emphasizes support for the paramedics from the organization itself and their peers so that they know where to go for help, especially before they need it," she explained.
The pain of psychological injury and suicide has been felt across Medavie Health Services' operating companies, prompting the organization to continue looking for additional supports for paramedics and dispatchers. Currently, they offer programs such as the Road to Mental Readiness (R2MR) course to employees and their families. This program is designed to reduce the stigma of mental illness and to address and promote mental health resilience in a first responder workplace setting.
"The R2MR course is providing a useful foundation of knowledge for paramedicine teams and their families," said Chouinard.
Chouinard hopes her work will inspire all sectors of public safety to be more proactive in caring for the mental health of their workers.
"It is time that we start taking care of the people that are taking care of us."