Janessa Johnsrude, who earned her Bachelor of Fine Arts degree in 2008 through the College of Arts and Science at the U of S, is the co-founder of Dell'Arte International's Prison Project. Johnsrude and fellow co-founder Zuzka Sabata are faculty members at Dell'Arte, a school of physical theatre located on California's North Coast.
As part of the Pelican Bay Prison Project, which Johnsrude and Sabata founded in 2016 in partnership with the non-profit William James Association, the pair provide theatre classes to Pelican Bay inmates. While their work inside the prison first started with four minimum-security prisoners, today Johnsrude and Sabata offer classes on all of the general population yards each week.
"I teach at Pelican Bay State Prison, which is one of California's only super-max prisons," said Johnsrude, noting Pelican Bay still has the Secure Housing Unit—or the SHU, for short—which is essentially another way to describe solitary confinement.
"Pelican Bay also has the reputation as 'the worst of the worst.' When people refer to it—which is shifting—'the worst of the worst' means a lot of people who get in trouble when they're in the system end up at Pelican Bay," she said.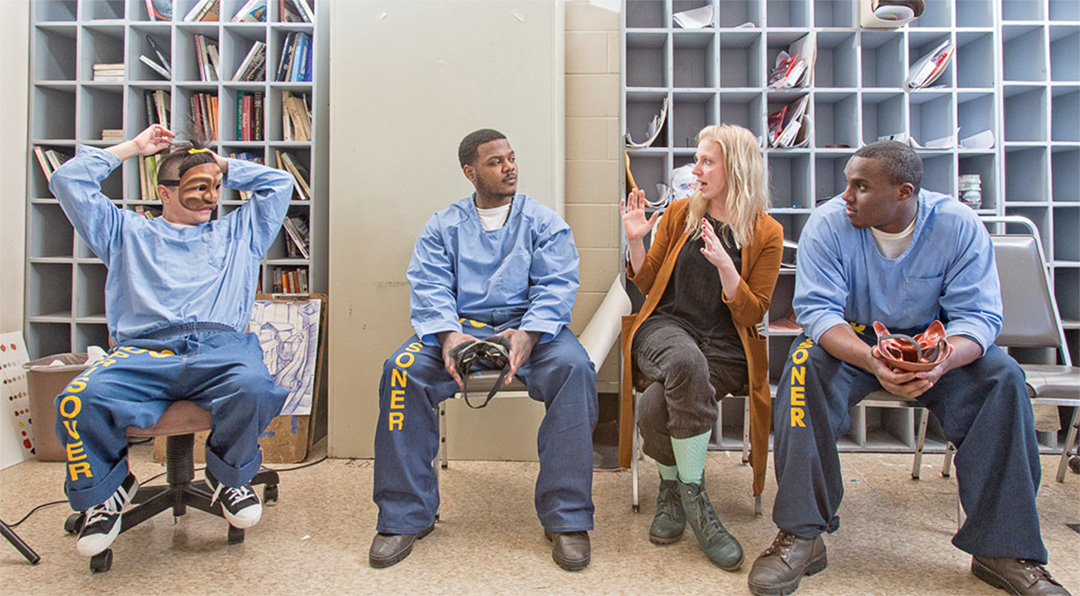 Pelican Bay is also known as the site that sparked the largest-ever prison hunger strike in U.S. history in 2013. Because of the abuses in the SHU, about 30,000 prisoners throughout California refused food.
The strike eventually led to more than 1,000 inmates being released from the Pelican Bay SHU, but critics still note that the American penal system remains largely unchanged.
Before beginning her work at Pelican Bay, Johnsrude had never been inside a prison. Born and raised in Saskatoon, Johnsrude attended Holy Cross High School before starting her studies at the U of S. She recognizes that her life is dramatically different from her students' lived experiences.
However, with more than two years of teaching at Pelican Bay under her belt, Johnsrude has come to know her students as individuals and has learned from them. The way she feels about going to the prison has also changed over time.
"It's bookended for me by this beautiful drive up the California coast, and I feel like a lot of what I talk about in class and a lot of what I teach is rooted in the natural world—and I have this huge advantage of driving this gorgeous trail on the ocean on the way there," she said.
"It's really interesting because as I drive there I'm running through what I'm going to do in the class; I'm running through my class plans, I'm running through what individual students need. I want to make sure I have all my paperwork and my ID; it's nerve-wracking."
Johnsrude said her teaching schedule is exhausting. On Mondays, she drives to Pelican Bay from her home—which is two hours away—and then teaches for six hours in the prison before checking into a motel and working on the administrative aspects of her job. She then teaches at Pelican Bay for another nine hours the next day before driving home.
"It's exhausting and it's on all different yards of the prison and it's all different curriculums, because the classes are moving at different paces based on when they started, who's in what class, what we're teaching, what level they're on. That aspect of the job is extremely stressful and it wears you out," she said.
However, during the drives home, Johnsrude is filled with a sense of gratitude to be working with people "in such an intense environment," she said.
"It offers something that I think that they don't get in their daily lives, and I get so much back from hearing their perspectives," said Johnsrude.
"Because I will say, for the most part, there's a real sense of authenticity coming from these students that I haven't really experienced in other environments to the extent that I do (there). So being in an intense environment with guards and guns and chain-link fences and walls and keys—the hopefulness that I get from being around people that are that authentic and that willing to step out of their comfort zone in such a place and are hungry for the work. . . . I feel like I get a lot back as a teacher because of that. On my drive my home I just feel like it's all worth it to put in that work, because I feel like I'm dealing with humanity in a really real way."
Testimonials from Pelican Bay prisoners speak to the positive impact of the program. Johnsrude said inmates are often stigmatized in society and are essentially reduced to their crimes, but she has come to know them as individuals and sees their humanity.
She is also a big believer that arts-based prison programming has a societal benefit by reducing recidivism rates.
"There's data that shows that prisoners that participate in arts programming have a lower rate of reentering the (prison) system," said Johnsrude. "This programming is having an impact both inside the prison and outside when people return to their communities."
Johnrsude said the roots of the Pelican Bay Prison Project go back to 2013, when the California Arts Council reinstated funding for Art in Corrections, a program founded by the William James Association in the 1970s that aimed to teach art to incarcerated people to support their rehabilitation. Dell'Arte faculty gathered together in 2015 with a desire to work at Pelican Bay State Prison—and the rest is history.
"We made a proposal to start a program not really knowing what direction it would go in or how many classes we'd be able to teach, but we've been given a lot of freedom to establish our pedagogy and curriculum within the contract that William James gives us," said Johnsrude.
"Due to lobbying and new legislation, there's now Arts in Corrections programs in all 35 institutions in the state, which wasn't the case a decade ago—there was almost none—and it's because of the work of a lot artists and arts organizations that push for this kind of programming."