"Honestly, it is a bit weird for me to walk by it every day at work and see myself in there," said Lavallee, one of nine Indigenous athletes inducted into the Hall of Fame who were recently honoured by the College of Kinesiology in a new interactive display highlighting historical artifacts and accounts of their athletic accomplishments.
"If anything, I hope it can create feelings of belonging for current Indigenous students or youth thinking about coming to the University of Saskatchewan, maybe even serve as some motivation for Indigenous athletes to wear the green and white in the future."
On Nov. 23 in the Physical Activity Complex, the College of Kinesiology, in partnership with the Saskatchewan Sports Hall of Fame, unveiled the distinctive display case and video kiosk dedicated to celebrating Indigenous athletic achievement in Saskatchewan. Lavallee was joined at the unveiling event by fellow Hall of Fame inductees Fred Sasakamoose (the NHL's first Indigenous player) and Claude Petit (four-time Golden Gloves boxing champion and Order of Canada inductee), as well as the family of legendary long-distance runner Paul Acoose.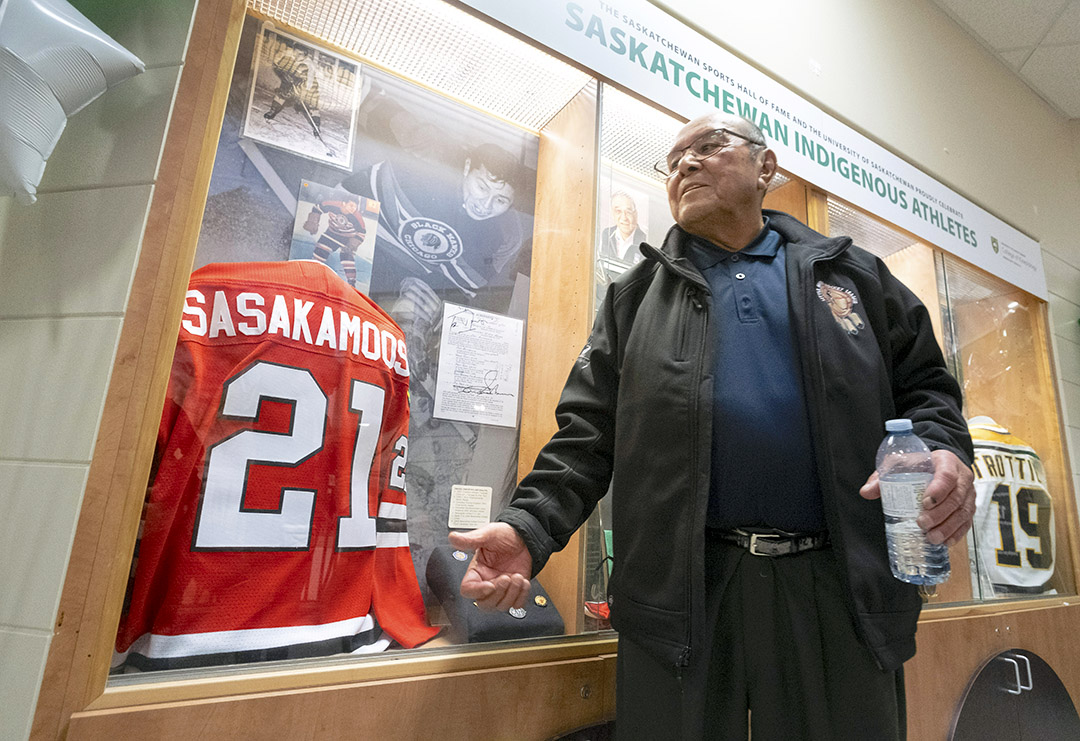 Lavallee was a Canada West all-star and an All-Canadian on both the Huskie soccer and basketball teams from 1996-2002, and later went on to play for Canada's national team. Her commitment to sport didn't end there, as she continues to give back as an assistant coach with the Huskie women's basketball team, helping inspire the next generation of young athletes.
"It's very important, if I think back to all of the things I gained from being involved in sport, it's immeasurable," she said. "I had so many strong female role models to look up to and they had a huge impact on my life."
"I believe there is so much untapped athletic potential in our province and we have to find a way to provide more opportunities for Indigenous youth at a younger age, as well as expose them to positive role models and success stories," she added.
Lavallee was thrilled to share the spotlight in the PAC with athletic trailblazers like Sasakamoose, who became the first Indigenous hockey player to skate in the NHL when he suited up for the Chicago Blackhawks on Feb. 27, 1954.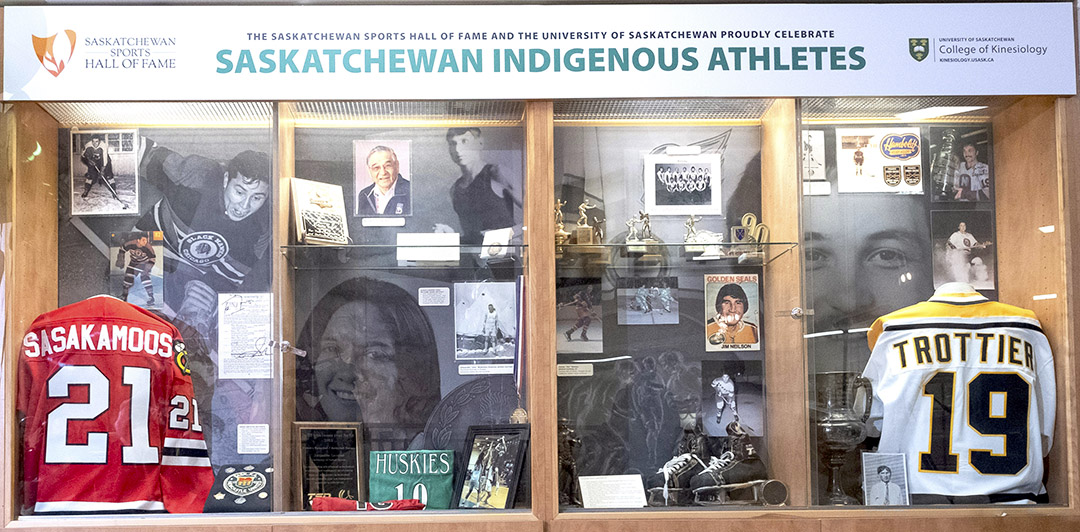 "It was one of the best moments of my life," said Sasakamoose. "For a young man, especially an (Indigenous) kid who was 19 years old, I always wanted to get there through perseverance and hard work. It's always nice to be able to talk about my life to the younger people and give them some inspiration on how I started."
Showcasing the stories of Indigenous athletes like Sasakamoose and Lavallee and the other Hall of Fame inductees is part of the college's commitment to the Truth and Reconciliation Commission's Calls to Action, No. 87: We call upon all levels of government, in collaboration with Aboriginal peoples, sports halls of fame, and other relevant organizations, to provide public education that tells the national story of Aboriginal athletes in history.
"There are countless Indigenous athletes across Saskatchewan whose stories can be shared in this display," said College of Kinesiology Dean Dr. Chad London (PhD). "It will inspire future generations as they engage with the display each time they come to the PAC."
The other Indigenous athletes who are honoured in the new display are:
• Tony Cote (instrumental in organizing the inaugural Saskatchewan First Nations Summer Games).
• Alexander Decoteau (competed for Canada in the 1912 Stockholm Olympic Games, winner of the 1910 Fort Saskatchewan 10-mile race).
• David Greyeyes (three-time provincial soccer all-star and member of the Canadian team that won the Overseas Army Championship).
• Jim Neilson (1,023 regular season NHL games to his credit, tallying 69 goals and 299 assists).
• Bryan Trottier (six-time Stanley Cup champion and Hockey Hall of Fame member).