Wasson implemented social work services at the college in 2014 as part of her Master of Social Work program. She became Canada's first veterinary social worker in 2015—a role that became permanent this year after the success of the pilot project.
Now Wasson is passing on knowledge to the next generation of social work students. Earlier this year, fourth-year students Samantha Ervin and Erin Boldt from the University of Regina's School of Social Work spent two days a week for four months during a work placement practicum at WCVM.
"Human-animal interactions and the incorporation of animals into social work is a really interesting and new part of social work that's getting a lot of traction," said Wasson. "There's quite a high demand: social work students want to attend placements where they're going to have a good opportunity to engage in the human-animal interface."
The WCVM placement was a surprise for Ervin. While students in her program can express interest in certain areas, they don't choose their placements.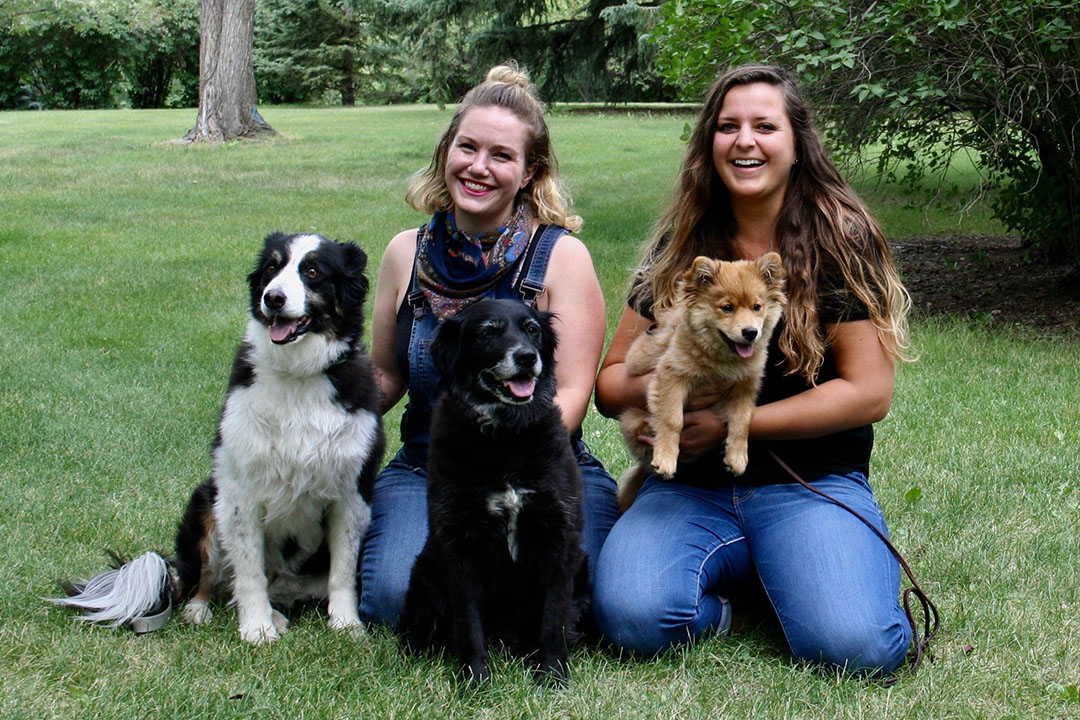 "Erin has this phenomenal talent of challenging you while helping you to still feel like you're in a safe environment and you won't be out of your depth in what you learn," said Ervin. "The veterinary team was so welcoming and willing to share their knowledge. I got to meet a lot of really great people that really made the experience amazing."
The students worked on research and clinical skills during their practicum, and had learning agreements outlining the individual goals they wanted to complete at WCVM.
"They were both so eager to learn that it was a real pleasure to work with them. I always felt as though they were coming in with their game face on, and that they were excited to be here," said Wasson. "They were happy to do whatever was available, they were both really engaged in the work, and the work that they produced was amazing."
The students worked on learning goals, including a literature review on caregiver fatigue that will help to inform future research. They created an outline for a pet loss support group and practised some clinical skills while attending appointments with veterinarians and students.
For Ervin, the experience demonstrated how social workers can be integrated into veterinary practice.
"There's not a lot of awareness with the mental health issues that veterinarians may face within their careers, and I think veterinary social work will help not only with awareness but also with tools in which to address these issues," she said.
Results from a recent study supported by Merck Animal Health and the American Veterinary Medical Association showed about one in 20 veterinarians suffer from serious psychological distress. Depression, burnout and anxiety were common, and 25 per cent of respondents also indicated they had thought about suicide.
Ervin said social workers can help strengthen communication lines between veterinarians and animal owners. As in all health-care settings, social workers can be a valuable part of the team, providing support around communication and co-ordination of services.
Wasson hopes her work with students in social work and veterinary programs will encourage greater cross-pollination between the health professions.
"You already see that sort of thing between family doctors and mental health … and, truthfully, veterinarians are just the other family doctor," she said. "I anticipate you'll see a mirroring of those relationships."