"The University of Saskatchewan is a place where they've got a vision that I haven't seen at other universities, to be able to invest and build these multi-disciplinary teams that are needed for the kind of research that I wanted to do," said Kochian, the Canada Excellence Research Chair in Global Food Security and associate director of the Global Institute for Food Security at USask.
"I am seeing this university recruiting top scientists and I think this vision helps drive that … We are hiring not just molecular biologists and physiologists and geneticists, but microbiologists, ecologists, post-docs, graduate students and technicians, and partnering them with physicists, engineers and computer scientists."
Kochian, who has published more than 250 peer-reviewed articles in high-profile journals like Nature and has been cited more than 33,000 times, said the university is building its research strength and global impact by recruiting top faculty and students and encouraging cross-college collaboration in all disciplines to work with the university's unique array of research facilities across campus.
"I have been really impressed with the can-do attitude and positive attitude here and also the willingness to think outside the box and try to put together teams across different departments," he said. "There is much more of a positive attitude here about research and about investing in research and it comes from the federal government, the provincial government and the university. And this allows you to do the kind of broad multi-disciplinary research that we need to do, to really make progress in agricultural research, particularly the crop side of agricultural research.
"Here you have a unique combination of willingness to find the resources and the technological resources you need, like the Canadian Light Source (synchrotron) and the Fedoruk Centre, and the world-class cyclotron that you don't often see located at one university."
A world-leading plant molecular physiologist and professor in the College of Agriculture and Bioresources, Kochian's work specializes in improving cereal crop varieties and root systems to help plants adapt to marginal soil conditions and increase yields in tropical and developing countries. Kochian, who came to Saskatoon in 2016 after working for Cornell University and with the United States Department of Agriculture, said USask continues to build on its success and reputation as a leader in developing agriculture leaders of tomorrow.
"We're training the next generation of agricultural scientists and they are not just going to be trained in soil science, or agronomy or plant molecular biology. In my group, they are going to be cross-trained because we have professors who will be co-mentoring from the different disciplines," Kochian said. "So, if they are getting into the phenotyping side of things, they can work with a bioengineer or maybe a physicist on the optics. As they gather that data, they could be learning some molecular genetics to kind of dissect that data in terms of ways in which we could improve crops."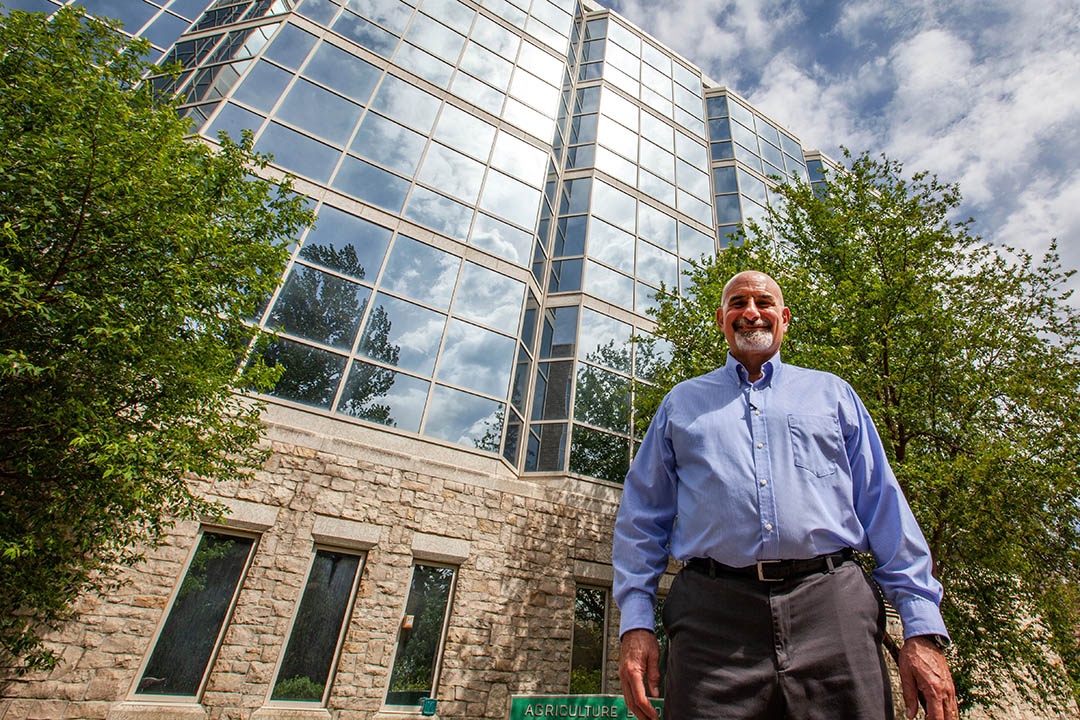 The University the World Needs
People of the plan
The University of Saskatchewan's new seven-year plan through to 2025 is titled The University the World Needs and has been gifted the Indigenous names nīkānītān manācihitowinihk (Cree) and ni manachīhitoonaan (Michif), which translate to "Let us lead with respect." In each issue of On Campus News in 2019, we will take a look at the 12 major goals of the new plan by profiling individuals involved in the university's commitment to Courageous Curiosity, Boundless Collaboration and Inspired Communities.