The 31-year-old University of Saskatchewan (USask) honours student in anthropology from the Lac La Ronge Indian Band graduates with a bachelor's degree at Fall Convocation, and is already working on her next degree—a master's in community health and epidemiology.
A cornucopia of courses and countries—studying geology, kinesiology and anthropology, along with trips to New Zealand, Norway, South Africa, Thailand and Ukraine—have helped LaFleur find her true calling.
"I was always interested in health and well-being, which is one of the reasons that I wanted to go into kinesiology," said LaFleur. "But I just realized that it was way more fulfilling for me to focus on Indigenous social determinants of health, especially within Saskatchewan."
LaFleur started studying geology at USask in 2006/07, but left school to work full time, later moving to New Zealand where she became a certified personal trainer. She returned to university to take kinesiology, but became fascinated with her elective courses in anthropology, which quickly became her new passion. LaFleur's studies took her to Africa, Asia and Europe as she experienced new cultures and traditional healing around the world and now speaks six languages: Cree, English, Norwegian, Russian, Thai and Ukrainian.
"I was always interested in health and medical practices globally and being able to experience that just opened my eyes to different modalities that people use to address their health issues," said LaFleur, who earned a USask Indigenous Student Achievement Award for Research in Health Sciences in 2018, after being nominated by one of her first professors on campus, Dr. Ulrich Teucher (PhD) in psychology. "Biomedicine can't do absolutely everything for everyone and just finding a lot of parallels between Indigenous medicine here and other Indigenous Peoples world-wide, has been really interesting."
It was USask's study abroad program that presented the proverbial passport to the world for LaFleur.
"It's such a valuable experience, especially when you have all the resources that we have here at this university," said LaFleur, whose experiences abroad included getting married in Norway on a bikepacking tour with her husband Morgan in 2016.
"It's something everyone should experience," she added. "You go to any country in the world and you come back to Canada and you realize that there are these same communities that live within Saskatchewan. You learn more about the cultural mosaic, as some people say, and it gives you a better understanding of where you're living in Canada."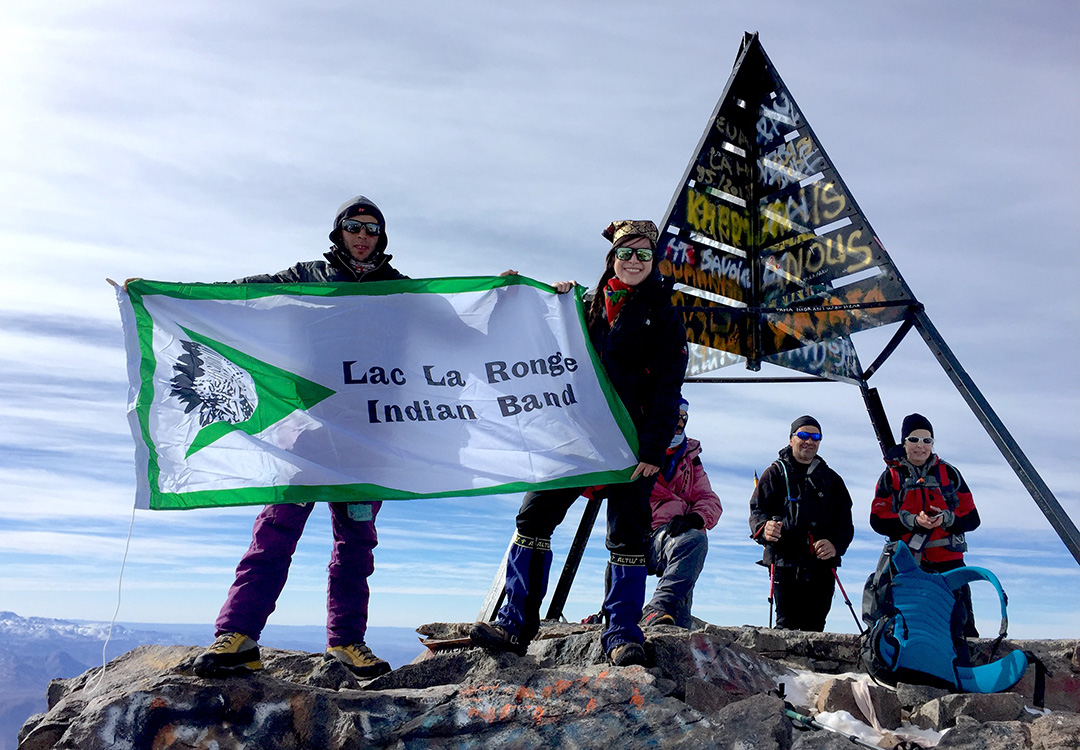 In addition to the scholarships that helped fund her study abroad opportunities—a total of $71,000 highlighted by the prestigious $50,000 High North Scholarship from the Arctic University of Norway for academic achievement—LaFleur is grateful for the supports that are now available for Indigenous students on campus, as well as guidance she received from her professors.
"I don't think that I would be as strong of an academic or as strong of a person, if it wasn't for my professors in anthropology," said LaFleur. "They have given me so much during these past four years and I am just very thankful, especially my supervisor (Dr.) Jim Waldram (PhD). I love that department so much that I couldn't leave it, so I asked my master's supervisor, Dr. (Sylvia) Abonyi (PhD), to make me an interdisciplinary master's student. So, I am taking half my courses in anthropology and half in epidemiology. I get to have my cake and eat it, too."
LaFleur's concern for community is reflected in her work in the hemodialysis department at St. Paul's Hospital and as a volunteer at the Student Wellness Initiative Towards Community Health (SWITCH) free health clinic. On campus, she served as co-ordinator of the Building Bridges program, which brings Indigenous and international students together.
In the future, she wants to support Indigenous patients in the health care system.
"When I am at the hospital and the SWITCH clinic, other Indigenous people recognize me as being Indigenous and that makes a big difference," said LaFleur, who currently serves as a research assistant with the Canadian Institute of Health Research at USask. "There are so few of us working in health sectors and just having that familiarity and that cultural safety makes a difference for them. So, that's something that is definitely important to me, is improving representation within the health sectors and creating safe spaces for Indigenous patients."