The 22-year-old Edwards School of Business student struggled at times during her first year on campus as she adjusted to university life in Saskatoon after growing up in Yorkton. But she soon struck a balance between academics and activities to become one of the most successful students in her class.
"In my first year, I definitely struggled with the transition," said Landstad, who will officially receive her commerce degree (majoring in accounting) at 2019 USask Spring Convocation in June. "I wasn't really sure how to balance my time with academics because I wanted to do really well, but I didn't really have that social aspect, so it took time to kind of find my place.
"In my second year I knew that I needed to do something different, and I really focused on getting that balance between academics and social aspects and figuring out where I wanted to fit in. And that's when things really took off for me, after I started to get more involved."
Landstad went on to excel both in and out of the classroom, earning multiple bursaries and awards—including the Surridge Memorial Scholarship and USask Academic Achievement scholarships—while posting a cumulative academic average of close to 90 per cent. A regular on the Dean's Honour Roll, Landstad also earned Edwards' prestigious Isaac Award for academics and community work in 2018.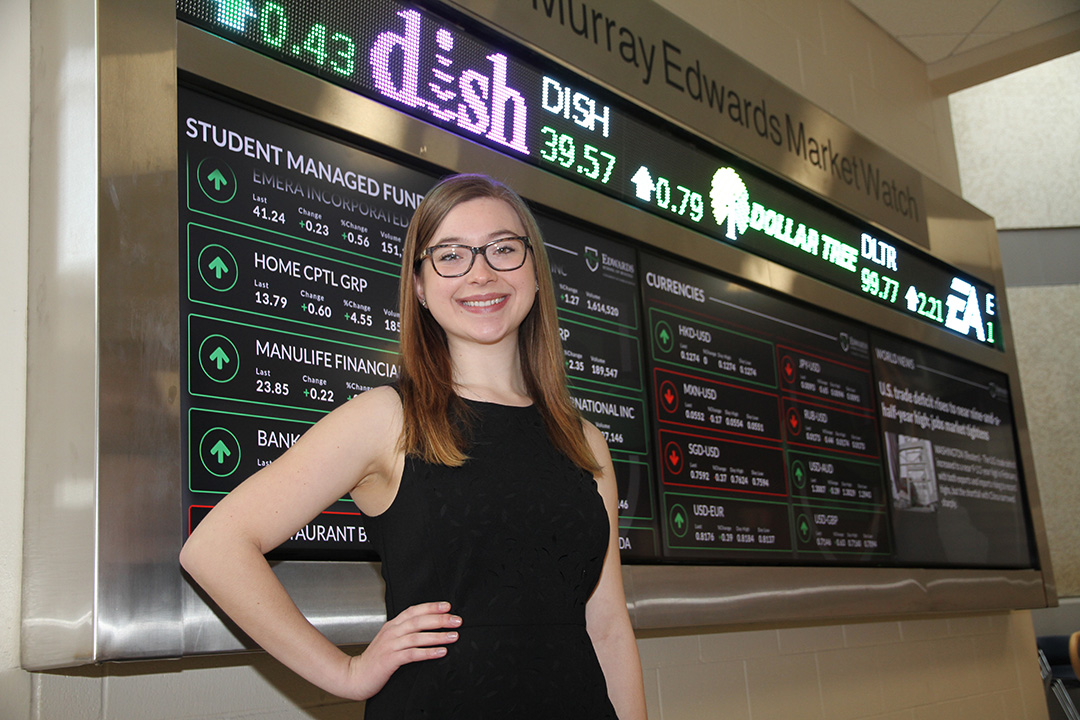 "That was a very special moment," she said. "To be recognized for academics and for community involvement, that was really nice. You want to do well in academics, but you want to help people as well, so it was really special to receive."
Landstad served as a student representative on the board of directors of the successful Dembroski Student Managed Portfolio Trust for two years at Edwards. Landstad's leadership also helped her school's tax team finish in first place while also helping Edwards take the title of school of the year and academic school of the year in the 2018 JDC West competition—Western Canada's largest undergraduate business student competition, featuring 600 students from 12 top business schools in Manitoba, Saskatchewan, Alberta and B.C.
"We finished in first place in a number of categories, so it was a great experience and a very proud moment," said Landstad, who has also volunteered with community groups and charities including the Parkinson's Foundation, Ronald McDonald House, and Habitat for Humanity, through her involvement with the JDC West team.
During her time on campus, Landstad has also served as corporate relations director and vice-president of project development with the USask Enactus team, part of a world-wide student-run organization dedicated to helping communities meet United Nations sustainability goals. In 2017, the Enactus team received the HSBC Indigenous Advancement Project Partnership Best Project national award after launching Food for the Future, to raise more than $38,000 for initiatives that included establishing an Indigenous community garden and youth education program in the northern village of Beauval.
Landstad has also stayed true to her roots, volunteering for fundraising organizations like the Brayden Ottenbreit Close Cuts for Cancer, in her hometown of Yorkton.
For Landstad, the combination of school studies and social activities has gone hand-in-hand.
"You definitely need to have that balance," she said. "You need to work hard in academics, but you also need to be able to take part in social activities and be able to tell yourself that you need to take a break and that will help you in your academics as well. Living a balanced lifestyle is something that is very important to me, through my university career as well as my career as an accountant moving forward."
After spending the summer of 2018 working for local accounting firm MNP, Landstad completed her final courses on campus in December and signed a contract to return to MNP. She began working full-time in January, will take part in convocation ceremonies in June, and is also planning to begin her post-degree professional certification in 2019.
Overall, Landstad believes her experience at USask and in Edwards has prepared her well for the working world.
"The Edwards courses are great and there are lots of opportunities outside of the classroom as well, things like JDC West, that have definitely helped prepared me," she said. "And you learn how to conduct yourself with clients and I think that is one of the things that Edwards has definitely prepared me well for the future."