The University of Saskatchewan (USask) honours student from Saskatoon will celebrate spring convocation at Merlis Belsher Place next month when he graduates with a bachelor's degree in regional and urban planning. But his plans for June also include trying to earn an opportunity to compete for Canada internationally.
"Getting my degree and earning a spot on the national team would make for a pretty incredible June," said Kowaluk, a nationally ranked sprint kayak athlete who has raced in the Canadian championships since he was a teenager. "It's going to be rewarding to get my degree and it has been a long time coming, so it will be a pretty proud moment. It will be exciting to kind of close this chapter in my life and move on to the next."
What's next for Kowaluk will depend on how he does at the Canoe Kayak Canada national team trials June 21-23 in Dartmouth, N.S., and the 2019 Canadian championships from Aug. 27 to Sept. 1 at Regina's Wascana Lake.
"More than anything, I want to make the national team and from there the goal would definitely be to compete internationally. That would be the ultimate dream," he said. "I have been on the fence about what to do next, but I think at the end of this year and at the start of next year, we will see where I stand as far as national rankings go, and then I will make the decision whether to focus on an athletic career, or start my professional career."
After beginning his university education by studying kinesiology, followed by a year off working in the construction industry, Kowaluk found his niche in the planning program at USask. He took full course loads in the fall semesters, with the winter semesters off to train in Florida with the national kayak development team in 2014, 2015 and 2016.
"I kind of took the long route to getting my degree, but it worked out well for my academic side and athletic side," said Kowaluk, who studied full-time in 2017/2018 and 2018/19 to complete his degree and his work placement, one of his favourite parts of the program.
"I did a work placement this term at the Saskatoon Health Authority that was an optional class for planning students, so I got a bit of professional planning experience and it was absolutely amazing," he said. "That was really beneficial, getting that hands-on experience."
While he looks forward to starting his professional career in planning in an urban or rural setting in the future, Kowaluk is also firmly focused on competing for Canada in kayak. After a winter of dryland strength and fitness training, Kowaluk hit the frigid waters of the South Saskatchewan River in late March and is now busy gearing up for June's national team trials. In competitive kayak circles, many Olympic-calibre athletes don't hit their peak until their 30s, giving the 25-year-old Kowaluk hope his best times on the water are still ahead of him.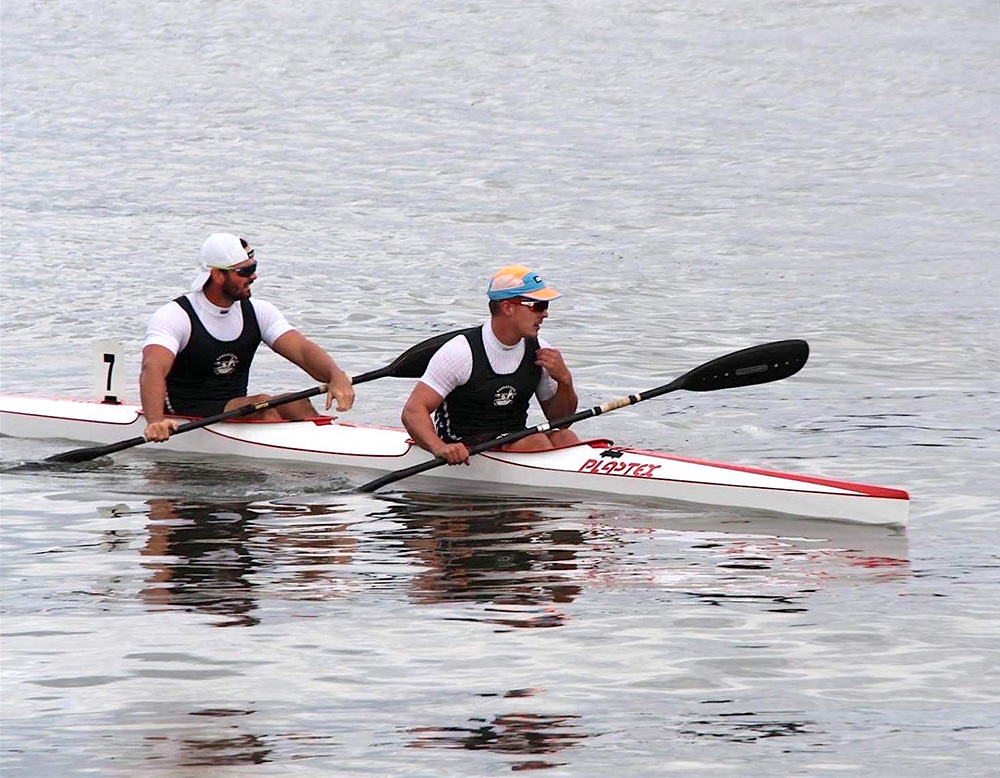 "If you look at Canada's past top two performers at the Olympics and world championships, they were Adam van Koeverden and Mark de Jonge, and they were winning medals well into their 30s when they hit their peak," Kowaluk said. "So, maturity obviously is a huge factor in this sport and it is more of a late bloomer sport, so I still have time to develop."
Kowaluk, who also referees senior, junior and midget hockey in Saskatchewan during the winter, is hoping his new dryland training regimen will give him an edge on the water at the national team trials in Dartmouth, and should feel right at home on Wascana Lake at the Canadian championships in Regina.
"That Wascana race course has kind of a home feeling for me," said Kowaluk, who made the finals in all eight of his events at nationals in 2018 and came home with a bronze medal in the open men's K-4 200m. "The first time I ever won a national championship was when nationals were there in 2010. Nationals were there again in 2014 and I walked away with a handful of medals then, too. So hopefully I can get a couple more this year."
But first for Kowaluk will be walking across the stage at Merlis Belsher Place at spring convocation, celebrating completion of his long journey to his bachelor's degree.
"I am definitely looking forward to it," he said. "There are not too many people in my family who have a university education. The family is generally blue-collar and farmers, so it will be a pretty proud moment."