Simone Hagey, Rina Rast, Chelsea-Lea Randall and Ashley Stock are working on undergraduate degrees in physics through USask's College of Arts and Science. They will speak at the lecture, which will be held on March 8 in celebration of International Women's Day.
Hagey said it's a fitting time to hold the event, since there's "quite a large group" of female students in the Department of Physics & Engineering Physics currently pursuing physics degrees with a specialization in astronomy.
"That actually hasn't happened in the department for a while—or maybe ever. So it was a good time to do it before we all graduate," said Hagey.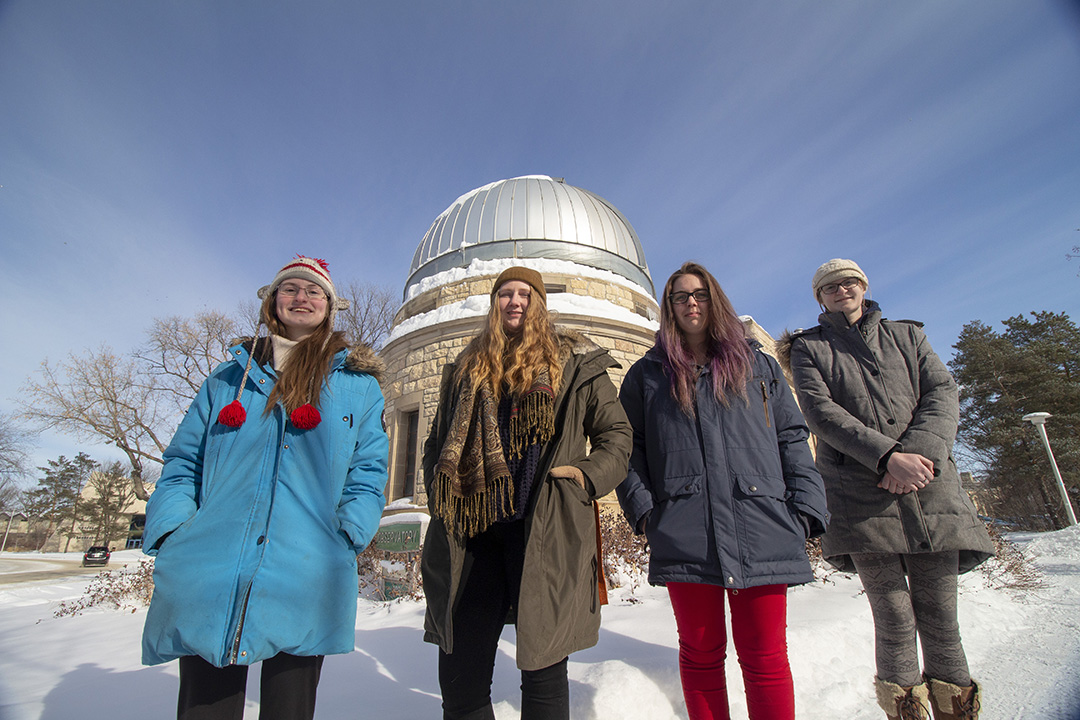 Hagey said she and her co-presenters will share stories about historical women "who kind of had everything stacked against them, but they still managed to make some amazing discoveries that they weren't actually necessarily given credit for until quite a long time after."
An example is a group of women known today as the Harvard Computers. The women were hired in the late 1800s and early 1900s, under the direction of Edward Charles Pickering at the Harvard Observatory, to be "computers"—a word that was used at the time to refer to someone who processed astronomical data. The women were hired largely because they could be paid significantly less than men, which enabled Pickering to employ more staff for the same budget.
One of the notable members of the Harvard Computers was Williamina Fleming, a Scottish immigrant who had worked as Pickering's maid. She went on to make significant contributions to the field of astronomy, such as developing a classification of stars based on their hydrogen content, discovering 10 novae and discovering the Horsehead Nebula in 1888. Fleming became the leading female astronomer of her time and, in 1906, was made an honorary member of the Royal Astronomical Society of London.
The March 8 talk will also touch on women's more recent contributions to astronomy. Featured will be British astrophysicist Jocelyn Bell Burnell, who discovered pulsars in 1967, and American astronomer Vera Rubin, who discovered dark matter.
"Then we'll talk about Margaret Burbidge, who did the work on how elements are made in stars," said Stock. "That discovery shows that pretty much every element is formed in a star in some way—except for the ones that were formed at the very beginning in the Big Bang. So it's very important contributions to how we understand stars that wouldn't have happened if the Harvard Computers didn't get a chance to do the computing."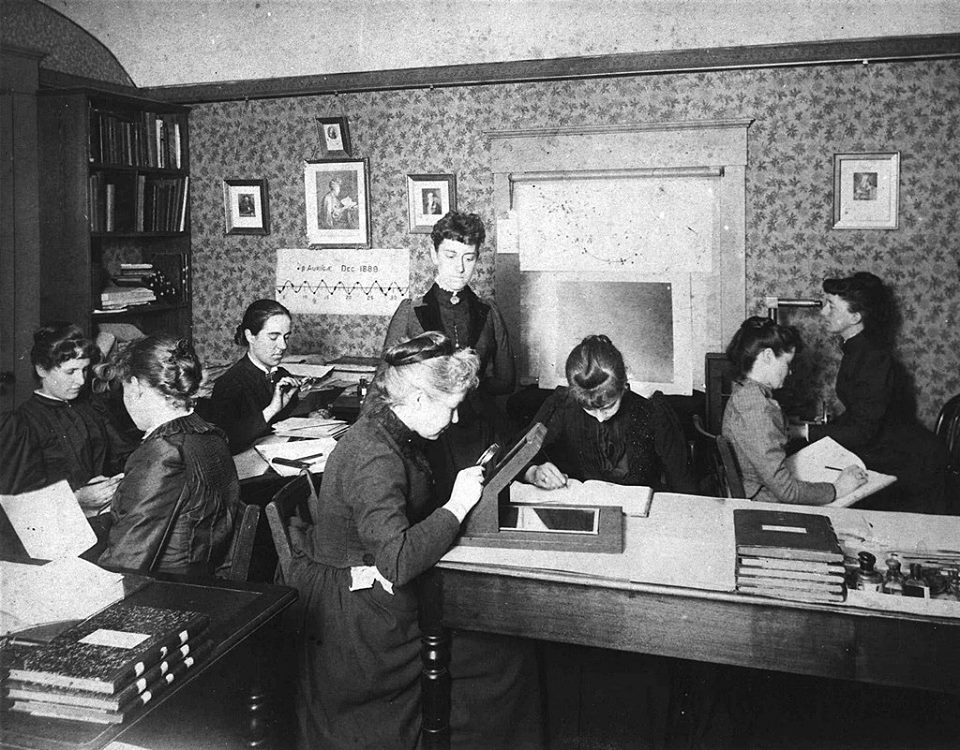 Randall said even today, more than 100 years after the era of the Harvard Computers, women can face barriers in the science, technology, engineering and math (STEM) fields. Hagey noted "it's easy to feel intimidated sometimes" when you are the only female entering a classroom or a laboratory; conversely, it's also upsetting when female scientists are given special privileges due to tokenism rather than due to the academic merits and knowledge they possess.
"There is still sometimes the assumption that you don't know as much—or, you get told you get things just because you are a woman as well," said Randall.
Randall hopes other young women, such as high school students, attend the lecture and learn about the contributions female scientists have made to astronomy. She wants them to be inspired to enter the sciences and know "that they can do it as well, that they are represented, that women have done it."
"We are in the field; we're just not mentioned as much," she said.
When Hagey, Rast, Randall and Stock finish their undergraduate degrees, their goals include pursuing graduate studies, becoming a professor or working as an astronaut. They acknowledged the encouragement they have received from the USask Department of Physics & Engineering Physics, noting it was two instructors in the department—Daryl Janzen and Stan Shadick—who came up with the idea to hold a lecture on International Women's Day.
Rast and her co-presenters said studying astronomy was a natural fit for them.
"I've always been interested in the night sky. I grew up on a farm, so (in) the dark sky I got to see lots of stars," Rast said.
"I always wondered what the different constellations were, and I remember looking at the Pleiades and being totally confused about what it was. It was glowing, and I am like, 'Why are a group of stars glowing?' And then I took intro astronomy class in high school and I totally loved it.  Then (I said), 'OK, I'm going to university and I'm going to study physics and specialize in astronomy.' It was super clear to me after that."
The March 8 lecture will begin at 4 pm in Physics 107. Refreshments will be served in the Physics Building foyer at 3 pm. The talk is free and open to the public.