Like the trunk of a tree, my roots started in the African continent. Nigeria was my first love as I saw it through the eyes of a child. Just like most fantasies, my heart got broken. My family and I moved to Canada when I was eight.
But as a flower blossoms, my love for Canada and what it meant to be Canadian blossomed like the maple tree. My intricate identity of being Canadian and Nigerian became a complex basket woven through my experiences in both places. Nigeria helped form my fundamental drive to see positive impact in the world and Canada showed me that the change I wanted to see was possible. Both worlds, although very contrasted, fit perfectly to define my identity.
Studying economics at the University of Saskatchewan has taught me how the world works, but more importantly, it has shown me how government, civil society and the private sector interact and the role that each actor plays in improving societal welfare. Throughout my academic career, I have continuously taken opportunities that allow me to apply economics classroom concepts in the real world.
This has led me to spending my summer in both Uganda and Nigeria as a Queen Elizabeth Scholar to understand planetary health. During my time in both countries I have been able to learn directly from local actors about the complexities of striving towards sustainable development goals. My most valuable learning experience has been in working with locals at the forefront of moving their communities towards sustainable growth.
While in Uganda, as part of the Queen Elizabeth Scholars program, we worked with community leaders to implement a project to this effect.
I chose to work with an event rental community project which was led by the Miranga United Credit and Savings (MUCAS) group. The group helps its local members to save funds and disperse them based on their needs. The event rental community project is an initiative by MUCAS to fulfill a community demand while also generating internal capital capacity.
In three days, I, leaders of MUCAS and other scholars began the process of morphing the project into reality. Over the next days we collaborated with the community to create marketing channels, source a provider for the equipment and stipulate the operations of the business. Within a week, MUCAS was able to acquire its first customer.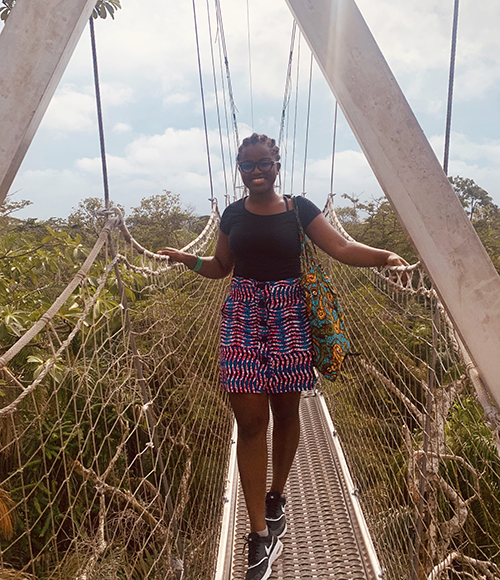 After Uganda, I pursued an internship at PwC Nigeria, writing economic papers. Quite often, stories about Nigeria highlight negative facts and/or events. To address this, I am currently working with one of the firm's partners to highlight young African change-makers.
The goal of this is to amplify the stories of young Africans who are making positive impacts in their communities. While working on the project I have been humbled to speak with fearless, determined and resilient individuals, each one of them trying to bring solutions in various areas: from education to transportation to agriculture. Fezile in South Africa, for instance, is building an electric ride-sharing company.
My research also looks at case studies on how Nigeria is a self-organizing state even though raw statistics of the country in comparison to international standards can be disheartening. Through the project, I have been able to witness cases of individual Nigerians building solutions across various sectors.
During my experience in both countries, I have learned that sustainable development requires attentive listening—listening to communities and hearing their own solutions for their development.
In Uganda, I was able to learn from them a model that works for running a social enterprise and how small/medium businesses operate in rural areas. And in Nigeria, I have learned how people are proffering solutions to biting problems and tackling developmental barriers despite severe infrastructural roadblocks.
Ultimately, my experience has planted another tree in the expansive forest of my life—one that will bear bountiful fruits in years to come.