"I only wanted to tell one story. It can only ever be just one story. To try and make it bigger would have wrecked it," said Vermette, who will visit the University of Saskatchewan for two events on March 18.
Yet the Winnipeg-based Métis writer knew her debut novel would be part of a much larger conversation.
When The Break was published in 2016, its nuanced handling of themes of race, class, intergenerational trauma and resilience led to the National Post calling it "one of the most important" books of the year. It was championed on CBC's Canada Reads as "the one book Canadians need now."
This year, The Break was announced as the official selection of the Arts and Science Book Club—the book everyone in the College of Arts and Science is invited to read in 2019.
As the book club author, Vermette will speak at two free public events on campus on March 18: a reading and discussion of The Break at 2 pm and a talk about her life and career titled My Writing Life at 7 pm.
Set in Winnipeg's North End, The Break is the story of a violent assault and its effects on the lives of people connected to the victim. The narrative unfolds through 10 interweaved perspectives, many of them belonging to the women of a single family.
"My goal was to write a story about a family, to describe how these things live with us in profound and deeply personal ways," said Vermette.
The book won the 2017 Burt Award for First Nations, Inuit and Métis Literature and the Amazon.ca First Novel Award along with a dozen other national honours. It added to the growing acclaim for Vermette, already a Governor General's Literary Award recipient for her book of poetry North End Love Songs.
With its multiple viewpoints and heavy subject matter, The Break is an exceptionally ambitious first novel—more ambitious than its author originally intended.
Vermette said she never planned to tackle such a complex narrative, but she felt compelled to add more voices and characters as she wrote. "It got messy, but it also became what the book was about. Each character had different reactions, different coping mechanisms, different skills to help others get through."
The writer said she, too, took comfort from her characters as she waded through the darker elements of the story.
"I found myself gravitating to Auntie Cheryl and Kookoo, because they knew just what to do, just how to get by," said Vermette. "They brought the hope, and sometimes the funny, and that's just as integral to the story as the bad stuff—probably more so, actually."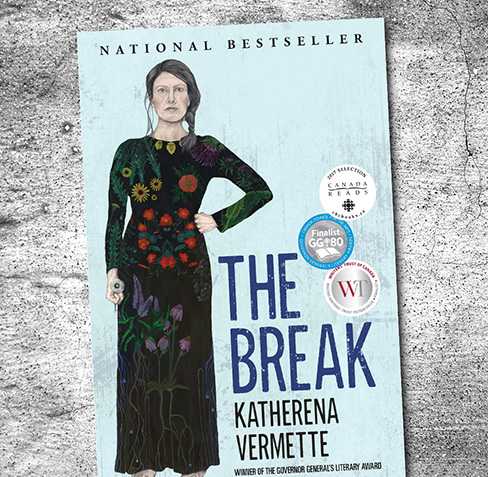 Corinna Wollf, the artist and College of Arts and Science alumna (BA'96, BFA'14, MFA'16) whose art is featured on the cover of The Break, is one reader who felt a strong connection to the book.
Wollf said she knew she wanted her artwork on the cover when she "felt a kinship with the characters" based on her experiences growing up in Saskatoon's inner city.
"From Vermette's descriptions of Winnipeg's North End, I could understand that it was very similar to what I knew as a teenager," said Wollf. "The book is difficult and heartbreaking, but at the same time hopeful and inspiring. I understood it would be an important work and I felt privileged to contribute to it in this way."
The work chosen for the cover, a drawing of a Métis woman titled The Woman and the Wolf (Sohkahcahkwew), was based on photographs Wollf studied as she researched her own Métis family history. The life-sized drawing was displayed at the Gordon Snelgrove Gallery on campus in 2016 as part of Wollf's Master of Fine Arts thesis exhibition.
The impressions people take from The Break depend on their personal experiences, said Vermette, who stressed that there is no right or wrong interpretation of the book.
"But I do hope the big takeaway is the strength of these women, the fact that there is many responses to trauma, and that we hold these things in our bodies in profound and very real ways," said the author. "That the best teachers of how to get through are those that have gotten through—those are the heroes. Those are my heroes, anyway."