The 23-year-old fourth-year student in the College of Education at the University of Saskatchewan (USask) has set her sights on competing for Canada in the 2020 Paralympics, as she continues to make waves internationally in para-swimming. This month, Newkirk is representing the country overseas and looking to make a splash again internationally as she races in her first world championships in London, England.
"I am a proud Canadian and I have always watched our athletes on TV wearing the red and white, and with our swim caps having the maple leaf and our name on it, it's just incredible," said Newkirk, who went into the world championships holding a whopping 12 Canadian swimming records and one world record. "It's exciting to represent our country and it gives me a huge sense of pride."
Newkirk has had plenty of support from fellow students and professors in her college as she continues to make her mark in the pool, while also serving as an advocate for accessibility on campus. Selected as Sask Sport's Female Athlete of the Year in March, Newkirk was also named Swimming Canada's Female Para-swimmer of the Year in each of the past two years, and is the current world record holder in the 50-metre backstroke in the S7 category (one of 10 classifications for physical impairment).
"I have a really good group of friends in education who are in a lot of the same classes as me and they always follow along with how I am doing and follow my journey and cheer me on, and some of the professors too," said Newkirk. "It's just really nice to have that home base and encouragement for what I am doing."
Newkirk has also received plenty of support from the university's Access and Equity Services (AES) department, which has helped her address mobility challenges on campus.
"I use a wheelchair pretty much full-time on campus and I have other mobility aids that I can use for short distances," said Newkirk, whose father Dr. Rex Newkirk (PhD) is an associate professor in the College of Agriculture and Bioresources. "There are some older parts of campus that are not always completely accessible, so I have worked with AES and they have helped me navigate them. They do classroom changes for you and they take care of any accommodations to make sure that everybody can attend classes, which is great."
A multi-sport athlete growing up, Newkirk started para-swimming seven years ago after being diagnosed with dystonia, a rare neurological disorder that affects mobility in her lower limbs. The pool proved to be the perfect place to continue competing, as she dived right into the sport of para-swimming. Not only has she quickly become one of Canada's most promising young future Paralympians in the water, but she has also excelled in the classroom, posting an 86 per cent average in her 2018/19 education studies.
"It's definitely a lot of work to keep up with everything, but I really thrive on being busy," said Newkirk, who also helps coach young swimmers in her Saskatoon Lasers Swim Club. "I swim five or six days a week plus a couple additional days in the gym, and meeting with nutritionists and trainers, while taking education classes. And I started my own online business on the side, too, so it's a lot of time management. But it's been a great year. I definitely have been working really hard in the pool and it's nice to see all the hard work paying off."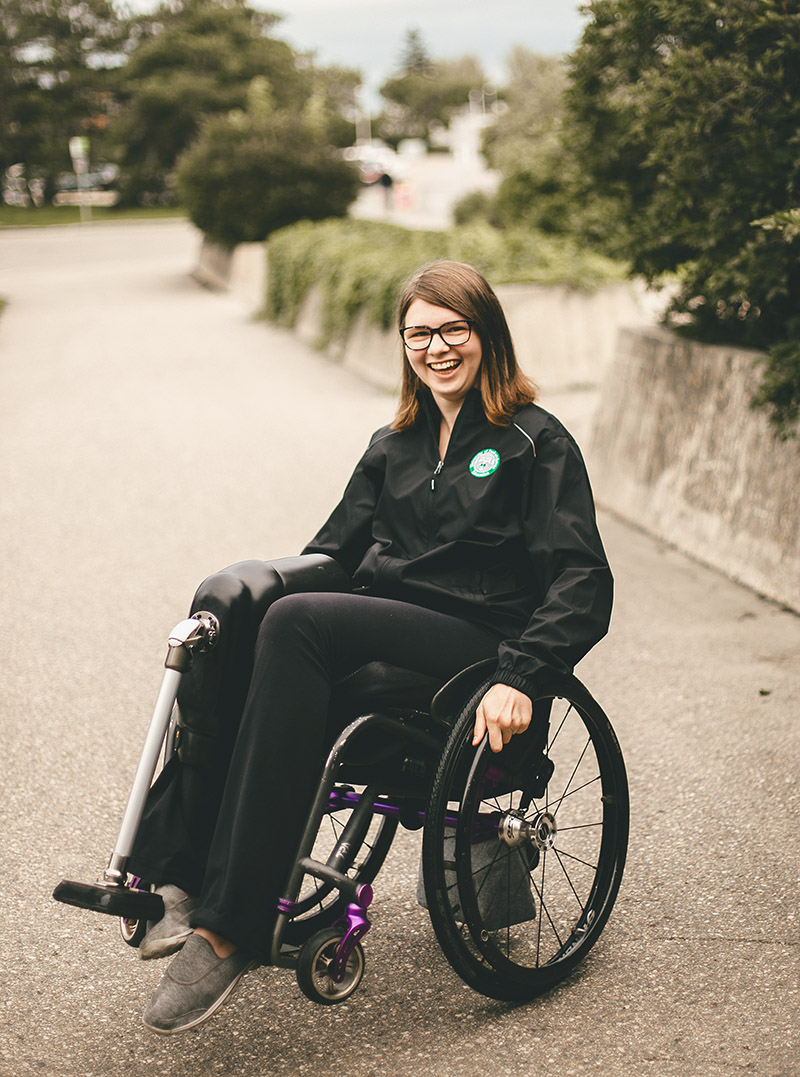 Newkirk has already met the race time standard required to compete in next year's Paralympics—Aug. 25 to Sept. 6 in Tokyo following the Summer Olympics—but will need to repeat the performance at next spring's national team trials. However, with a dozen national records and a world record already to her credit, Newkirk appears well on her way to becoming a Paralympian.
She is also on pace to finish her classes and final exams next April, and will just need to complete her practicums to earn her degree. While the Paralympics are her primary focus at the moment, Newkirk is also looking forward to working with children in the future.
"I've always wanted to help kids, especially in the school system," she said. "I don't know if I will work full-time in a classroom, or if I will do more consulting and try to get schools to increase accessibility, especially with phys-ed programs and increasing parasport awareness. I want to find ways to make schools a little bit more accessible for kids, and provide kids with the help they need."