"It's one of Womble's favourite gigs. He really enjoys coming here," says his handler Wendi Stoeber, the human half of the volunteer St. John Ambulance therapy dog team. Stoeber sees the immediate benefit to students after a visit with Womble.
"I see smiles on their faces, first of all. They sit down beside him and give him hugs and cuddles and start talking about their own dogs and how much they miss them and how much this means to them to be able to interact physically and emotionally," Stoeber says.
Womble and a few of his furry therapy dog friends star in a new video created to showcase the PAWS Your Stress program, which was initiated by Dr. Colleen Dell, a professor of sociology in the USask College of Arts and Science and the university's Research Chair in One Health and Wellness.  
"We've been offering our therapy dog program on the U of S campus for about six years now," says Dell. "It was all evidence-based how we designed the program, and we keep doing evaluation[s] to make sure that we can offer the best service possible with our therapy dogs."
Along with her dogs Anna-Belle and Kisbey, Dell both participates in the program and helps track its success, publishing research on the connection between student wellness and interaction with therapy dogs.
One study published by her team reported 92 per cent of USask students found visiting with therapy dogs helped them to reduce stress.
This contributes to the research literature showing that being around a therapy dog can help to lower students' stress and anxiety levels, increase their happiness and contribute to improved mental health.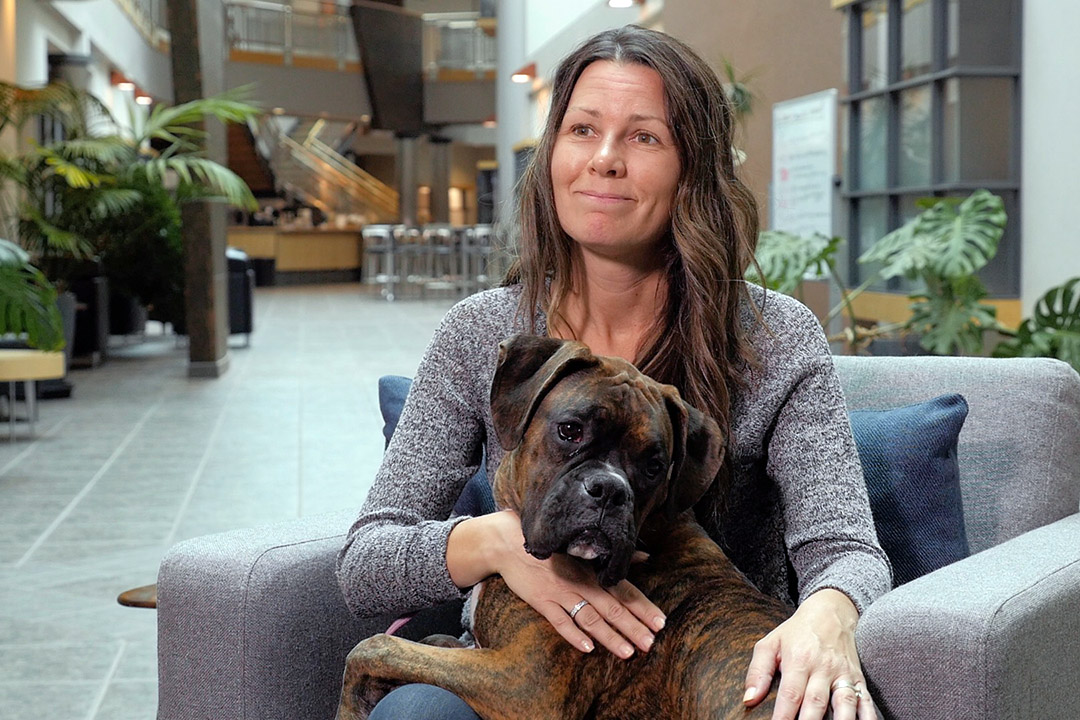 "I think there's lots of benefits to therapy dogs. It's a very stressful environment being in university, and it's a great way to de-stress and hang out with some dogs and get a lot of cuddles and not think about the stress involved in school," says Davlynn Pedrick, a second-year veterinary student at the Western College of Veterinary Medicine (WCVM).
Pedrick notes that many students from other centres or provinces may need to leave their pets behind at their parents' homes while they attend university in Saskatoon. Spending time with therapy dogs helps provide a connection to animals throughout the school year.
"Therapy dogs are really awesome to have on campus," she says.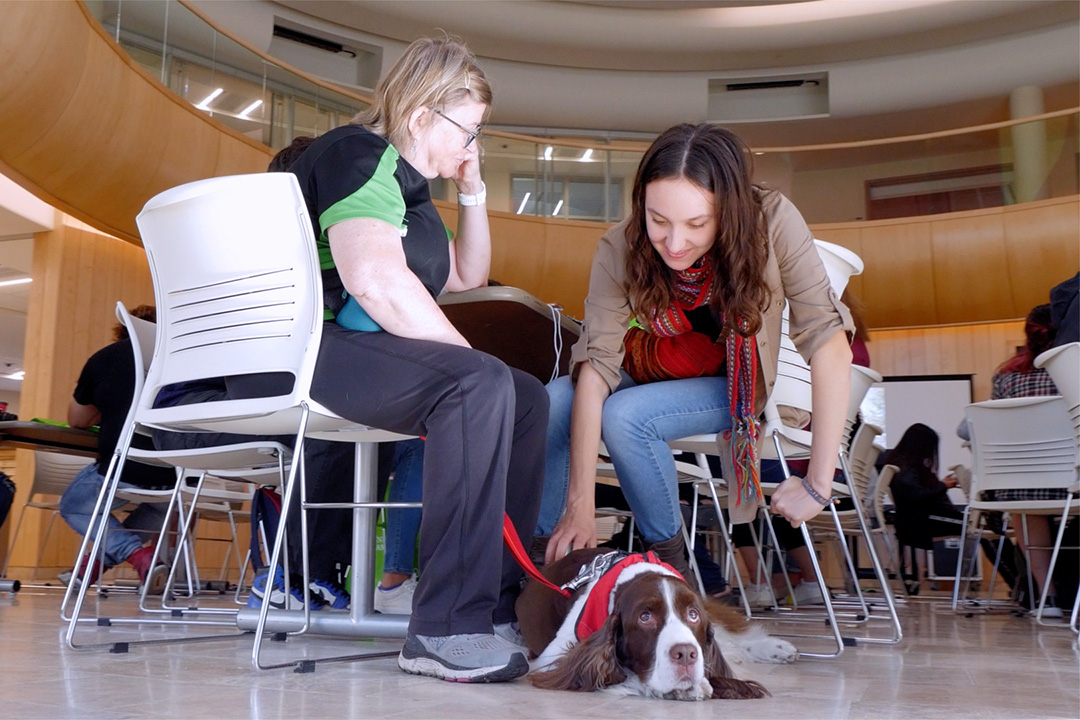 The therapy dogs are scheduled to visit twice per month during the regular semester at the libraries on campus and the Gordon Oakes Red Bear Centre, weekly at Student Peer Support Drop-in in partnership with Student Wellness, and with increased visits during the university's exam period and for student groups upon request.
The program is coordinated out of Dr. Dell's office by a Sociology graduate student, Alexandria Pavelich, and is supported by several groups on campus, including the university's leadership team.
"We are really fortunate to have therapy dogs on our beautiful campus," says USask President Dr. Peter Stoicheff.
The PAWS Your Stress program is an example of One Health — the connection between human, animal and environmental health – in action. The new video was released this week to mark International One Health Day, a global campaign to raise the profile of One Health.
The PAWS Your Stress program is presented in partnership with the USask Office of the President, Student Wellness Centre, WCVM, Gordon Oakes Red Bear Student Centre, and the University Library, as well as the St. John Ambulance Therapy Dog program and the Canadian Centre on Substance Abuse and Addiction. 
If you would like to request a therapy dog visit on campus, send an email to Alexandria.pavelich@usask.ca or visit social media at "Paws Your Stress".