Roelens is graduating this fall with a Bachelor of Science in Agriculture, with a major in horticulture. Born in Cape Town, South Africa and raised in Saskatoon, Roelens was always aware of the opportunities available to her at USask. Her brother studied at USask before her and Roelens attended the university's Open House event for prospective students when she was in Grade 12.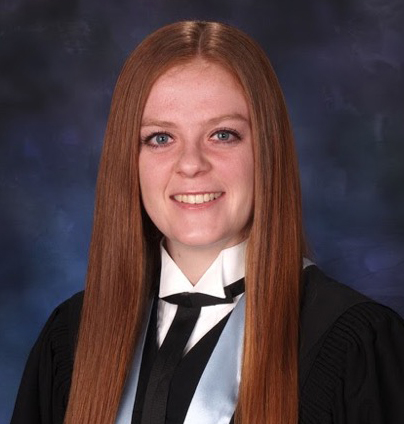 "In my senior year of high school, I decided that I really wanted to have a job that would give me the opportunity to be outside as much as possible," said Roelens. "The College of Agriculture and Bioresources seemed like the best fit."
When it came time to select a subject to major in, Roelens chose horticulture.

"Horticulture seemed like a good option as it allows me the chance to work in many parts of the ag sector."
Roelens seized the opportunity to study abroad in the Netherlands in 2019, when she attended the HAS University of Applied Sciences in 's-Hertogenbosch (Den Bosch). She studied horticulture and business management and noticed differences between agricultural practices in Saskatchewan and the Netherlands.
"The biggest difference is the more extensive use of greenhouses," said Roelens. "Of course, we still have greenhouses here but that's the majority of food production in the Netherlands."
Roelens received multiple scholarships to study abroad, including the Global Engagement Scholarship, the W. Murray Riddell and Betty C. Scholarship and the Education Enhancement Grant.
Highlights of her study abroad experience included a class trip to Greece to tour olive and grape producers, side trips with new friends to countries such as the Czech Republic and Scotland, and visiting the famous Keukenhof Gardens while the tulips were in full bloom—which occurs only two months of the year. 
While in Scotland, Roelens visited the Glenfinnan Viaduct, a railway viaduct on the West Highland Line that has been featured in many movies and televisions shows such as Harry Potter and The Crown.
"I learned that there are so many opportunities out there," she said. "My study abroad really opened my eyes to the many opinions and experiences that other people hold. I learned more to stay open to new ideas and to be willing to say 'yes!'."
Back on campus at USask, Roelens' favorite class was Tropical Crops of the World, taught by Dr. Helen Booker (PhD).
"It was a great intro into the many, many different crops grown in the tropics, and it was quite interactive," said Roelens, whose interest in tropical plants extends to her favourite spot on campus—the agriculture greenhouses. "The tropical section is definitely a must-see when it's full."
Reflecting on her experience in the College of Agriculture and Bioresources, Roelens said it was everything that she hoped it would be.

"I loved it! I definitely think it's one of the most fun colleges, and there are so many events and networking opportunities," she said. "I feel like the college is very good at helping students find employment and summer experience, as well."
Roelens has already secured employment. She is currently working for an agricultural company, landscaping and developing online learning resources on topics such as aquaponics and sustainability. In the future she would like to open a flower shop.
Roelens' future is bright and her time in AgBio at USask served her well.
"I learned to be confident in my decisions and to take advantage of the opportunities offered to me."