Katie Willie, who is pursuing a master's degree in archaeology in USask's College of Arts and Science, said bison are culturally significant animals that provided Indigenous peoples with food, tools, clothing and shelter for thousands of years. She is particularly interested in the restoration of bison at Wanuskewin Heritage Park, a historical gathering place for Indigenous peoples for more than 6,000 years.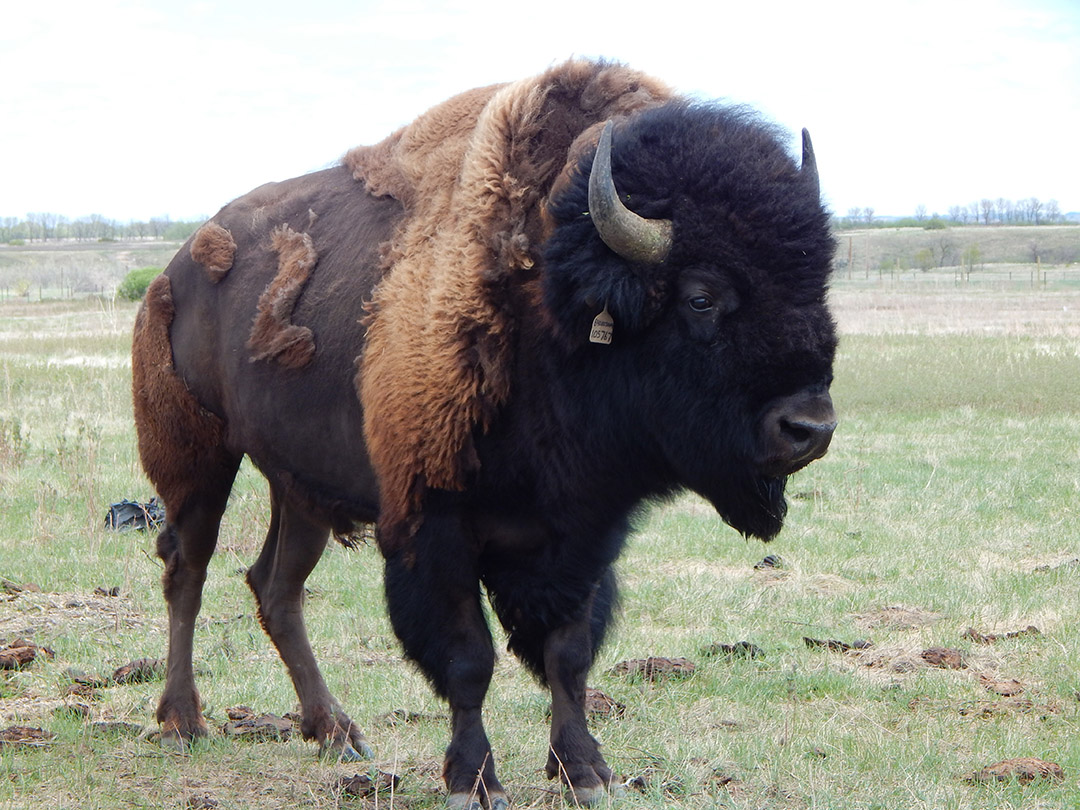 "The restoration of bison is a really important endeavour right now across North America, not just at Wanuskewin," said Willie. "Restoring bison is important not only because the animal nearly went extinct at the end of the 1800s, but it has an impact on climate change as well, and the animals are incredibly important to many of the Indigenous cultures on the plains."
Willie is quite familiar with the bison restoration project—not only as a graduate student researcher, but as an employee at Wanuskewin. Since 2017, she has worked at the park as an interpreter, sharing information about its archaeological significance and the history of the Opimihaw Creek valley northeast of Saskatoon.
Wanuskewin is Canada's longest-running archaeological dig, with Walker and his colleagues working there since the 1970s. In 1982, Walker and other researchers conducted a detailed archaeological survey and identified 19 pre-contact sites.
Willie, who was born and raised in Saskatoon, completed a Bachelor of Science degree in archaeology at USask before starting her graduate studies under Walker's supervision in the fall of 2019.
"Initially, I began studying archaeology because I was very interested in forensic sciences. I got interested in plains archaeology through doing the field school at Wanuskewin after my second year of my undergrad," she said.
"Digging there for six weeks, I became a lot more interested in plains archaeology, and the following summer I got the opportunity to work at Wanuskewin as the archaeology interpretive guide, which I've been doing ever since. Through working at the park, I became passionate about bison and educating people about the peoples that have lived here on the plains for thousands of years."
Willie's work at Wanuskewin and her studies at USask complement each other, and she is looking forward to continuing to engage in both activities. Earlier this year, she was awarded a Canada Graduate Scholarship-Master's through the Social Sciences and Humanities Research Council of Canada (SSHRC) for her research. She enjoys sharing the knowledge she's acquiring with Wanuskewin visitors.
"What I find most interesting is the diversity in the types of sites found at Wanuskewin. We've got almost every type of archaeology site you can find on the northern plains: bison jumps, bison pounds, processing sites, campsites and even a medicine wheel, all within the Opimihaw valley and along the banks of the South Saskatchewan River," she said.
"Such diversity in types of sites, and people living in the valley for so long, so consistently—there's something special about it. I think it's really interesting the connection people clearly have had with this land for thousands of years, and that you can feel that today when you're out there."