In a truly made-in-Saskatchewan story that began back to the 1970s, the University of Saskatchewan (USask) became the first veterinary school in the country to install a custom-made hydraulic lift system that safely elevates cattle for examination and treatment in the Western College of Veterinary Medicine (WCVM). Refurbished and re-installed in 2014 in the WCVM's Veterinary Medical Centre large animal clinic, the bovine tilt table remains a uniquely USask teaching tool.
"It is 100 per cent unique in every way, really," said Dr. Chris Clark (MVetSc), an associate professor and associate dean at WCVM. "We definitely were the first to have one. I believe there was kind of a prototype, which was very different, that is still in existence at the Foam Lake Vet Clinic in Saskatchewan, but otherwise it is a one-of-a-kind."
Clark, who first came to USask as a student in 1996 and joined the faculty in 2002, is a regular user of the tilt table, upgraded six years ago in collaboration with Saskatchewan company RMD Engineering. The original device was developed 46 years ago by Humboldt engineering consultant Arnie Brockman along with former veterinary student Dr. Jim Sawatsky (DVM), who went on to practice in the province.
"It is a Saskatchewan story: A university, a veterinary student, and a really resourceful engineer from rural Saskatchewan got together and designed something that no one else had ever thought of," said Clark. "In my opinion, it's priceless."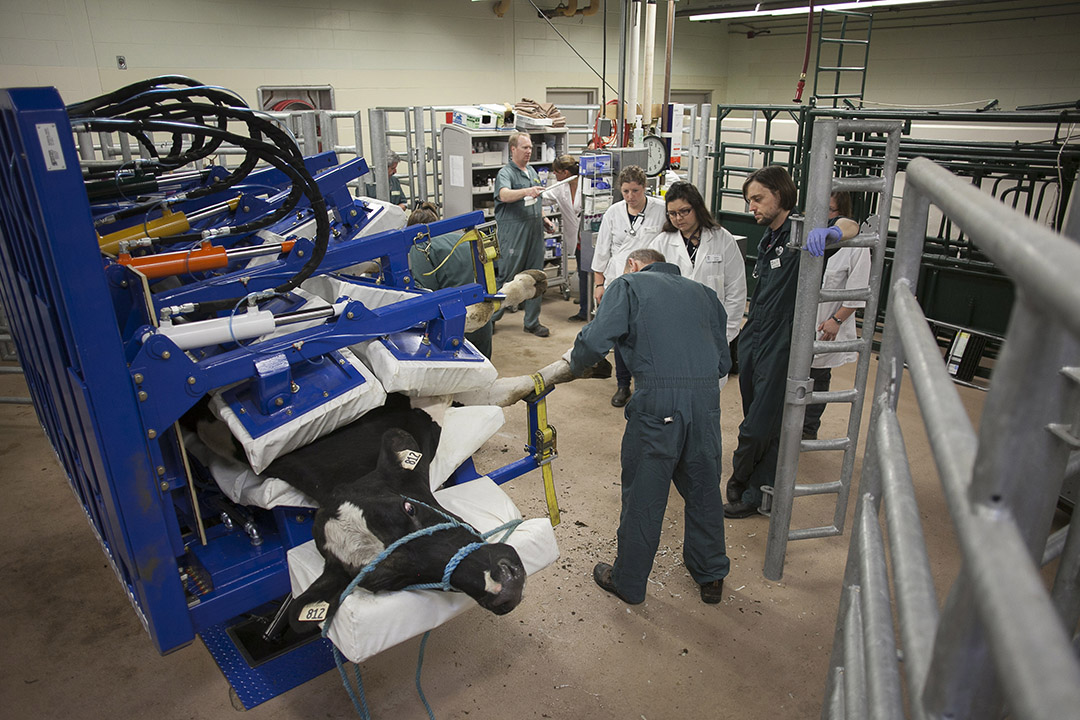 Officially labelled a surgical air suspension hoist, the tilt table is perfect for trimming and treating cattle hooves, and providing safe and easy access to the underside of the animals for examination and other procedures.
"Because the animal is so well restrained and gives us access to all four feet, we can actually have four students trimming feet at the same time, so it is perfect for student teaching," said Clark, a former Master Teacher Award winner who earned his master's and PhD at USask.
"One of the things that really sets it apart is the combination of safety and comfort for the animals. The entire thing is lined with massive air bags, so we can lift an animal up, and they are relaxed and they don't need to be sedated. You can just walk the animal in, lift it up, and do what you need to do and flip it back down and the animal literally walks out of it. It's fantastic piece of equipment."