The most outstanding graduate recipient must demonstrate leadership and participation within the college, on campus, and in the community, with academic performance also taken into consideration. Bhargava's display of community involvement, volunteering, dedication to her academics, and leadership contributed to earning this year's honours.
"It makes me so proud that the college values and acknowledges extracurricular engagement and participation in the community, and it's an honour to be recognized," said Bhargava, who is celebrating the completion of her kinesiology degree while observing physical and social distancing, after USask's Spring Convocation was postponed due to the coronavirus pandemic.
Bhargava, who was born and raised in Saskatoon, attended Evan Hardy Collegiate prior to applying to the College of Kinesiology program at USask. As a high school student, she placed in the top 10 in all core classes and carried those high academic standards into university.
"Entering my first year as a self-declared introvert, I was content with spending my hours holed up in the Murray Library focused solely on my academic standing," said Bhargava. "With the encouragement of my older sister, I joined a few committees and programs, becoming aware of my platform as a post-secondary student. I soon realized the power of education in engaging others and creating change."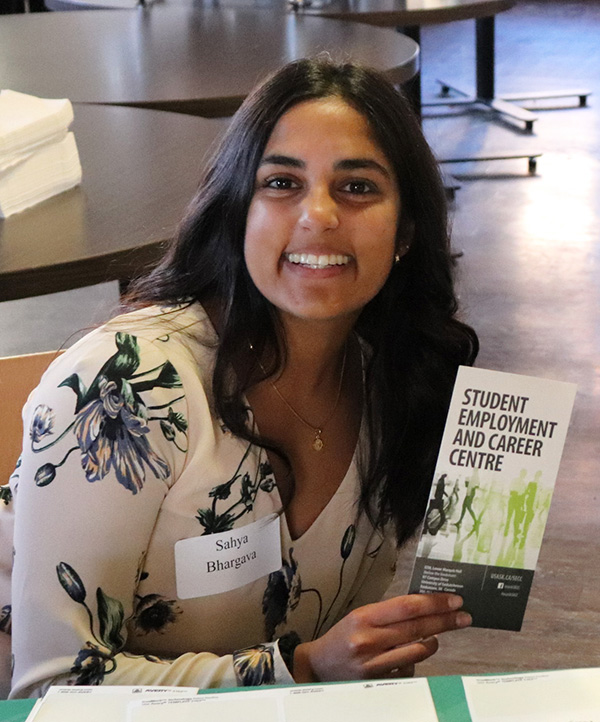 Her focus shifted from the cubicles on the sixth floor of the Murray Library to new opportunities with the college, campus and community. After being elected to represent first-year students on the Kinesiology Student Society's board, her interest continued to grow. Bhargava went on to hold the position of secretary in her second year, and vice-president for her third and fourth years. As vice-president, she was invited to speak on behalf of kinesiology students at Undergraduate Program Committee (UPC) meetings, a task that would have seemed impossible at one point.
"I found confidence in my voice and from speaking at UPC, I began sitting on various sub-committees focused on course development, job position hiring, college policies, co-curricular records, areas of specialization and KIN Life," said Bhargava.
Every internal leadership and volunteer experience began to open doors to other opportunities on and off the USask campus. Bhargava became involved in Kin in the Community, a program dedicated to improve physical literacy of families at Sutherland Elementary School, and the annual Youth Leadership Through Sport event. She also served as a Learning Community Leader, a tutor for the Greystone Scholar Society, a volunteer at the USSU Food Centre, school director for the 5 Days for the Homeless, coached a community association under-four co-ed soccer team, and volunteered as an official track umpire, all while playing competitive soccer and taking weekly vocal lessons. 
"I strive to achieve balance in life," said Bhargava. "I look forward to my extra-curricular commitments as a weekly break from academia and an opportunity to develop new skills."
Not only does Bhargava thrive in her community on and off campus, she has also excelled in academics. Graduating at the top of her class with an impressive average of 94.93 per cent, Bhargava was also named the College of Kinesiology Dean's Medal recipient, an honour that acknowledges the highest academic average among fourth-year graduating students. Her dedication to academics has always been high on her priority list.
"Education has always been a priority in my family," said Bhargava. "Throughout these last four years, my education has changed the way that I see the world, it has made me more critical of the normative influences within our society, and it has given me tools I need to make meaningful change."
As she looks towards the future, she is excited to be moving on to the College of Medicine for the fall semester, while also continuing to graciously volunteer with the programs she is connected with.
"The knowledge that I have gained in kinesiology will serve as a strong foundation to be an advocate for a healthier society and personal wellness as I continue my education in the College of Medicine this fall."