Extraordinary circumstances have brought out extraordinary responses from members of our USask community. From frontline health-care workers to researchers looking for a solution to this global health threat, there are so many stories about people are working to make our home communities safer and healthy. Here are a few of the inspiring stories of our students, staff, faculty and alumni.
In the span of four days, University of Saskatchewan (USask) medical students have more than doubled their fundraising goal to purchase supplies for the community of La Loche and surrounding communities.
When the fundraiser started on the afternoon of May 7, the Student Medical Society of Saskatchewan (SMSS) set an initial goal of $15,000. In less than 24 hours, more than $10,000 had been donated.
A combination of GoFundMe donations and e-transfers have increased the total amount to more than $41,000 as of May 11.
"It's so amazing to see how quickly people answered our call to help to get the funds we need to purchase supplies that the community members will find useful and helpful," said third-year medical student Kate Morrison, an organizer of the fundraising initiative and past president of the SMSS.
Donations are being used to purchase and transport personal hygiene products, sewing supplies and at-home activities for families.
La Loche is one of the communities located in Northern Saskatchewan that is experiencing an outbreak of COVID-19. The community is located nearly 600 kilometres northwest of Saskatoon.
The idea for a fundraiser started with Saskatoon physician and USask College of Medicine faculty member Dr. Kendra Morrow (MD). Morrow reached out to the Saskatchewan Medical Association (SMA) upon noticing that the outbreak in La Loche and the need arising in the community.
"I have been following the COVID-19 situation closely, and after learning of the outbreak in La Loche, I wanted to try and do something to help and show support for this community," Morrow said. "The northern communities also do not have the same ease of access to goods that we do in larger centres and I was concerned the outbreak may make it difficult for people to get what they need during the lockdown."
The SMA approached the SMSS, with the knowledge that medical students have been actively volunteering their time since the pandemic arrived in Saskatchewan.
The SMSS and SMA have been in contact with La Loche Mayor Robert St. Pierre, as well as the Treaty 10 Response Team, to distribute supplies to families in the community and area. This has allowed the organizers to hear from community members and adapt their supply list according to the needs of the communities. A transport truck will be travelling on Thursday, May 14 to deliver the purchased supplies.
The fundraiser is accepting donations through the GoFundMe page until Tuesday, May 12 at 11:59 p.m.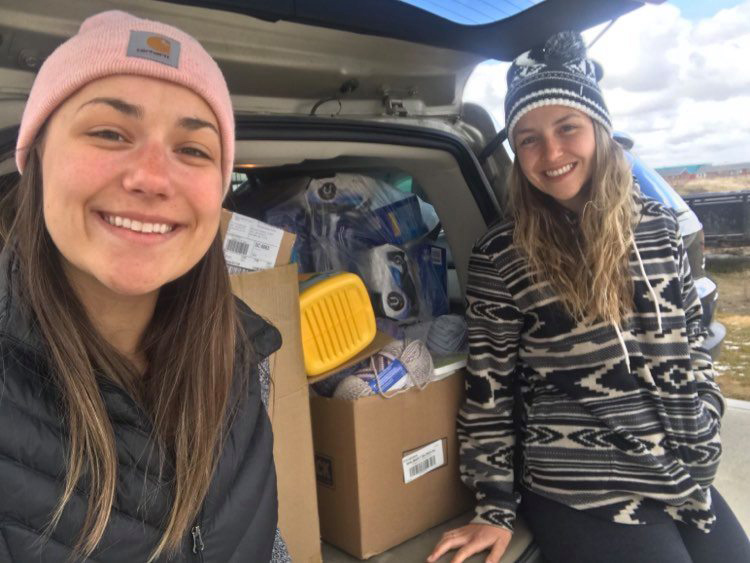 "It's just been incredible to see the amount of support from the community," Morrow said. "Saskatchewan is such a wonderful province and I think the outpouring of support speaks to the heart and care of the local community for our northern neighbours."
The fundraiser is one of the latest ways that medical students have been engaged in volunteering their time to help where they can during the pandemic. From contact tracing to connecting with isolated older adults, medical students have been stepping up to help.
"It's been such an interesting experience," Morrison said. "I was speaking with someone about how this has changed what our school looks like. It's a gift if you have the chance to be involved."
"We don't know how (COVID-19) will impact our education and medical education," she added. "We're fortunate to be in positions to help — everyone who has been able to give their time or energy to this right now. It's been really amazing to see that there's been no hesitation (from my classmates) to help and do whatever is needed."
---
Share your stories with us: We are collecting the stories of resilience and good spirit from our USask community. Please send story ideas and photos to news@usask.ca.
As a community it is critical that we support each other and remain respectful during what is a difficult time for all of us. Please follow all guidelines and take all precautions to prevent the further spread of COVID-19 in our community.
How you can help our students during the COVID-19 pandemic: https://alumni.usask.ca/news/2020/covid-19-how-you-can-help-our-students.php
For the latest developments and information about the University of Saskatchewan's response to COVID-19, please go to www.usask.ca/updates.
The University of Saskatchewan is undertaking critical research and contributing to global efforts to combat COVID-19. The University of Saskatchewan's Vaccine and Infectious Disease Organization (VIDO-InterVac) is a world leader in developing vaccines and technologies to combat infectious diseases. Your support of the COVID-19 Research Fund supports the increased efforts of researchers at the University of Saskatchewan to develop vaccines and treatments for COVID-19. Donate now.