Extraordinary circumstances have brought out extraordinary responses from members of our USask community. From frontline health-care workers to researchers looking for a solution to this global health threat, there are so many stories about people are working to make our home communities safer and healthy. Here is another one of the inspiring stories of our students, staff, faculty and alumni.
The northern community of La Loche has become ground zero in the province's battle against COVID-19, and University of Saskatchewan nursing professor Dr. June Anonson (PhD) has joined the front lines to help during the global pandemic.

A registered nurse, researcher and professor at USask's College of Nursing Prince Albert campus, Anonson arrived in La Loche 12 days ago and has been working long shifts as a volunteer nurse to help with Saskatchewan's largest coronavirus outbreak. While the risks are real, Anonson was quick to join her fellow health-care workers up north.

"I am a registered nurse and right from the beginning of my career, I always said that if the need is there, I would help in any way that I could," said Anonson, who offered to volunteer in any capacity and was asked to go to La Loche after previously serving in the north during the 2009 H1N1 outbreak and with the evacuation and relocation efforts during the 2015 wildfires. "We are certainly aware of the risk, but each of us chose our profession and we know this is where we need to be."
A village of 2,800 that was the site of a horrific mass shooting in 2016, La Loche and surrounding communities are now dealing with Saskatchewan's largest outbreak of COVID-19 that has claimed the lives of two Elders. The latest Saskatchewan Health Authority report Friday confirms that there have been 590 positive cases and six people who have died of COVID-19 in the province, with 147 of the 176 active cases located in the far north region around La Loche.
While she did not know what to expect when she headed north, Anonson said she and her fellow health-care workers have been warmly received in La Loche, located roughly 600 kilometres northwest of Saskatoon.

"This is my first time coming up to La Loche and I knew that it was community that has struggled for a number of reasons, but I am just so delighted to meet some real salt-of-the-earth people here," she said. "There are wonderful professionals and community members here and it feels like a positive atmosphere where people are coming together to support each other."

While the country celebrates their efforts during National Nurses Week, Anonson is part of a team of nurses who are handling patient health assessments, door-to-door mobile testing, contact tracing, and daily 14-day monitoring of people in La Loche who have tested positive.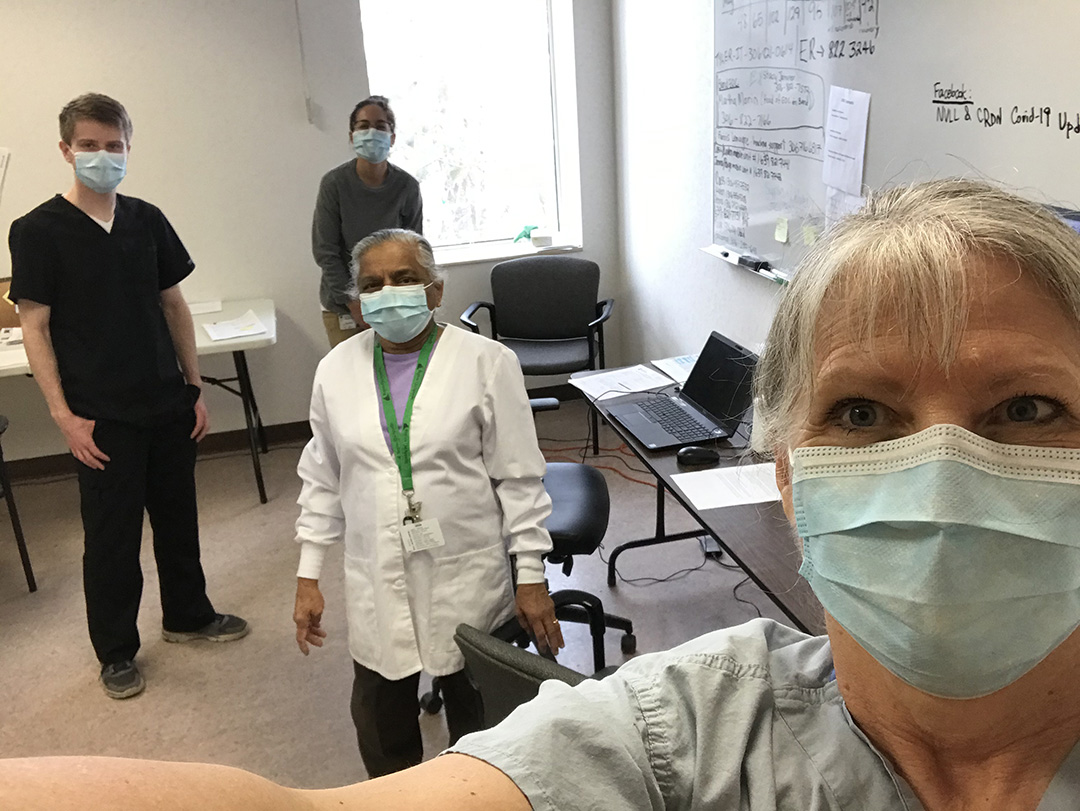 "I am working on the population health side and the nurses here are doing all different kinds of things, whatever we are asked to do to help," she said.
Driving an hour each way by themselves (in accordance with social distancing guidelines) from Buffalo Narrows where some of the volunteer nurses are staying, Anonson said they are all putting in long days, but are inspired by the support they are receiving in the community.
"For those of us who have volunteered to come up and help out, the people of La Loche have been so good to us," she said. "We really feel valued and it is an honour and a privilege trying to support, make a difference and empower people and to do our part to try to make a difference."
---
Share your stories with us: We are collecting the stories of resilience and good spirit from our USask community. Please send story ideas and photos to news@usask.ca.
As a community it is critical that we support each other and remain respectful during what is a difficult time for all of us. Please follow all guidelines and take all precautions to prevent the further spread of COVID-19 in our community.
How you can help our students during the COVID-19 pandemic: https://alumni.usask.ca/news/2020/covid-19-how-you-can-help-our-students.php
For the latest developments and information about the University of Saskatchewan's response to COVID-19, please go to www.usask.ca/updates.
The University of Saskatchewan is undertaking critical research and contributing to global efforts to combat COVID-19. The University of Saskatchewan's Vaccine and Infectious Disease Organization (VIDO-InterVac) is a world leader in developing vaccines and technologies to combat infectious diseases. Your support of the COVID-19 Research Fund supports the increased efforts of researchers at the University of Saskatchewan to develop vaccines and treatments for COVID-19. Donate now.