The Western College of Veterinary Medicine (WCVM) and the Veterinary Medical Centre (VMC) at the University of Saskatchewan (USask) have modified processes and protocols around veterinary care, to protect staff and clients.
"Many changes have been made and continue to be made daily with the ever-changing landscape of this virus," said Nadine Schueller, director of clinical care at the VMC.
The WCVM's veterinary teaching hospital shifted to only caring for emergencies, urgent cases and cases already under treatment in mid-March. That change also included removing all fourth-year veterinary students from clinical rotations in the hospital to help minimize the impact and risk of the COVID-19 virus.
"We essentially became an emergency clinic, as opposed to a full-service referral and primary care hospital," said Dr. Steve Manning (DVM), associate dean of WCVM clinical programs.
The hospital also moved to a shift schedule in which veterinarians, registered veterinary technologists, animal attendants and other staff work together on six teams that rotate through eight-hour shifts around the clock.
"The teams stay together and don't interact with the other teams or people, so that we can keep the risk of the coronavirus as low as possible," said Manning. "Our staff have been incredible. As this crisis changes daily, we've asked many things of them as we change the way we operate. Everyone is helping each other and it is a stressful and busy–but positive–environment." 
Processes and procedures have also changed for VMC clients. To minimize contact with VMC staff, no clients are allowed in the building.
"These changes allow us to protect the health and safety of our staff, clients and patients while maintaining high-quality care for our patients," said Schueller.
The VMC staff are following stringent admission and discharge protocols to minimize contact with clients. Clinical teams are also using additional personal protective equipment (PPE) and following recommendations from public health officials as well as other veterinary teaching hospitals across North America.
"Our single most important protocol in place is hand hygiene," said Diane McDougall, director of quality and operations at the VMC. "We can reduce viral and bacterial spread with regular cleaning of common touch points, wearing the proper PPE and using physical distancing to mitigate potential spread."
The Government of Saskatchewan deemed veterinary services as an essential service in its Emergency Measures Act announced in March, and the VMC has continued to provide emergency care needed to both small and large animals. Its Field Service teams are also working hard to support local horse owners and livestock producers.
"We are super proud of the staff and clinicians. Not only have they been able to adapt, but many of them have gone above and beyond with 'think outside the box' ideas and solutions to help with this evolving situation," said Schueller. "They show their love and care for their patients, not only because it is their job as an essential service, but because they understand their patients need them."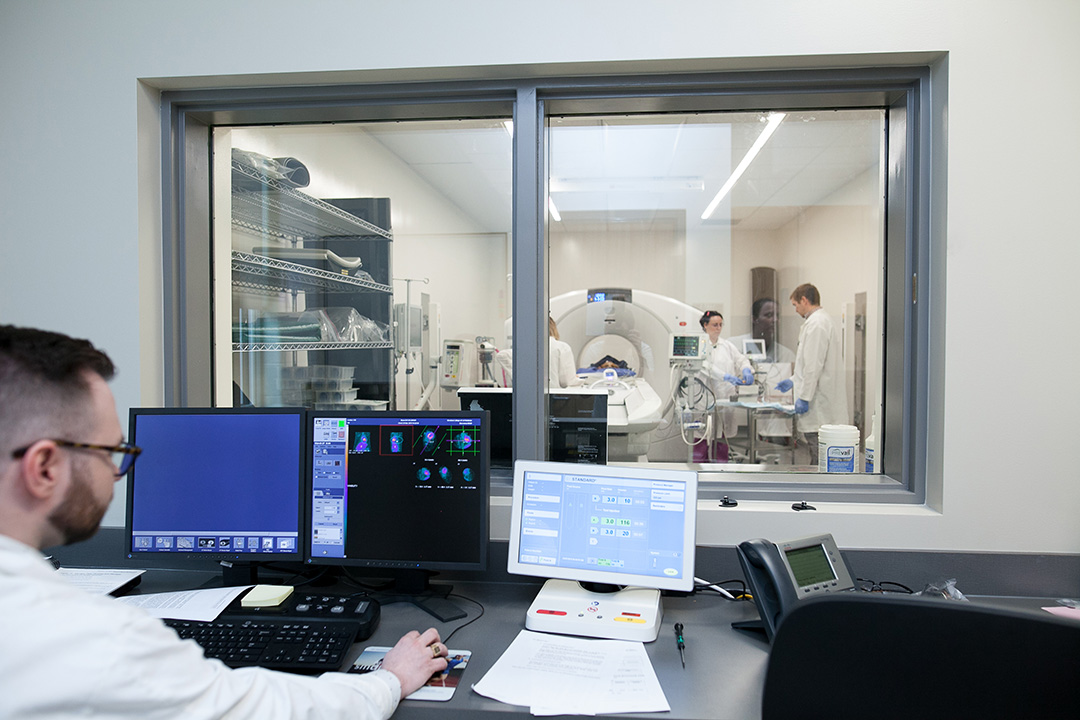 As the VMC continues to look after the welfare of animals, officials have also been in contact with the Saskatchewan Health Authority (SHA) to see how the veterinary teaching hospital can support human health care in this crisis.
"We have already been of assistance to the health authority. We have given them an inventory of some of the diagnostic and imaging equipment that might be helpful if the rate of hospitalization of people goes up significantly," said Manning.
On top of imaging equipment, including access to the college's new PET-CT suite, the VMC also offered two ventilators to the SHA, as the provincial organization works to increase the capacity for ventilators in local hospitals.
"We have multiple ventilators in the college, but the two that are suitable for people went over to Royal University Hospital," said Manning. "The SHA knows what we have in our inventory and we will continue to help where we can."
If your animal needs care, please contact the Small Animal Clinic at 306-966-7126 or the Large Animal Clinic at 306-966-7178 before coming to the WCVM.
Click here for more information on the VMC's updated protocols for emergency cases.