Fellwock, who was born and raised in Moose Jaw, Sask., began his studies at USask in 2016. He is now set to receive his Bachelor of Science (honours) degree in environmental geoscience, with a minor in chemistry, at USask's 2021 Fall Convocation virtual celebration.

"It took me five years to get my bachelor's degree after originally starting in another program. It feels great to be done my degree," he said. "I'm the first member of my family to get a degree, so that feels super cool, too. They've been super supportive of me this whole time."

Geoscience is a diverse scientific field with sub-disciplines that include geochemistry, sedimentology, geomicrobiology, geophysics, mineralogy, paleontology and hydrogeology. Geoscientists integrate knowledge in these and other areas to improve understanding of the physical, chemical and biological aspects of the Earth system in the past, present and future.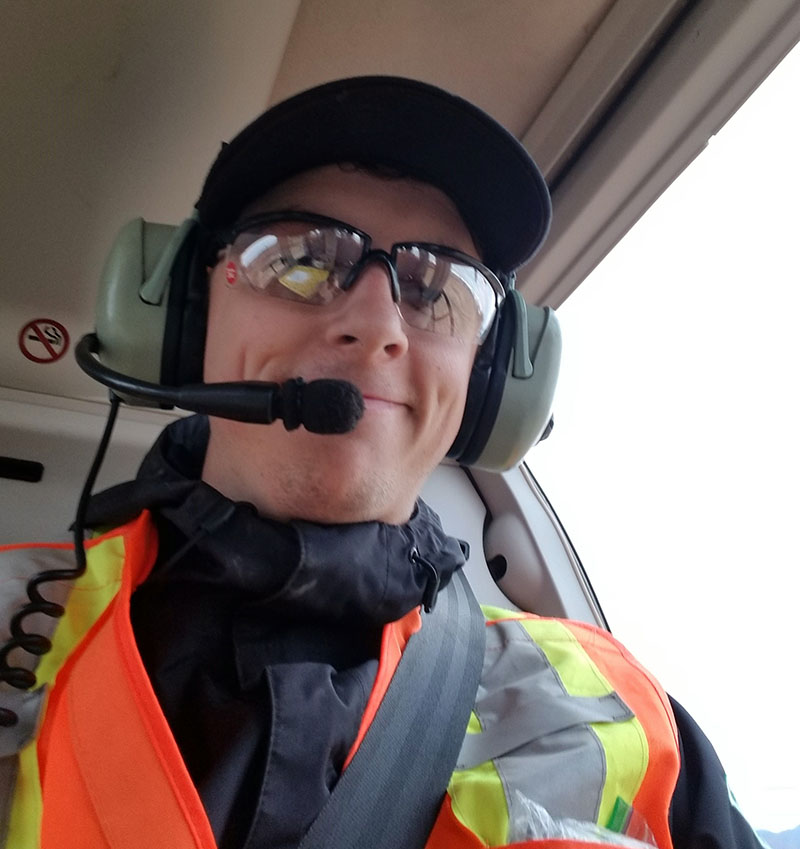 The environmental geoscience program is taught and administered through the Department of Geological Sciences in USask's College of Arts and Science. All graduates meet knowledge requirements for professional geoscientist registration with the Association of Professional Engineers and Geoscientists of Saskatchewan (APEGS).

When asked how it feels to be the first graduate from the program, Fellwock said: "I mean, it's always cool to be the first to do something. But I know I am just the first of many; the environmental field is growing so fast that I can only imagine there will be more graduates in the near future."

One of the experiences Fellwock valued most during his time as an undergraduate student was working on an honours project with Dr. Matt Lindsay (PhD) from the Department of Geological Sciences, who is also the faculty advisor for the environmental geoscience program. After Fellwock completed the requirements for his undergraduate degree, Lindsay offered him an opportunity to continue learning about geoscience by taking part in the environmental geochemistry group as a master's student.

In September, Fellwock travelled to the Yukon for two weeks to participate in field work, which involved looking at uranium and arsenic geogenic contamination of water systems due to climate change and permafrost thaw. Alongside USask post-doctoral fellow Dr. Elliott Skierszkan (PhD), Fellwock sampled creeks and groundwater wells that were installed at the field site and collected permafrost samples for further analysis.

"The experience was amazing," Fellwock said. "I've never been to the Yukon previously, but I highly recommend the experience to anyone who has the chance to travel up there. The scenery is some of the best I have seen in Canada. The field work was very informative as well, as my experience in water sampling was non-existent before that trip. Learning the proper field sampling techniques will become very useful in my further work as an environmental geoscientist. I was very fortunate to be given the opportunity to be a part of this project specifically and to be given the chance to travel to a place such as the Yukon."

Some of Fellwock's other favourite memories from his time as an undergraduate student include joining the geology student club, the Ore Gangue, and taking part in some of the conferences that students hosted or were able to attend.

"APEGS is very good to the students at the university because they provide funding to the Ore Gangue for student members to go to conferences and meet members of industry," he said. "Having the opportunity to attend conferences is huge in both the geology and environmental sectors. I also just enjoyed being part of the student body and community so I could meet people and have a place to hang when I wasn't bogged down by classes."

Fellwock twice received the Ore Gangue Alumni Bursary for his work as a volunteer with the geology club. He also received the Lee H. Forsythe Award and the Fred Bernard Clare Bursary in the Geological Sciences in 2020.

"I think one of the best parts about studying here is how nice the campus life is here," Fellwock added. "The buildings and the campus itself are quite beautiful. In my first year, I also stayed in residence at College Quarter, which was a great place to start. It really helps being close to the campus while you figure out how university life operates. I also really enjoyed the amount of options there are for students in terms of programs; there are a lot of options for people who don't necessarily know what they want to do yet."

Fellwock is now continuing his educational journey at USask as a master's student. He said there are many employment opportunities available in the environmental geosciences sector, and he encourages other USask students to try some classes that are offered by the Department of Geological Sciences.

"I enjoy environmental work because it allows me to be outside as well as work in a setting that involves both a lot of chemistry and geology as well as some lab work," he said. "Also, due to the current state of the planet, I enjoy that I get to work in a field that works on fixing the mistakes that we've made over the years. I get to do a lot of problem solving and work for the environment and the planet, which allows me to feel better about the field I chose."
---
This fall, 926 students are expected to graduate from USask with 939 degrees, diplomas and certificates. These graduates join a century-old community of close to 165,000 alumni worldwide whose contributions are helping to shape our world. Due to the pandemic, in-person ceremonies will not be held. Instead, there are a variety of opportunities to celebrate. Learn more about the celebrations at students.usask.ca/usaskclassof2021.