"I looked up USask online and navigated to graduate programs where I found the College of Agriculture and Bioresources," said Awodele. "I saw that they offer great funding and scholarships. USask was number one on my list because of its long history of excellence in agricultural research. Fortunately for me, USask offered me admission with full funding."
All students registered in thesis-based graduate programs within departments in the College of Agriculture and Bioresources receive a minimum level of funding at the beginning of their programs. Students in a thesis-based master's program receive at least $37,000 ($18,500/year for two years) and students in a doctoral program receive at least $66,000 ($22,000/year for three years). These are college-level minimum durations and annual funding levels, and department-specific minimum values are higher.
Students are also eligible to receive other funding such as scholarships and university employment, and stipends are often extended until the student completes their degree. In the 2018-19 fiscal year, students in thesis-based programs in the College of Agriculture and Bioresources received more than $6M in financial support from USask. On average, master's students received more than $20,000/year for three years, while doctoral students received more than $24,000/year for five years. 
This funding helps attract the best and brightest students from around the world. USask reported the most MSc and PhD students in Ag/Food Science graduate programs in the U15 Group of Canadian Research Universities in 2018-19.
Awodele has received several prestigious scholarships and awards and is currently a graduate research fellow in the Department of Plant Sciences, studying with his supervisor, Dr. Jonathon Bennett (PhD). Awodele's master's thesis is titled, Plant Soil Interactions and Stand Decline in Alfalfa: Mechanisms and Potential Mitigation Strategies.
"What I like about my research is that it is helping to solve a real-life problem that threatens agricultural sustainability," said Awodele. "With funding in the forms of stipends and scholarships, I can spend more time on my research without being distracted by financial issues."
"The College of Agriculture and Bioresources is the only college within the University of Saskatchewan to offer guaranteed minimum funding for graduate students and has done so for many years," said Dr. Trever Crowe (PhD), associate dean, research and graduate studies. "We are proud to offer this funding to set graduate students up for success in their studies. Research within the college is also very well supported by external stakeholders."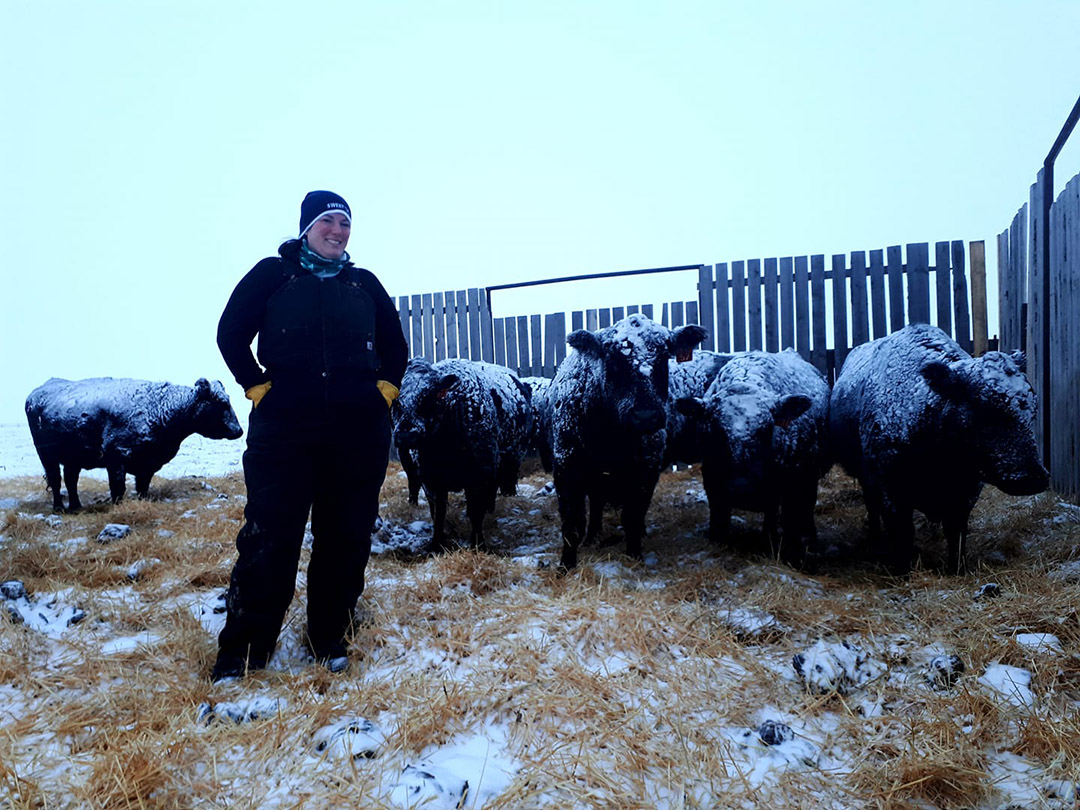 Funding was an important factor in Rachel Carey's decision to attend USask. Originally from Wylie, Texas, Carey moved to Canada to pursue her PhD in animal and poultry science. She learned about USask from the research Dr. Greg Penner (PhD) was conducting. Penner is now her supervisor at USask, along with Dr. Tim McAllister (PhD), a scientist at Agriculture and Agri-food Canada.
"Stipends and scholarships have allowed me to focus on my research without the worry of taking on outside work to sustain myself," said Carey. "It has also connected me with industry professionals that I may not have had the chance to work with."
In addition to college and department-level funding, Carey has received the Alexander Malcolm Shaw Memorial Graduate Scholarship, and funding and contributions for her thesis project via the Saskatchewan Cattleman's Association, Beef Cattle Research Council, Pioneer Hi-Bred, and the Animal Nutrition Association of Canada. She also earns a salary as a teaching assistant for an undergraduate AgBio course.
Carey is currently working on her PhD thesis, Use of Alternative Corn Products for Western Canadian Beef Cattle. After earning her PhD, she plans to work as an international feedlot nutrition and production consultant.
"The research conducted within graduate programs represents a significant and highly valued portion of the total research output from the college," said Crowe. "The College of Agriculture and Bioresources has been, and will continue to be, a leader for graduate student funding, because it is so important for our students and our research mission."
For more information about graduate student funding and programs in the College of Agriculture and Bioresources, please visit agbio.usask.ca.