CDC Director Dr. Curtis Pozniak (PhD) sums up the half-century of innovation in one word: "achievement." He calls the CDC's release of more than 500 crop varieties "remarkable."
Equally significant are the imprints CDC scientists have left on the agricultural landscape—the replacement of vast acres of summer fallow with productive crops, for one. The transformation is the result of an organization established to help producers diversify and farm more productively and profitably, by introducing new crops such as pulses, along with better-performing varieties of established crops such as wheat and barley.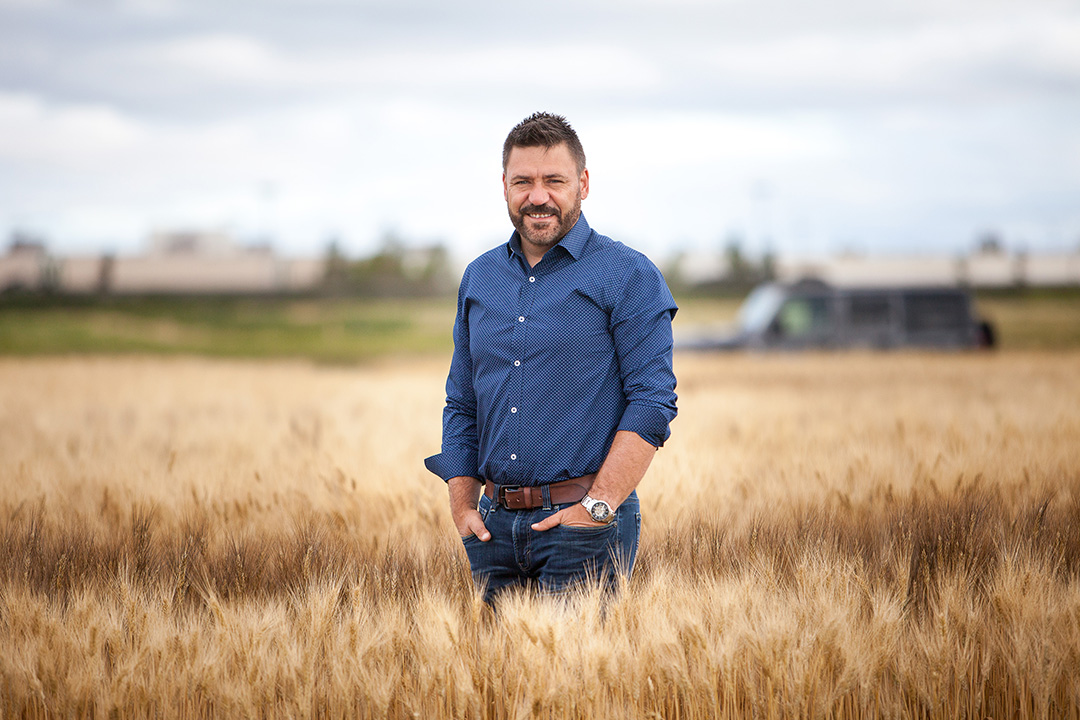 Over the years, contributions to the CDC from government agencies, industry partners and producer organizations have paid off handsomely. For every $1 million invested in CDC plant breeding, producers make more than $7 million, according to a 2016 economic impact report.
High yielding varieties with resistance to disease and pests remain important goals, especially in the face of climate change. But crops must also adapt to changing market demands, as world population rises while consumers demand choices that are healthier and more ecologically sustainable. Crops must also evolve to suit changing production and processing methods.
"As plant breeders, we have a lot to think about in terms of what traits we are targeting," Pozniak said.
In striving to breed better varieties more efficiently, Pozniak has led the way in the use of new technologies in wheat breeding. He and fellow wheat breeder Dr. Pierre Hucl (PhD) headed the Canadian Triticum Advancement through Genomics Project (CTAG), helping an international consortium sequence the wheat genome.
Genome sequencing provides "the genetic blueprint of the varieties that we're working with. The blueprint helps us identify genes, and to create molecular testing tools that we can use to improve efficiency in selection," Pozniak explained. He co-led the follow-up project CTAG2, sequencing 16 different wheat varieties. In addition, CDC scientists have worked on sequencing pea, lentil, chickpea, tepary bean, barley, oat and flax genomes.
A changing world led to the CDC's creation. In the late 1960s, a global glut drove down the price of wheat, the crop Saskatchewan farmers relied on most heavily. Meanwhile, the USask Crop Science Department was looking for research money. With funding from the National Research Council and the provincial government, the CDC started up in 1971.
Some early game-changers established the CDC's reputation nationally and internationally. Pulse breeder Dr. Al Slinkard (PhD) selected two new green lentil varieties in the first decade of the CDC (the large-seeded Laird and small-seeded Eston). By the late 1980s, Laird was the most widely grown lentil variety in the world. Here in Saskatchewan, lentils went from minor crop to major commodity. Nearly all of the country's production comes from this province, and Canada itself became the world's top producer and exporter. In November, Slinkard was recognized for his valuable contribution by being granted honorary membership in the Order of Canada "for his research in agronomy and the development of two cultivars of lentils that have transformed agriculture in Western Canada and now feed thousands of people."
The malting barley variety Harrington captured worldwide attention following its release in 1981, appealing to brewers as far away as China and becoming a leading choice of North American producers. Developed at the CDC by Dr. Bryan Harvey (PhD) with help from Dr. Brian Rossnagel (PhD), Harrington was the first variety suited to growing conditions in Western Canada that produced the high enzyme activity in demand for two-row malting barley for beer. It could also be malted two days faster than other varieties and had no dormancy period before germinating, hence less storage space was needed at malt plants.
CDC varieties also helped Saskatchewan become Canada's top producer of flax and peas. Other releases include the first Canadian hulless barley, the first hairless canary seed, along with new varieties of hard red spring wheat, durum, and faba beans.
Early on, CDC scientists promoted the idea of seeding winter wheat into stubble. An insulating blanket of snow, trapped by stubble, helped fall-seeded winter wheat survive in Saskatchewan's harsh climate.
"Keeping the snow uniformly on the field was the key," USask wheat breeder Dr. Brian Fowler (PhD) said.
However, limitations to no-till had to be solved: the lack of effective seeding equipment and agronomic information such as crop residue management, fertilizer application and seed placement. In the 1970s and '80s the program worked closely with equipment manufacturers, farmers, and conservation groups to overcome these limitations.
Still, better-performing winter wheat varieties were also needed. Fowler released a string of them, starting with CDC Kestrel in 1992. His varieties dominated winter wheat production across the Prairies.
In the longer term, a more important spin-off turned out to be the application of winter wheat no-till methods to spring crop production, Fowler explained. This technology was quickly transferred and advanced in the 1990s after the cost of Roundup fell to the point where burn-off of weeds was practical in the spring.
Today, one thing in crop breeding remains unchanged. It still takes eight to 10 years to develop a new variety, Pozniak noted. Peering into the future to identify what will be in demand is "what makes it so fun."