The 28-year-old PhD student from Ghana is a member of a multicultural collection of creative computer science specialists from around the world, one of 15 graduate students – including eight females – from 11 different countries in USask's unique Multi-User Adaptive Distributed Mobile And Ubiquitous Computing (MADMUC) Lab.

"In my lab, there are lots of people from around the world, and most of the students are females, which made me feel welcome," said Kumi, who began her PhD program at USask in 2021 after studying for four years in Korea after leaving home in Ghana in 2017. "I read about Canada and how it is a multicultural country. And when I came to Canada I was really impressed with seeing a lot of other Blacks in immigration. I really felt that I am at home. So I feel I made a great choice, the best decision, coming to Canada and the University of Saskatchewan."

After earning her bachelor's degree in Ghana – where English is the official language – Kumi jumped at an opportunity to do her master's in Korea through a government scholarship program, after spending one year successfully learning the language. However, adjusting to the culture and cuisine proved a far bigger challenge.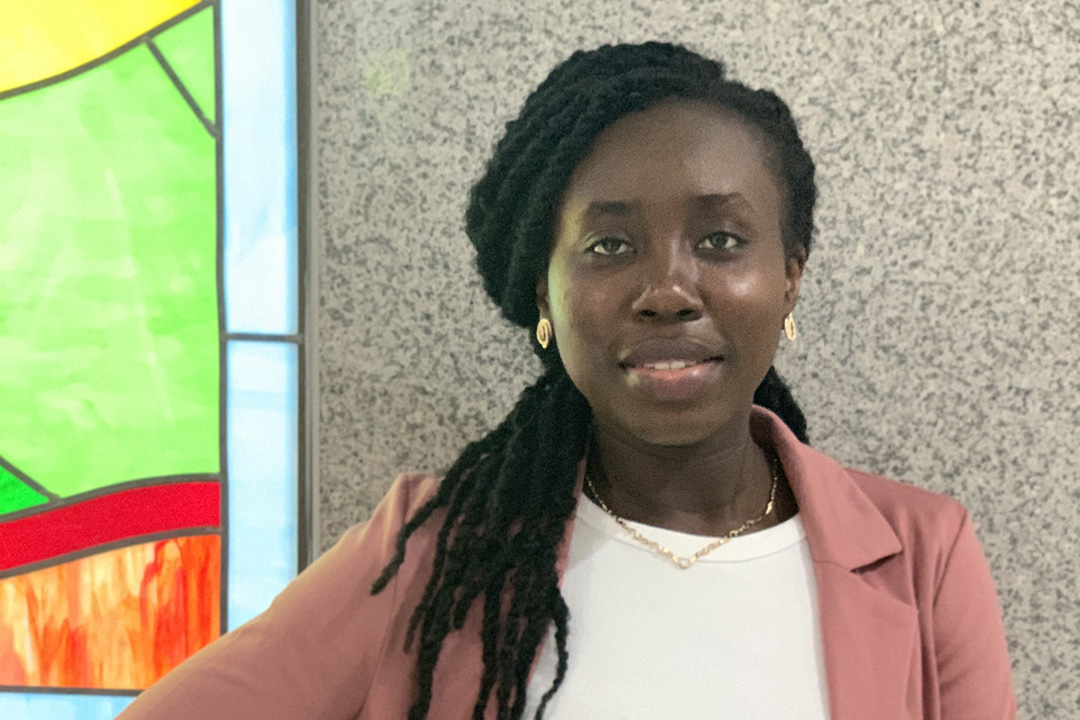 "The language was a barrier at first and I found it very difficult to adapt to the food," she said. "In Korea, I also had trouble finding people to talk to, and I really struggled to even find a path for my master's degree and I had difficulty finding a job there after. So there is some discrimination. And unlike the Americas, who are used to Black people, in Korea there is no Black History Month, like there is in Canada. So I am really happy that the University of Saskatchewan recognizes the Black community and I think this helps Black people to do our best and feel at home."

While the ongoing pandemic has proven to be a challenge and the Canadian climate continues to be an adjustment – from a daily average of +30 C in tropical Ghana to frigid -30 C winters in Canada – Kumi said she couldn't be happier with the opportunities that are available here and the doors that have been opened for her.

"Canada is more focused on including females in computer science and they even have scholarships for Black female students, so I think the future is bright for Black women in Canada," she said.

Kumi's research has spanned the fields of cybersecurity and protecting from malware attacks, to her current thesis project using Blockchain technology to make data sharing safer for all users.
"In Africa, you hear of a lot of internet fraud, so I was trying to do this research to help curb these malicious attacks, not just for Africa, but for the whole world. Cybersecurity is very important," said Kumi. "And now I am working on data sharing, using Blockchain. We give our data to companies and organizations every day and we don't know what's being done with our data. So with my PhD, I am trying to make sure you have the right to your data, who you want to share your data with, and where you want your data to be, so that you can track your data to see how it is being used."

Kumi's supervisor, Dr. Ralph Deters (PhD), sees a bright future for the young researcher.

"She is extremely well-educated, and very, very motivated," said Deters. "She has an excellent understanding of issues, she picked her PhD topic herself, so she is a very, very good student and I am absolutely confident that she will succeed in an academic career."
Kumi has received graduate scholarship support from the university and from Deters' Discovery Grant from the National Sciences and Engineering Research Council of Canada, used to help attract top international students to USask and bolster expertise in the country's information technology (IT) sector.

"I am very interested to fulfil our University Plan, which calls for internationalization and outreach and to overcome historic wrongs, but especially focusing on how we can increase female enrolment and also support BIPOC students, the university's Black, Indigenous and People of Colour," said Deters, who has worked with fellow supervisor Dr. Julita Vassileva (PhD) to help train 97 graduate students from 25 countries since the MADLUC lab opened in 2000.

"We have students from quite a few places that can provide the IT expertise that Canadian and Saskatchewan societies need to have," he added. "They are highly skilled people who are committed and who will essentially pay the taxes to keep the whole machine running."

For Kumi, she is one of those hoping to make the country her new home after she completes her doctorate.

"I'm thankful for this opportunity and I am planning on staying in Canada to work and learn," said Kumi, who hasn't been home to Ghana since 2017 but keeps in touch with family and friends through messaging platforms like WhatsApp. "I would like to be a professor, so instead of going right back home, I would like to lecture in a foreign country. I would be glad if I get an opportunity to start my career in Canada."
---
Join us in February as we come together to engage with Black History Month at the University of Saskatchewan.