Lenny is busy. They are a single parent to a vibrant eight-year-old, whom they adopted at birth. They work casually at the Prince Albert Métis Addictions Council, the Saskatchewan Health Authority Brief and Social Detox as an addictions counsellor, and at the YWCA Our House as a client support worker. They are also chair the board at Prince Albert Pride, and are enrolled in the Saskatchewan Urban Native Teacher Education Program (SUNTEP).   
Lenny, a 2Spirit Métis person from Prince Albert, is a top achiever who displays a profound sense of pride for their community, culture and advocacy to the 2Spirit community. 
Lenny was recognized with an award for Community Engagement at USask's Indigenous Student Achievement Awards, which was held virtually on March 10, 2022, to honour USask Indigenous students for their academic excellence, leadership, research, community engagement and resiliency. 
 
The award ceremony was part of Indigenous Achievement Week (IAW), which celebrated the successes and contributions of Métis, First Nations and Inuit students, staff and faculty. We asked Lenny a few questions about their journey at USask. 
You are involved in a lot of organizations and boards, you are a parent and a student, how do you balance everything? 
Reaching out when I need guidance and having support is so important to me. When I was in university back in the early 90s I did not reach out. I let my mental health and addictions get in the way of obtaining my degree instead of talking about it and getting help. Now, I do reach out as every good helper also needs a helper. Often community work is a part of my balance. For example, when I am facilitating a drum group, hearing the drums and singing is therapeutic and the connecting and sharing that happens and the laughter fills my spirit and reenergizes me.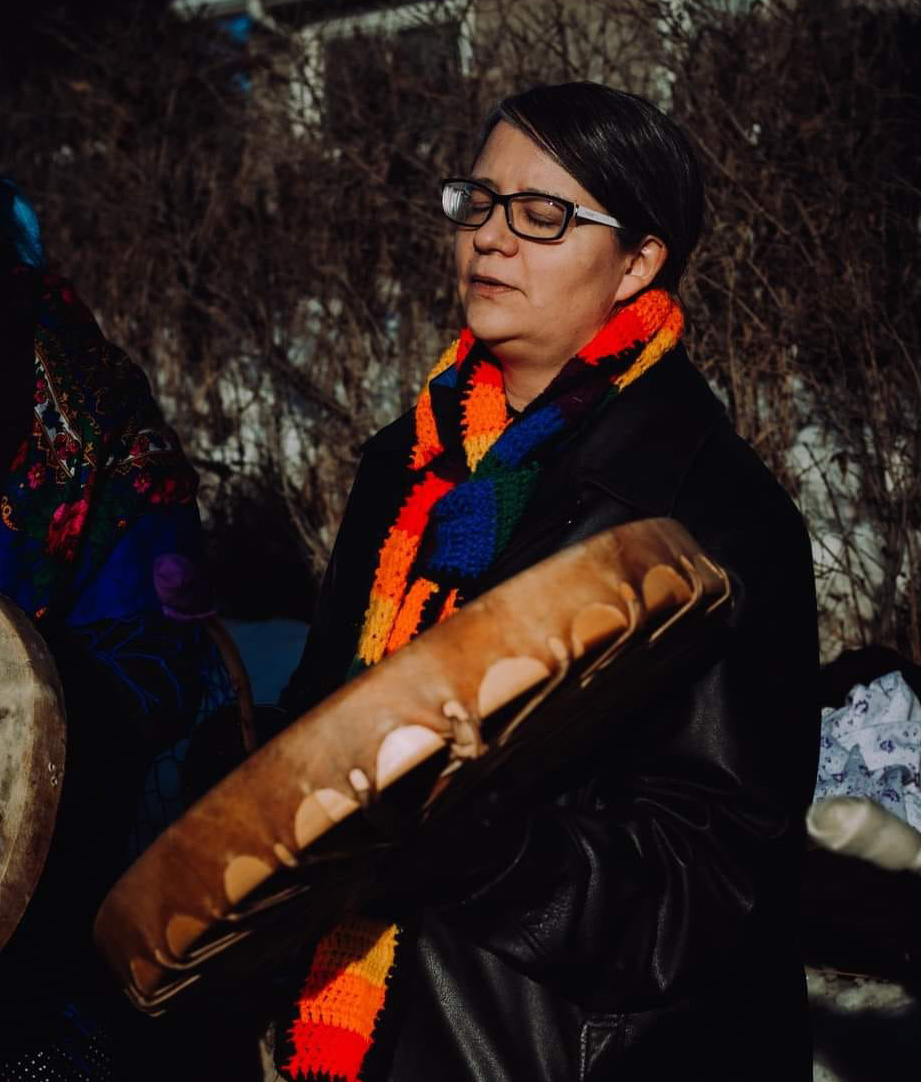 Why did you choose SUNTEP?  
I know others who have gone to SUNTEP and heard very positive things about the program. I also really love that Indigenous knowledge and culture is a part of the program and we are learning how to take curriculum and make it a two-eyed seeing approach of both western and Indigenous worldviews in how that curriculum is taught. I love the smaller class size and that SUNTEP feels like a family.  
What are your goals for the future?  
In my former work as Indigenous Students' Center Coordinator at Saskatchewan Polytechnic, I really enjoyed working with adult learners who were returning to school to obtain their Grade 12 Diploma. I would love to work with a school or organization where I can combine cultural knowledge and academic learning for adult learners who are working towards changing their lives. However, I am also only in my first year of SUNTEP and I don't know where this journey might take me, so I am open to where that goes. I do see my teaching career will be one that infuses Indigenous ways into the work I do.  
You are receiving the award for community engagement, why is community important to you?  
Community creates a sense of belonging. As a 2Spirit person who hasn't always felt a sense of belonging and place, which affected my overall wellbeing, it is important to me to help revitalize and decolonize circles and spaces for others in a way that creates a sense of belonging and acceptance and are welcoming. It important because it saves lives and if it helps one person take a different path that leads to a healthier life for them, then our communities are stronger because of that.  
Is there someone in your life who inspires you to get where you are today? 
Elder Rose Bird shared with me "if you put your children ahead of you, they will never steer you wrong." I gifted my firstborn for adoption after her birth as I was not in a place in my life where I could provide her with what she needed. When she was 15, I thought about my life and if she ever wanted to meet me, would I be someone she would be proud of. I knew I needed to stop my addiction life of alcohol and marijuana. Years later, I was finally at a healthy place in my life and I had the opportunity to adopt. My daughter Sekwan inspires me to look at what comes up for me that I need to heal and to be the parent who she saw in the spirit world when she chose me to be her mom. I am so grateful to be given this gift of being a mom and to show her by my returning to school the value of striving for your goals and dreams.  
Is there anything else you'd like to share?  
For any other mature person thinking of returning to school, just do it! It can be scary to step out of a current career and to become a student again when you have an established life but when you are taking a path that will be a future of more opportunities and is a part of a dream you have, what you need will fall into place for you. Do it before it becomes a regret and take a chance on what you want!