"I see numbers in colour. I see the alphabet in colour. Numbers have personalities and genders, too," said Glenn, an associate professor in the University of Saskatchewan (USask) Department of Art and Art History.
Glenn has synesthesia, the involuntary linking of two or more senses. In a new collaboration with the Saskatoon Jazz Orchestra (SJO), the artist will show audiences how a synesthete experiences music.
Originally scheduled for Jan. 22, the concert has been rescheduled for June 17, due to COVID-19. Titled Dimensions in Sound, the concert will feature the SJO performing original music by two Saskatchewan composers, while animated art created by Glenn is projected in sync.
Dean McNeill, head of the USask Department of Music and artistic director of the SJO, led the collaboration in the College of Arts and Science.
"I'm always interested in how creativity works," said McNeill. "I do not have synesthesia, but I find it fascinating because you can kind of cross this divide and actually get a glimpse into someone's mind, like Allyson, and understand how she perceives music."
In her mind's eye, Glenn sees shapes and textures floating through space when she hears music. The artist first partnered with the SJO and McNeill for a concert in 2018, creating a visual experience that matched the SJO's performance of a classic show tune.
"It was like a dream for me to be able to recreate that in an art form—because it's always in my head when I hear music, and to be able to get it out of my head for a particular song was really magical," said Glenn.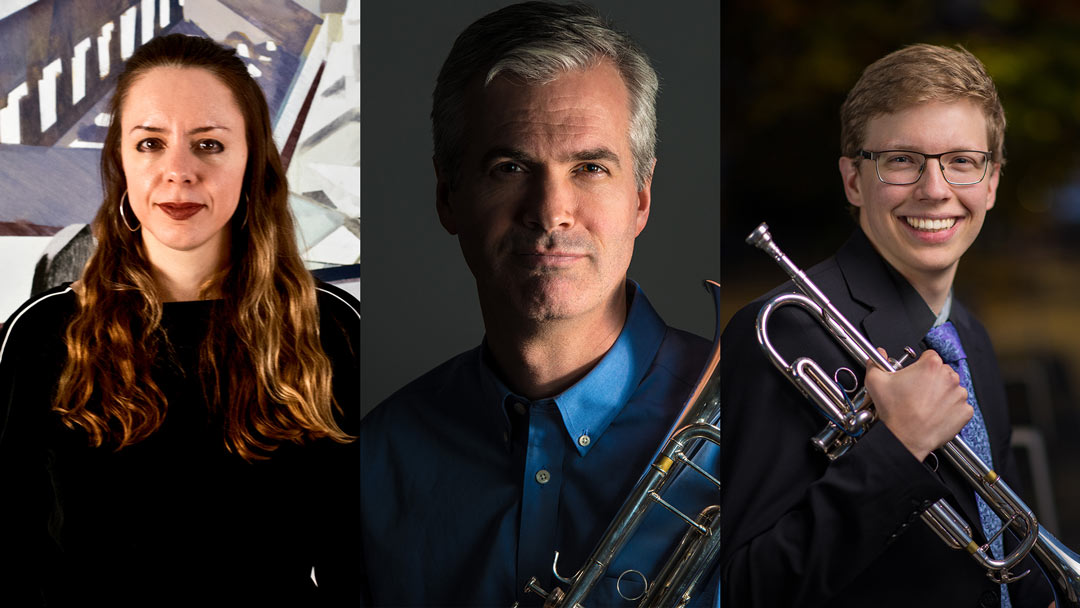 For their current project, McNeill and Glenn wanted to take the concept to the next level.
"We asked a larger question: what if we got some composers to write music specifically designed to stimulate Allyson Glenn's brain?" said McNeill.
On behalf of the SJO, McNeill applied to the Canada Council for the Arts for project funding and was awarded a $50,000 Digital Now grant.
McNeill hired composers Paul Suchan and Silas Friesen, both alumni of the Department of Music, to write music for the project. In late 2020, Suchan and Friesen met with Glenn to learn what types of sounds triggered her strongest synesthetic experiences.
"With Allyson's responses, I could form a rough sort of picture of what musical techniques produced what images, and do my best to provide source material for her that was as interesting as possible," said Friesen.
Suchan and Friesen each wrote one tailor-made piece of music.
"I tried to choose very contrasting musical devices, exploring the extremes of musical tone and timbre and orchestration and rhythm. Allyson also likes the music of Radiohead, so the piece follows some of that musical logic as well: clear and singable melodies, rock grooves, characteristic chord progressions, a certain moodiness," said Friesen. 
Glenn spent the next year illustrating the shapes and motions the pieces evoked in her mind, creating two animated sequences perfectly matched with the music.
USask Master of Fine Arts student Shelby Lund and alumni Lucy Zhou and Nicole Leroy assisted Glenn with drawing the nearly 10,000 images needed for the project.
Glenn submitted the finished videos to film festivals around the world. The first short film, Above the Deluge, has been an official selection at 10 festivals and the winner of four awards since November. The second film, In the Fray, has so far been selected for the Niagara Falls International Short Festival.
The SJO concert at the Broadway Theatre in Saskatoon will be the debut live performance of the project's music. The SJO—joined by Grammy Award-winning percussionist Larnell Lewis—will also perform works by Radiohead, Bret Zvacek and other composers.
In-person and livestream tickets for the concert will be available through the SJO website.
McNeill thinks the merger of Glenn's artwork with Suchan and Friesen's music could affect audiences deeply.
"One of the hidden narratives of this project is for people to understand that other people perceive things differently," McNeill said. "I hope people will, in some way, shape or form, come out of the concert transformed a little bit—maybe being a little more empathetic, maybe being a little more open-minded."
McNeill and the SJO were also awarded a $38,600 Explore and Create grant from the Canada Council to support the SJO's June 17 concert titled Gnu High: A Tribute to Kenny Wheeler.