While most of her fellow Class of 2022 College of Education graduates were celebrating the completion of their degrees in early June at USask's Merlis Belsher Place, Newkirk was making a splash in Madeira, Portugal where she celebrated a gold-medal record performance at the World Para Swimming Championships. Newkirk broke her own world championship record in the S6 category in the women's 100-metre backstroke with a record time of one minute, 20.96 seconds, finishing more than two seconds ahead of her closest competitor.

After the disappointment of just missing the medal podium with a fourth-place finish at the Tokyo Paralympics in 2021, the world championship gold – and her record-setting time – was a moment she will never forget.

"Going into it I definitely had that goal, after Tokyo when I came in fourth in that race," said Newkirk, who celebrated her 26th birthday during the world championships. "I have been working with a new coach and we have really been working hard this year on so many different technical things. I swam my race and I hit the wall first and I broke a world championship record in the morning and then again in the evening, so it was really exciting or sure."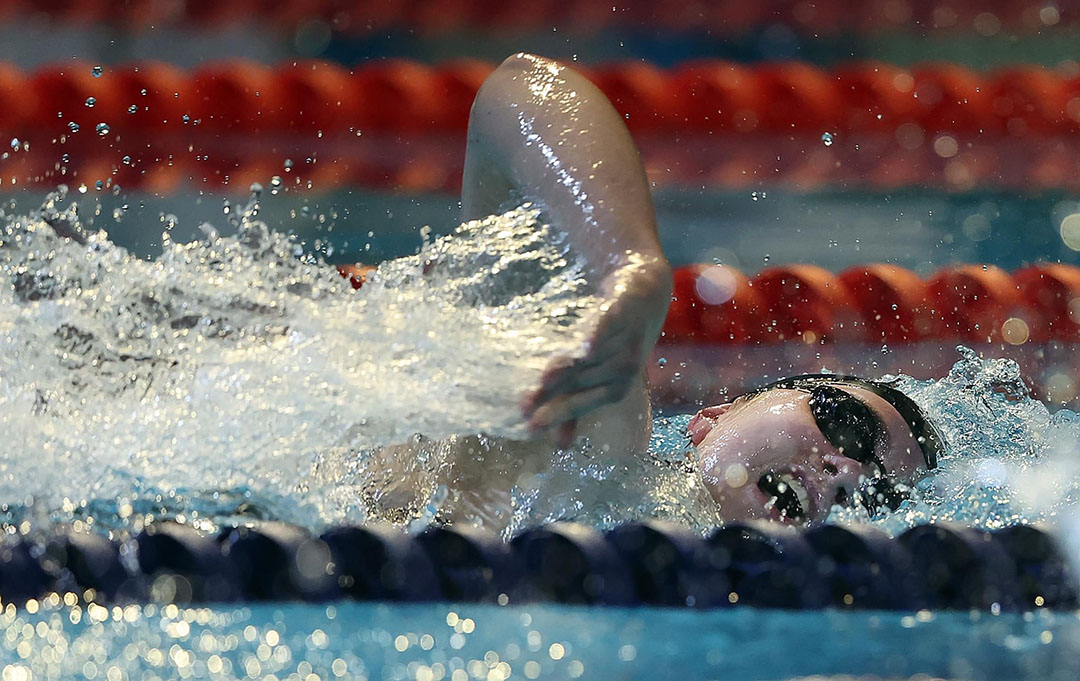 Making it even more special for Newkirk was being able to share the moment with her parents, as her mother Kathy-Jo and her father Dr. Rex Newkirk (PhD) – a professor in the College of Agriculture and Bioresources at USask – were able to make the trip to Europe to watch their daughter compete, after spectators were not allowed at last year's Tokyo Paralympics due to the pandemic.

"My parents came to Portugal, so they actually got to watch from the stands," said Newkirk, who also just missed the medals with a pair of fourth-place finishes in the 50m freestyle S6 and the 100m freestyle S6 while setting a Canadian record. "I was very grateful to have them there, since they had no spectators at the Paralympics. My parents had their tickets booked (for the Tokyo Paralympics) and then everything got cancelled, but when they found out the world championships were in Portugal, they booked their tickets as soon as they could, and even until the last minute we still weren't 100 per cent sure spectators were going to be allowed. But in the end, they were able to watch all the races, so it was pretty incredible."

The world championships capped what has been a busy spring for Newkirk, who also completed her final elementary school teaching internship while training daily for the biggest competition of the year. Three weeks after completing her internship on May 5 to officially finish her bachelor's degree, Newkirk was boarding a flight overseas bound for Portugal.

"I had been teaching online while training and travelling, which was challenging, but I was able to make it work," said Newkirk, who proudly represents the Saskatoon Lasers Swim Club. "I was actually lucky enough to intern with the Distance Learning Centre in Kenaston and it was a little more flexible with timelines since we did have some students overseas. So sometimes we would be working evenings or weekends, and it worked out pretty well for me. There were times when I had to take Zoom calls, and in-between races I was filming videos for them. Some of my teammates were laughing that I was talking ABCs while warming up for races!"

While she wasn't able to join her fellow College of Education graduates in person at Spring Convocation on June 6, Newkirk was proud to have successfully balanced her academic and athletic goals and received her USask parchment in the mail shortly after setting a world championship record on June 12.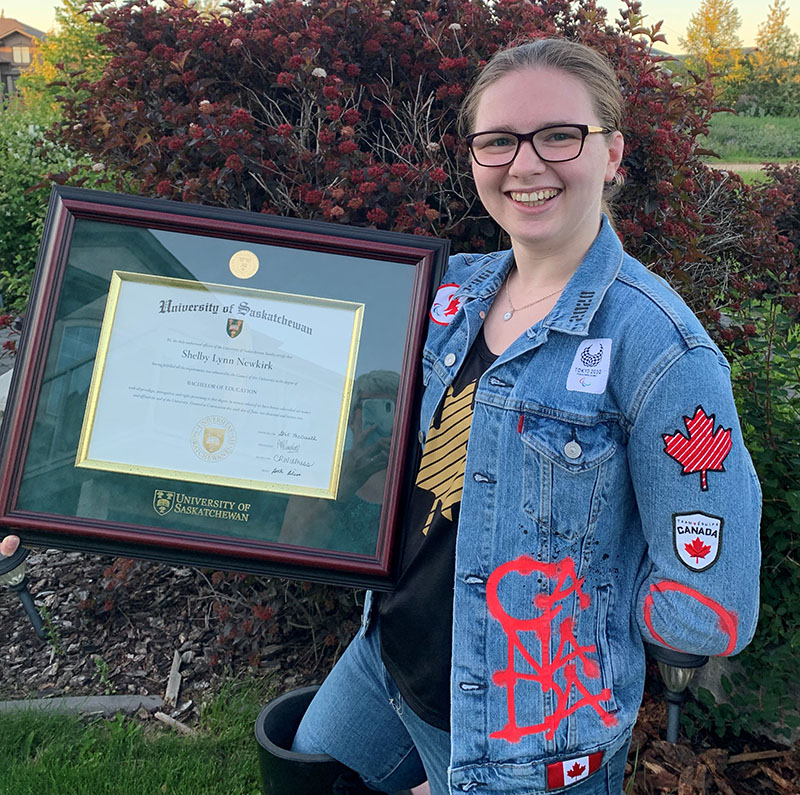 "I was so proud to complete my degree," said Newkirk. "I have been working hard towards this, it feels like for a hundred years. I had to do a couple extra years, just with training and stuff. But there is just that sense of pride and I know it is a little bit different getting the degree in the mail rather than receiving it at the ceremony. But getting to open that envelope and to see all that hard work paid off, all the late nights, all the multitasking, all the studying on the way to the pool, and just juggling everything for so long, it finally paid off. And to have that degree in hand is a pretty special feeling."

Newkirk began para-swimming a decade ago after being diagnosed with dystonia, a rare neurological disorder that affects mobility in her limbs, torso, neck and face. However, she quickly found herself at home in the pool, diving right into the sport and soon setting national and world records, earning the nod as Swimming Canada's Female Para-swimmer of the Year in 2017 and 2018.

Newkirk is now preparing for the upcoming national championships that begin July 25 in Montreal, as she continues to build towards the Paralympics in Paris in two years.

"Yes, Paris is definitely my next goal in 2024 and this cycle is so much shorter actually because Tokyo was postponed a year," she said. "We had the world championships this year and we have another world championships next year and then we go straight into another Paralympic year, so it is definitely exciting and I am fully focused on getting on that podium in Paris."

Newkirk wasn't the only USask graduate who swam into the spotlight at the world championships. Nikita Ens, who earned a Bachelor of Science degree at USask in 2011 and is a former member of the Huskies track and field team, earned her first world championship medal by finishing second in the women's 200m freestyle S3 final to help close out the final day of competition.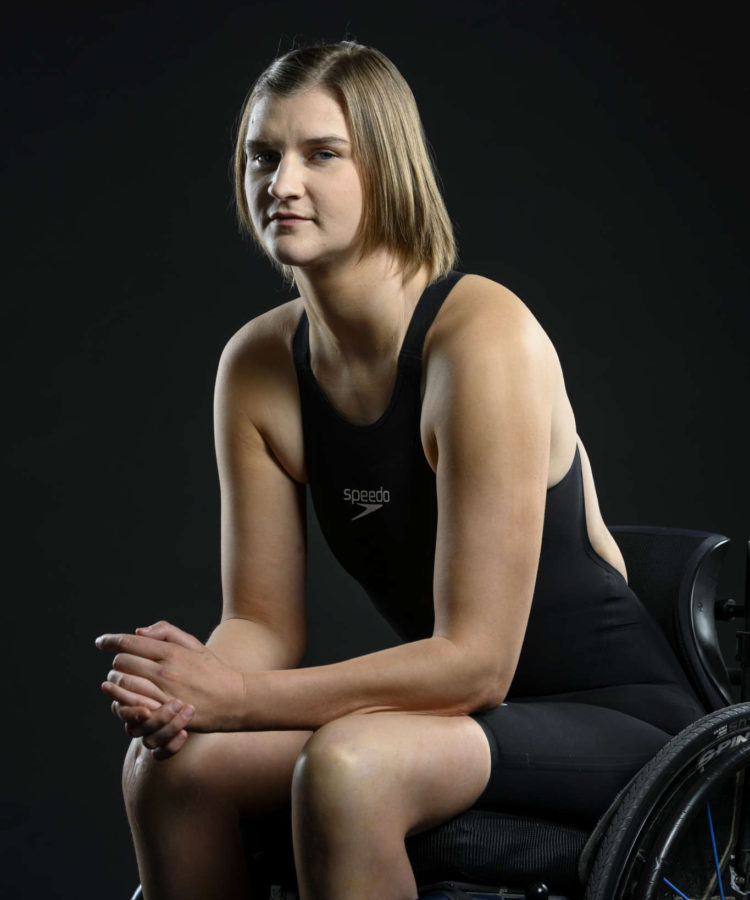 Ens, a 33-year-old national record holder who was born in Meadow Lake and now lives in Saskatoon and trains with Newkirk as a member of the Lasers swim club, earned a world championship silver medal in the women's 200m freestyle S3 final in a time of four minutes, 51.75 seconds.

"It feels pretty awesome. I'm so proud to represent Canada and bring home a medal," Ens told Swimming Canada. "My 200 free went really well. It's kind of nice to settle into a rhythm and just kind of push on that stroke."

Ens, who also competed with Newkirk on Team Canada at the Tokyo Paralympics last year, just missed a medal by finishing fourth in the 50m backstroke S3 while setting a Canadian record at the world championships, and also finished fifth in the women's 150m individual medley S3, and sixth in the 100m freestyle S3.