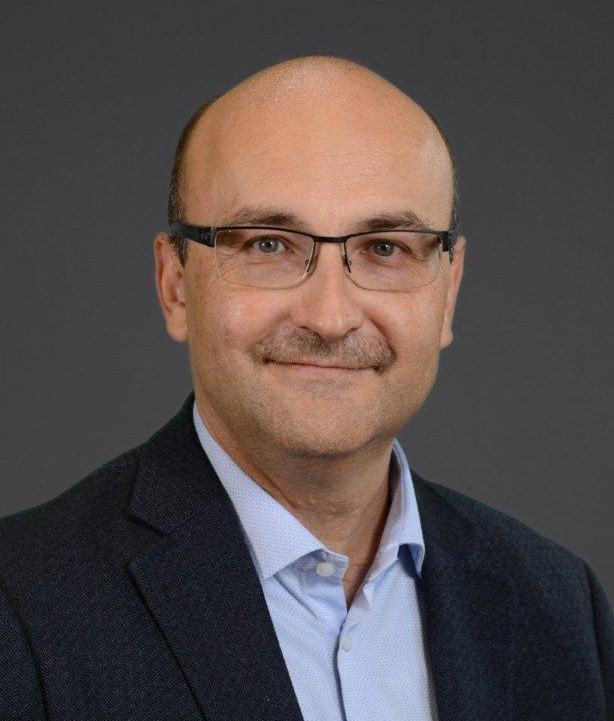 Shortly after war broke out, charitable organizations sought volunteers to help with the humanitarian response in Ukraine and nearby countries. One of those individuals who volunteered in Europe was USask professor Dr. Robert Skomro (MD'93).
"I'm originally from Poland and a lot of my family and friends were getting involved. I wanted to get first-hand information and assist where I was needed as the stories I was receiving were devastating," said Skomro, a professor of respirology, critical care and sleep medicine in USask's College of Medicine. "I heard from local organizations who needed volunteers."
Skomro took a two-week leave of absence to travel to Poland. Being from the area and knowing the language helped, as did being a physician.
"They were looking primarily for somebody with medical and Russian/Ukrainian knowledge. I speak Polish and Russian quite well, and I understand enough Ukrainian to communicate with locals and refugees," said Skomro.

"There are a lot of people who are helping (here) raising money and so on," he said. "My trip was a bit last minute, but I was planning from the beginning to see how best to assist refugees in Ukraine. Prior to my departure, I was able to help in some other ways. There came a point though when I thought, 'I think I have skill set required there.' "

While he was in Poland, Skomro saw first-hand the severity of situation. He supported the health needs of Ukrainian refugees at different assigned locations across the country, which he notes were well-organized by the Polish authorities. Skomro also delivered much-needed medical supplies in his suitcase, which were provided with the assistance of a Saskatoon company.  

For his first assignment, Skomro worked with a health-care team at a converted hotel turned medical refugee clinic. During his time there, he treated patients who had been living in that location for weeks.

"I saw a lot of chronic diseases, some acute medicine, as well. Some asthma exacerbations, blood pressure, infections, diarrhea, those kinds of problems," he said.
Skomro's next assignment was at a train station, which was a first point of entry for many Ukrainians. While there, he helped with broader humanitarian needs. 
"There was a lot of need for all kinds of assistance, from medical to housing to financial. It's hard to describe because you just do what what's needed. There really isn't a specific job," he said. You just show up and if people need medical care, you do that. If they need housing, you help out with that." 
At home in Saskatchewan, Dr. Donna Skwarchuk (MD'93) has spent time organizing and collecting donated items for Ukrainian refugees and raising money to send overseas.
She turned to one of her passions—baking—to raise money for World Central Kitchen, a non-profit that provides meals in the wake of disaster.
"I decided to make my special lemon squares and sell them by the pan. One hundred per cent of the money goes to World Central Kitchen, a non-profit organization providing food in Ukraine," said Skwarchuk, a practicing physician who previously served as the medical director of newborn care at the Jim Pattison Children's Hospital and is a member of the College of Medicine's Alumni Association Board.
She posts the photos of her baking to Instagram and connects with customers looking for the tasty treats.
"People can enjoy my baking and also help people who really need it." She adds that customers are generous, often donating extra money in additional to the price of the baked goods.
Skwarchuk is also helping collect items for several organizations, both to send supplies to Ukraine and to assist refugees arriving in Canada.
"One organization I am supporting is Streams of Hope. There are working to send over palettes of basic items – socks, soap, medical supplies – that are the most needed," she said. "I'm also helping a group from All Saints Ukrainian Orthodox Church to organize household items. The group has a space set up in a warehouse. I'm collecting items from friends and family."
As a physician, Skwarchuk works at all of Saskatoon's hospitals and helped collect much-needed medical supplies to send overseas.
"In discussion with people at St. Paul's Hospital, they are donating extra supplies like gauze and dressings to send to Ukraine," said Skwarchuk.
She said that helping others in times of need is part of the fabric of our province.
"It's what we do in Saskatchewan. We help each other."
---
Students At Risk Fund: a University of Saskatchewan (USask) fund that supports students facing challenges to entering or remaining at USask due to ongoing international conflicts.
There are many opportunities to contribute to humanitarian assistance for Ukrainian people directly affected by the war. There are charities and organizations that are helping with aid, including the following:   
Learn more about how USask is supporting Ukraine: https://updates.usask.ca/ukraine