Twenty-six students joined more than 500 family, friends and community members in their home community of Cumberland House on May 6 to celebrate the completion of their Bachelor of Education (BEd) degrees from USask.
The students were part of the Cumberland House cohort—referred to locally as the Cree Teacher Education Program (CTEP). The community is located approximately 300 kilometres northeast of Prince Albert on Treaty 5 territory and the traditional ancestral land of the Cree, Saulteaux, and the Métis.
CTEP was made possible through an agreement signed in June 2019 by USask, the Northern Lights School Division, Cumberland House Cree Nation, The Northern Village of Cumberland House, and Métis Nation-Saskatchewan to help with teacher recruitment and retention in the region.
"On March 12, 2019, the Northern Lights School Division had a conversation with the University of Saskatchewan regarding our challenges with recruitment and retention of teachers in northern Saskatchewan," said Jason Young, director of education with Northern Lights School Division 113, on how the program came to fruition.
Young describes a pivotal moment one month later during a meeting with potential students.
"[They] showed up and gave us the motivation to support the program even more. The rest was up to the students to apply, plan, commit to their studies and accomplish something truly great," said Young. "Fast-forward four years later on this stage, we've got a group of CTEP grads."
The community celebration was hosted by the Northern Lights School Division and included greetings by The Honourable Russell Mirasty, Lieutenant Governor of Saskatchewan, as well as over a dozen representatives from First Nations, Métis, provincial, and municipal government.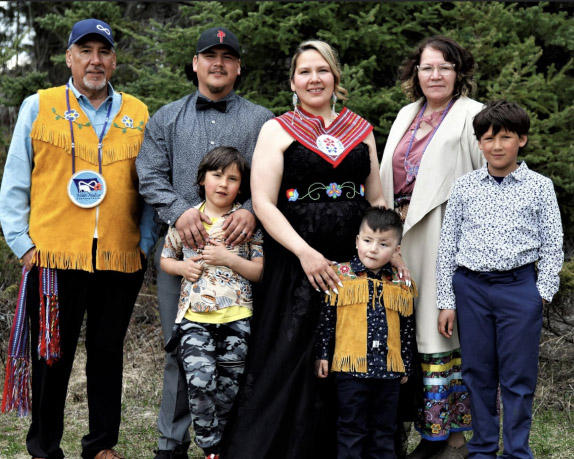 As a result of the CTEP cohort, the two schools in the area no longer face staffing shortages. A collaborative and community undertaking from the very beginning, many of the speeches to the graduates were delivered in Cree.
"A theme that emerged from the Cree speeches would be one of tremendous pride without arrogance. A pride that motivates and inspires everyone to persevere and rise above any challenge," summarized Young after the event. "There was an incredible sense of ownership and collective 'we' that did this together. There was a shared responsibility and purpose to support the program and students."
"It is difficult to convey, and words fail to express and articulate the overwhelming depth of emotion and dedication by all, to make graduation day possible," added Young.
One of the people most integral to the cohort's success is CTEP program co-ordinator Lily McKay-Carriere with Northern Lights School Division. As a former student, teacher and principal of Cumberland House's Ministik Community School, McKay-Carriere was honoured during the ceremony for the knowledge and passion that she graciously passes on to generations of young people in the community.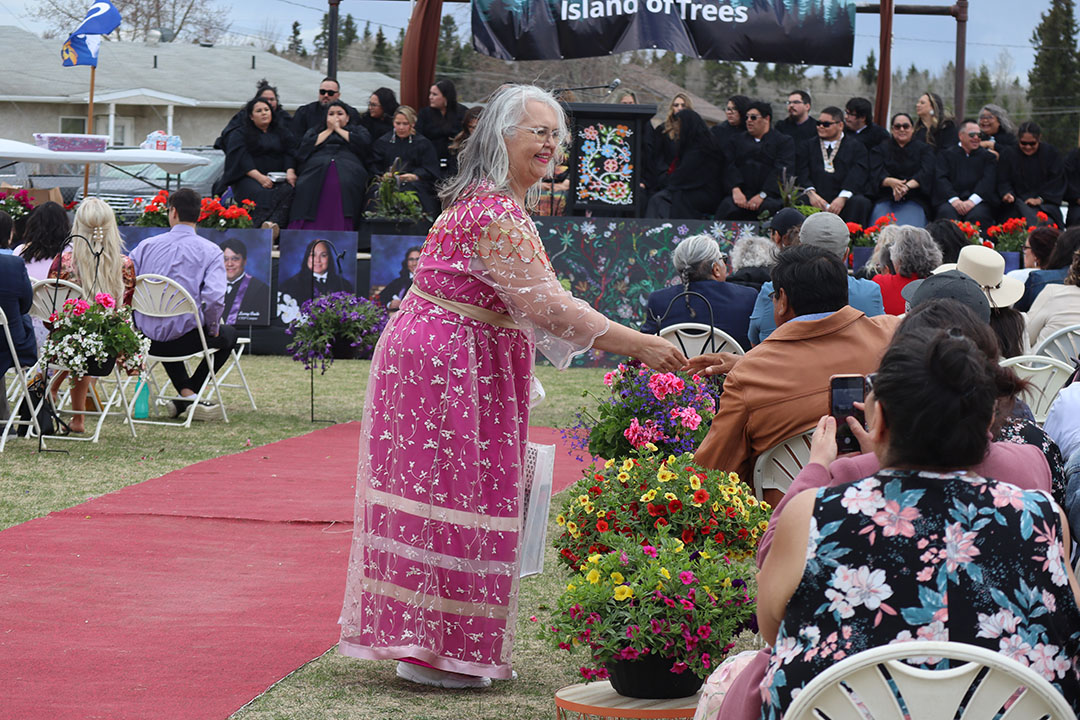 "[CTEP] is a mark of such accomplishment, not just for the students themselves, but for all of the political and educational leadership that came together to make this a reality. So. It's a great source of hope," said McKay-Carriere. "And I think that for them to go into the classrooms, as teachers, following the motto to be what the world needs, is really important."
When the CTEP students first started their degree four years ago, McKay-Carriere asked them to visualize crossing the stage at community graduation as a source of motivation. She wanted them to imagine celebrating with their colleagues in front of the whole community.
"Coming in on that first day of school was like being in a classroom with kindergarten students for the first day of school," said McKay-Carriere. "It was knowing that they have signed up for something, knowing that it would be a journey and that life happens."
Inevitably, hurdles came up along the journey for the teacher candidates, but they were able to tackle them together as a team and achieve the collective goal of completing the Bachelor of Education program. While adjustments needed to be made during the COVID-19 pandemic, the cohort adapted and thrived. The resilience of the group and how they banded together is where McKay-Carriere is most pleased.
"For me it is not just pride, but an expectation now that these are students who are going to be classroom teachers, following the mino-pimátisiwn teachings, 'living the good life'," said McKay-Carriere.
CTEP provided opportunities for students with families and children to obtain an education degree without relocating or leaving their support systems. When Métis student Rayne Bo Favel started CTEP, her children were five, three, and six months old. Favel was able to continue parenting her boys, now nine, six and four years old, while pursuing her own education.
"It's just been a really good journey going through CTEP. I've learned a lot. I've taught my children a lot. I've had so much support from everyone—my family, my friends," said Favel "One quote that has stuck with me through this whole thing was 'in order to know where you're going, you have to know where you come from'. Through CTEP, we've learned about language, culture and traditions. That's what I really want to display to my children and my future students."
Due to this cohort's overwhelming success, USask and the Northern Lights School Division will launch the next BEd cohort program in collaboration with Peter Ballantyne Cree Nation and the communities of Sandy Bay, Pelican Narrows, and Deschambault Lake. The cohort will be based in Pelican Narrows beginning in fall 2023.