University of Saskatchewan (USask) student Dylan Bauman wants to make a difference.
"Once I graduate, I hope to help solve some of our world's largest problems," said Bauman, a third-year student in USask's College of Engineering and an athlete on the Huskies track and field, and cross-country teams.
A member of the Muskowekwan First Nation, Bauman was born in Saskatoon and came to USask after graduating from Centennial Collegiate. Enrolling in USask's civil engineering program was a natural fit for him.
"I chose civil engineering because I love to build things," he said.
Indigenous Achievement Week at USask runs from March 6-10, 2023. On March 9, during the annual Indigenous Student Achievement Awards Ceremony at the Gordon Oakes Red Bear Student Centre, Bauman will be honoured with an award for leadership, which is given to students who have demonstrated leadership on or off campus.
When asked how it felt to receive the good news about the award, Bauman said "it felt amazing."
"I never imagined receiving this type of award," he said. "To celebrate, I will spend time with my peers and teammates who have supported and helped me receive this award."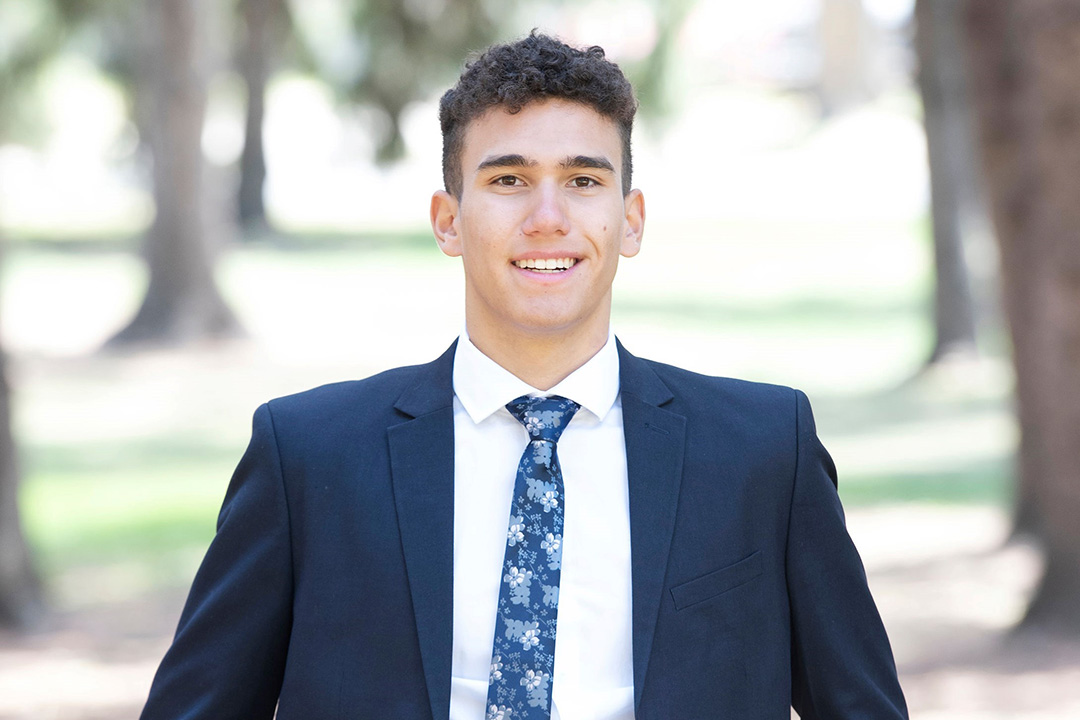 Bauman has demonstrated leadership throughout his time in the College of Engineering. This year, for example, he served as co-president of the University of Saskatchewan Bridge Team, which designs and fabricates a 10:1 steel bridge and competes in the Canadian National Steel Bridge Competition. He also sits on the Saskatoon Engineering Students' Society board of directors and the University of Saskatchewan Engineering Students' Fund council.
As an engineering student, Bauman has found numerous ways to get involved with his college. For example, he recently re-established the Canadian Society for Civil Engineering Saskatoon Student Chapter, serving as president. And, earlier this year, he took on the role of Master of Ceremonies for the 46th annual C.J. Mackenzie Gala of Engineering Excellence, alongside fellow USask civil engineering student Allison Grajczyk-Jelinski.
"The best part about attending USask is the strong and supportive community on campus," Bauman said.
Outside of the classroom, Bauman demonstrates leadership as a Huskie athlete and is currently set to compete in the 2023 U SPORTS Track & Field Championships, which will take place from March 9-11 at the Saskatoon Field House.
Bauman's athletic accomplishments are many. In 2019/20, for example, he was named a U SPORTS Academic All-Canadian, recognizing his determination, resilience, and hard work. Other athletic achievements include becoming a Canada West silver medalist (2022/23), receiving the Huskie Athletics Leadership Award (2020/21), being named the Huskie Cross Country Male Performer of the Year (2019/20), and becoming a six-time gold medalist at the North American Indigenous Games (2017).
When asked about his advice for success as a university student, Bauman said it's important "to surround yourself with people you want to be like." In the future, after completing his Bachelor of Science in Engineering degree, Bauman aspires to work on some of the world's largest engineering projects.
"My advice for students is to pursue the things you are passionate about, dream big, and set your goals," he said.