The agreement formalizes the partnership between FSIN and the USask College of Law, solidifying their shared vision of addressing critical legal and policy issues surrounding child welfare in the region. 
"In the last three years in Saskatchewan provincial courts, Bill C-92 has only been mentioned three times," said FSIN Vice Chief E. Dutch Lerat. "This MOU is for the most vulnerable, our children in care. They deserve to have their rights fought for. We won't let them down. We'll fight harder for those who can't fight for themselves."  
Through this initiative, both parties intend to strengthen their relationship and deepen their collaboration in academic and community-led research for the betterment of First Nations children, youth, and families in Saskatchewan. The research initiative aims to empower and support the communities through capacity building, offering valuable insights and solutions to enhance child welfare systems for First Nations. 
Vice Chief E. Dutch Lerat, representing FSIN, and Dean Martin Phillipson, representing the College of Law, formally signed the Memorandum of Understanding at the signing ceremony. The ceremony marks the official launch of the First Nations Child Welfare Legal Research and Community Partnership Initiative, demonstrating the commitment of both organizations to the well-being and rights of Indigenous children and families.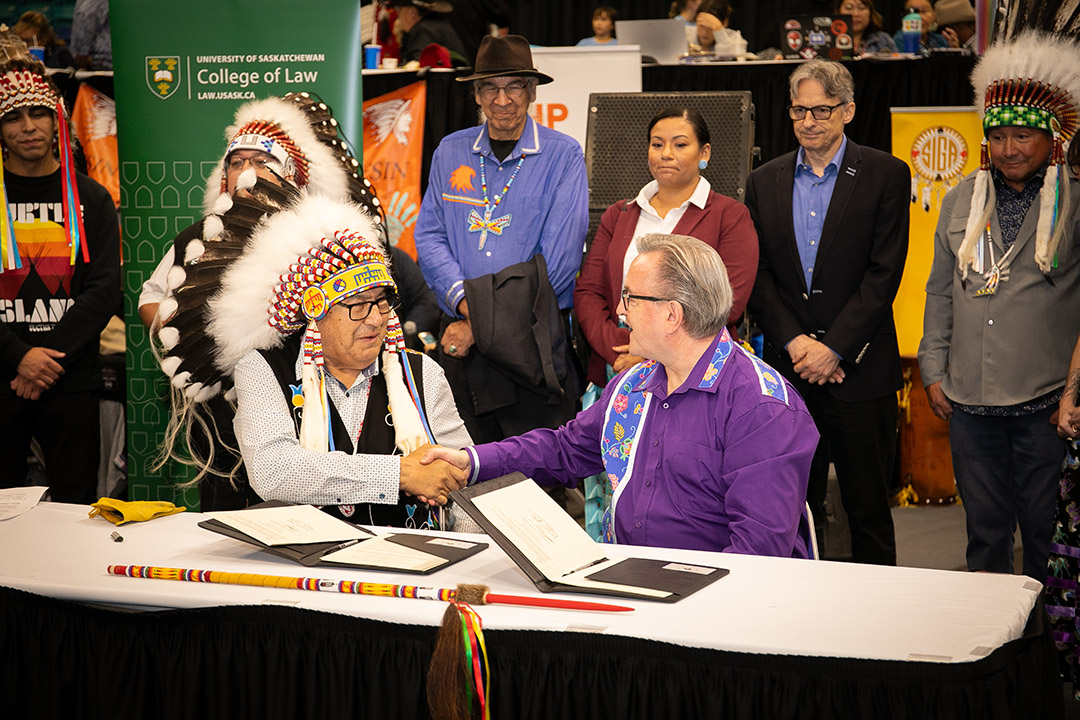 "The College of Law is honoured to partner with the Federation of Sovereign Indigenous Nations in this important initiative," said Phillipson. "We believe that the strength of our academic and research resources, when combined with the experience, knowledge, and expertise of FSIN, will bring about positive and lasting change in the child welfare systems for First Nations communities in Saskatchewan."  
This collaboration underscores the shared responsibility of FSIN and the USask College of Law to work towards addressing the longstanding issues faced by First Nations communities in the child welfare system. By pooling their expertise and resources, FSIN and the College of Law aim to create lasting positive change, ensuring that the rights and welfare of First Nations children and families are upheld and protected.