For Leze Pewapsconias, pursuing a fine arts degree meant choosing a discipline where they could find themselves. 
Pewapsconias will be graduating with a Bachelor of Fine Arts degree in Drama and Studio Art at the 2023 University of Saskatchewan (USask) Spring Convocation on June 6.
"Growing up as a little kid, I was exposed fairly early to singing in the car and painting instead of watching TV and stuff like that," she said. 
As she grew into her teenage years, Pewapsconias entered a period of time where she became shy and closed off. 
"But when you have to act, you've got to open up," they said. "That was a big thing for me, but that's also why I wanted to act … You need to access this part of yourself in order to let yourself be known and express yourself in a good way. Coming out of my shell was probably the biggest challenge."
It wasn't until Pewapsconias started university that they realized they wanted to perform full time. "Deciding that I was going to be a drama major, that was the biggest life decision I've ever made."
Pewapsconias faced personal challenges and other obstacles when they began their academic career— including self-doubt.
"When I first went into university, I did my first year and I was like, "I am not ready, I need to wait a little bit to grow."
The course schedule and uncertainty of what she wanted to focus on caused Pewapsconias' faith in themselves to waver. Support from her family, friends and professors encouraged Pewapsconias to return to performing and theatre after taking a year-long break. 
"My mom and dad are probably some of my biggest supporters," she said. "They'll give me a hand up every now and then. But they've never doubted me."
"I appreciate that they've accepted whatever it is that I wanted to do," she added. With help from her family, Pewapsconias would move back home from Saskatoon to Little Pine First Nation in Treaty 6 Territory during summers between semesters. 
They also had support from family while attending university classes in Saskatoon, having lived with two sisters and a cousin for most of her education. 
"When they were here, it was nice to have a friend and a family member to console me, or help me run lines. They're always willing to help out."
While taking classes, Pewapsconias credited drama professors, including Deneh'Cho Thompson, Shannon Blanchette, Natasha Martina and department head Carla Orosz for helping her find her path and ultimately choosing a fine arts degree. 
Her first performance with the Greystone Theatre helped solidify her decision. She was cast in a 2019/20 production of The Secret in the Wings by Mary Zimmerman.  
"That was the first full play I had ever done before and it was terrifying and stressful," she said. "But I loved it.
"I loved that stress, I love the pressure of creating something and sharing it." 
They noted that the physicality to theatre was the way they learned best. "Learn to do by doing," they said, echoing the mantra of the 4-H youth organization she had joined when she was younger.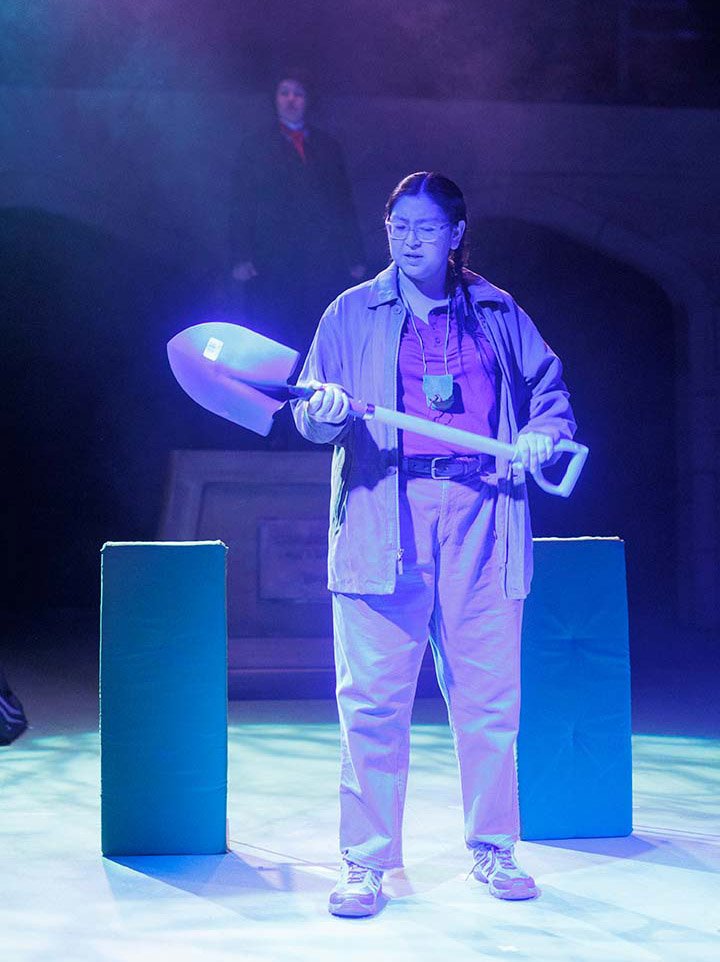 Pewapsconias was most recently in the Greystone Theatre production of Sir John A: Acts of a Gentrified Ojibway Rebellion, written by Drew Hayden Taylor, directed by Deneh'Cho Thompson. Pewapsconiasportrayed Bobby Rabbit in the all-Indigenous cast performance. 
At the moment, Pewapsconias is working for Sum Theatre Company, an independent theatre company based in Saskatoon. After graduating, she plans on writing and performing her own work, and eventually with Gordon Tootoosis Nīkānīwin Theatre, the only professional Indigenous theatre company in Saskatchewan. 
"People will say that you can't make money doing theatre or art," Pewapsconias said. "I just said, 'Heck that!'" 
"It's something that makes me feel happy on the inside," she added. "There's something universal about art and performance that speaks to humanity. It's an internal and external, natural and beautiful energy."