Some of Robert (Bob) Badger's most rewarding experiences at the University of Saskatchewan (USask) have involved interacting with students.
Badger, a member of the Kawacatoose First Nation, began his career at USask more than a decade ago at the former Aboriginal Students' Centre (ASC), which was recently renamed the Gordon Oakes Red Bear Student Centre.
In that role, Badger offered support to USask students, including those who were new to campus or who were adjusting to university life. Some of the students moved to Saskatoon from First Nations or rural or remote communities, and they wanted to chat with Badger about adapting to a new environment.
"It was a culture shock, that transition," he said. "All of the sudden, you're in the city. It's a different lifestyle."
Students would also come to the ASC to talk to Badger when they were facing challenges, such as stressful exam times, and he was there to listen. The students would often feel better after those discussions—though Badger doesn't take any credit for helping them.
"Sometimes they didn't even know they helped themselves," he said. "When they walked out, they felt better. It really wasn't me helping; it was themselves talking it out."
Badger is uniquely positioned to support Indigenous students as they transition to university life. He grew up on the Keeseekoose First Nation, where he valued the lessons he learned from his great-grandparents, who spoke to him in his language, Saulteaux. Alongside his family members, Badger learned to hunt, fish and collect berries, and those opportunities to learn on the land set the stage for Badger's life-long interest in the outdoors.
While Badger is now known for his cultural teachings at USask and his positive interactions with students, staff and faculty, he wasn't always comfortable in group environments. In fact, about 18 years ago, "you wouldn't catch me talking to anybody," Badger said. At the time, Badger was accustomed to training horses and working with livestock outdoors.
"I was always alone—just me and the horse and the cattle. That's it," he said.
Things changed for Badger in 2005, after "a bad accident" on a horse resulted in a serious back injury. While on horseback, Badger roped a bull, and the bull then flipped him around, throwing him off the horse and slamming his body into the ground.
"I threw out my back. I couldn't walk for about three weeks," he said.
After the accident, Badger's family urged him to find a new line of work. He decided to return to school, earning a Bachelor of Indigenous Fine Arts degree from the First Nations University of Canada. The fine arts program suited Badger, a practicing mixed-media artist who continues to work in painting, sculpture and beadwork. 
Badger followed up his undergraduate studies with a master's degree in education at the University of Victoria, with a specialization in Indigenous language revitalization. His background in education proved to be an asset when he later came to work at USask.
After working at the ASC for about three years, Badger transitioned to USask's former Office of Aboriginal Initiatives at English River First Nation, located just south of Saskatoon on Highway 11. Through that office, he created connections between USask and First Nations and Métis communities in Saskatchewan.
"I worked with community a lot," he said. "What I did was look at the partnerships we had with different communities, and I would cultivate those relationships that the university has with Indigenous communities."
Badger's current role at USask is cultural co-ordinator in the Office of the Vice-Provost Indigenous Engagement (OVPIE). In this position, Badger walks alongside USask's colleges, schools, and units on their Indigenization and reconciliation journeys. His role is to build cultural capacity on campus and to provide guidance to the university community about how to work with Elders and Knowledge Keepers in respectful and meaningful ways. He also assists individuals in their understanding of Indigenous cultures and teaches students, faculty and staff about the diversity of Indigenous Peoples.
"First and foremost, the primary part of my job is to bring understanding between the Indigenous community and the non-Indigenous community," he said.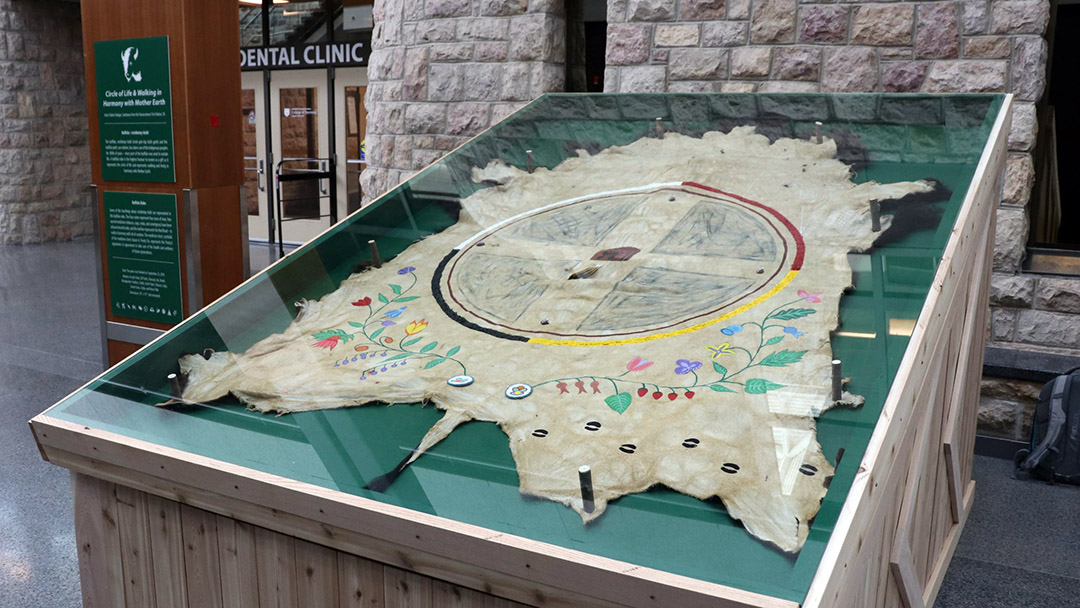 Dr. Angela Jaime (PhD), interim vice-provost Indigenous engagement, said Badger is an integral part of OVPIE and the office's mission and goals on campus. OVPIE works within and outside the university to meet the unique needs of Indigenous students, staff, faculty, and communities. OVPIE also uplifts Indigenization by advancing initiatives, strategies, and policies that promote Indigenous knowledges and support reconciliation and decolonization.
"Bob's cultural teachings enrich our campus community, and he helps us to move forward, together, in a good way," Jaime said. "He is really the core spirit of our team."
When he comes to work each day, Badger brings with him the teachings of his Elders, who taught him to be humble and to be respectful of other cultures. As he educates the campus community about decolonization and Indigenization, he offers workshops, provides presentations and teaches classes. For example, Badger hosts the Mawatsitwin virtual series, which provides a safe space for conversations about ethical, culturally appropriate and respectful interactions with Indigenous communities, and about approaches, cultural diversity and Saskatchewan language groups to consider when engaging with Indigenous communities.
Badger's cultural teachings are informed by his perspectives as a Saulteaux speaker; however, he also sees himself as a cultural liaison on campus, facilitating connections between faculty, staff, and students and other Language Keepers, such as Cree and Michif speakers.
A key aspect of Badger's cultural co-ordinator role is giving guest lectures to undergraduate and graduate classes. Through these classroom discussions, he assists the university community in its learning journey, supporting USask's aspiration of transformative decolonization leading to reconciliation.
"It's just all kinds of different things," Badger said of the requests he receives from across campus. "Some people might want a song. Some people might want a prayer. Some people might want a teaching. People want different things, so I try to provide that for colleges, schools, and different parts of the university."
Badger also serves on various committees, including the Anti-Racism and Anti-Oppression Committee, the Indigenous Advisory Circle, and the Mistatimōk Committee. Mistatimōk translates to "horses" and the concept of "working together" in Saulteaux, and the committee leads and guides the USask community through navigating, acknowledging and commemorating existing and future discoveries at former residential schools, and other related occurrences for which the community seeks support and guidance.
USask Provost and Vice-President Academic Dr. Airini (PhD) said the important work undertaken by Badger and his OVPIE colleagues uplifts the wise practices outlined in USask's Indigenous Strategy. The strategy, ohpahotân | oohpaahotaan ("Let's Fly Up Together"), was gifted to USask in a ceremony on Aug. 20, 2021, on behalf of the Indigenous Peoples who informed and validated the process as a companion to the University Plan 2025.
"Our unique, gifted Indigenous Strategy calls for meaningful and respectful action to advance Indigenization and support reconciliation, with a commitment to good relations," said Airini. "The important work of Bob Badger and his colleagues in OVPIE helps us to make progress towards these important goals, to learn, and to become the university the world needs."
While his job at USask continues to evolve, Badger is continually inspired by the work that remains around Indigenization and reconciliation. Badger, a father and grandfather, is motivated to continue his good work because he believes his grandchildren will attend USask one day. Through his roles on campus, he wants to leave a legacy for them.
"Maybe they'll say, 'Hey, my grandpa Bob helped set this up,' or 'He was a part of this process.' . . . That's what motivates me, is paving a way for young Indigenous students who are coming here."